In full recovery mode from the setbacks caused by the COVID-19 pandemic, 2022 was thought to be the year that the built environment fell back on its feet. The pressure was real!
With an increasing number of construction projects being approved, building product manufacturers had the opportunity to grow and aim for slightly more ambitious KPIs. Halfway through the year, it is important we ask ourselves where we are at and what tools we can use to ensure those KPIs are satisfactorily reached.
When HubSpot asked its users about their sales goals for 2022, responses varied.
57% of companies surveyed explained that their main goal for the year was to win new clients and keep furthering their database
22% were focused on selling into new markets and widening their scope so they could appeal to different audiences
20% wanted to simply increase sales and improve the turnover of their business
20% were looking at increasing their average order price and entering a more sophisticated and demanding part of their market
15% had as a priority to improve their sales process and increase the productivity of their sales team
Despite 56% of businesses having seen a reduction in their pipeline, due to COVID-19, there is a clear intention for 2022 to be a good year for the sector. Aware of the great competition that companies would face after the pandemic, a significant number of businesses across sectors have invested in sales enablement tools. In fact, the use of sales enablement tools has increased by up to a 567% since after the COVID-19 pandemic.
Are You Helping Your Sales Team Succeed?
Steve Bookbinder, CEO, author, and sales coach at DM Training, explains how the first thing to be questioned when KPIs are not being met is the productivity of the sales team. In fact, I bet that, if you asked your sales team, the main request they get from their managers is to be more productive. As if they weren't already incredibly busy! And, in case you were wondering, yes, they are really busy, doing everything they need to do, as well as selling.
You might find this surprising but, according to HubSpot, salespeople spend just one-third of their day actually talking to prospects. The remainder of their day is split into other more managerial activities.
21% of their day goes into writing emails and follow-ups to chase prospects and report internally
17% of their time is spent entering data into several programmes, platforms, and software that do not sync with each other
17% is actually devoted to prospecting and researching leads
12% is spent on going physically or attending online internal meetings
12% scheduling calls
There is a lot of time there… that does not necessarily translate into sales. Yet, last year, 24.3% of salespeople managed to exceed their quota. Whilst 27% of employees believe that working from home has increased the productivity and output of their sales team, 13.67% believe the right CRM has been key to their success. Have you ever wondered what the right sales and CRM platform could do for your building product brand?
10 HubSpot Sales Tools Your Sales Team Needs
If you are looking to help your team improve their sales performance, using a CRM that can help them with their day-to-day activities is a must. As a HubSpot partner, we recommend HubSpot, the CRM and sales enablement platform, to any construction products business looking to remove the distractions that hinder salespeople from selling and provide their teams with powerful relationship-building tools.
#1 A Customisable CRM
In the NBS Construction Manufacturers Marketing Report 2022, NBS reported that 54% of manufacturers still had their database structured in spreadsheets. And, I am sorry to break it to you but… spreadsheets do not work. They are hard to use, difficult to update, and, ultimately, they make the task of keeping your data clean and healthy simply impossible. That is why 67% of the companies have chosen to implement a CRM to help them manage that information.
When implementing a new CRM, the main goal is acquiring a CRM that actually works! HubSpot is built based on a CRM that can help you keep track of data about your interactions with customers, as well as compile reports on what works and what doesn't. This information can help you improve your marketing strategy. Did you know that, when businesses invest in management software, their productivity can increase by up to 15%?
#2 Targeted Segmentation
Personalisation is becoming increasingly popular in business circles these days. This is likely due to the fact that it makes customers feel special and appreciated, which in turn leads to increased loyalty and patronage. Companies are looking for new ways to connect with customers on a personal level. This is important because it helps create loyal customers who are more likely to buy products and services again.
In fact, if we look at the numbers, we understand the need for personalised communication and a database that allows you to segment your audience.
80% of users are more likely to purchase from a brand offering a personalised experience
72% of users only engage with personalised messaging
42% of users find non-personalised content frustrating


#3 Lead Capturing Forms
When asked about their main challenges, 55% of construction leaders confessed having issues to accessing real-time data and keeping their systems updated. This problem is likely related to the software used to manage that data, that might not be connected to the cloud and, hence, would rely on manual updating. Wanting to overcome these challenges, HubSpot has launched various lead-capturing tools that help you input data into your database with almost no effort.
HubSpot makes it easy to import your data automatically into your CRM, so you can focus on your business goals. You can use various tools available within the platform, such as forms, CTAs, or landing pages, to collect and submit your prospects' information. With an intuitive drag-and-drop editor, HubSpot helps you create engaging pages and CTAs that attract leads and encourage them to start a conversation with your brand.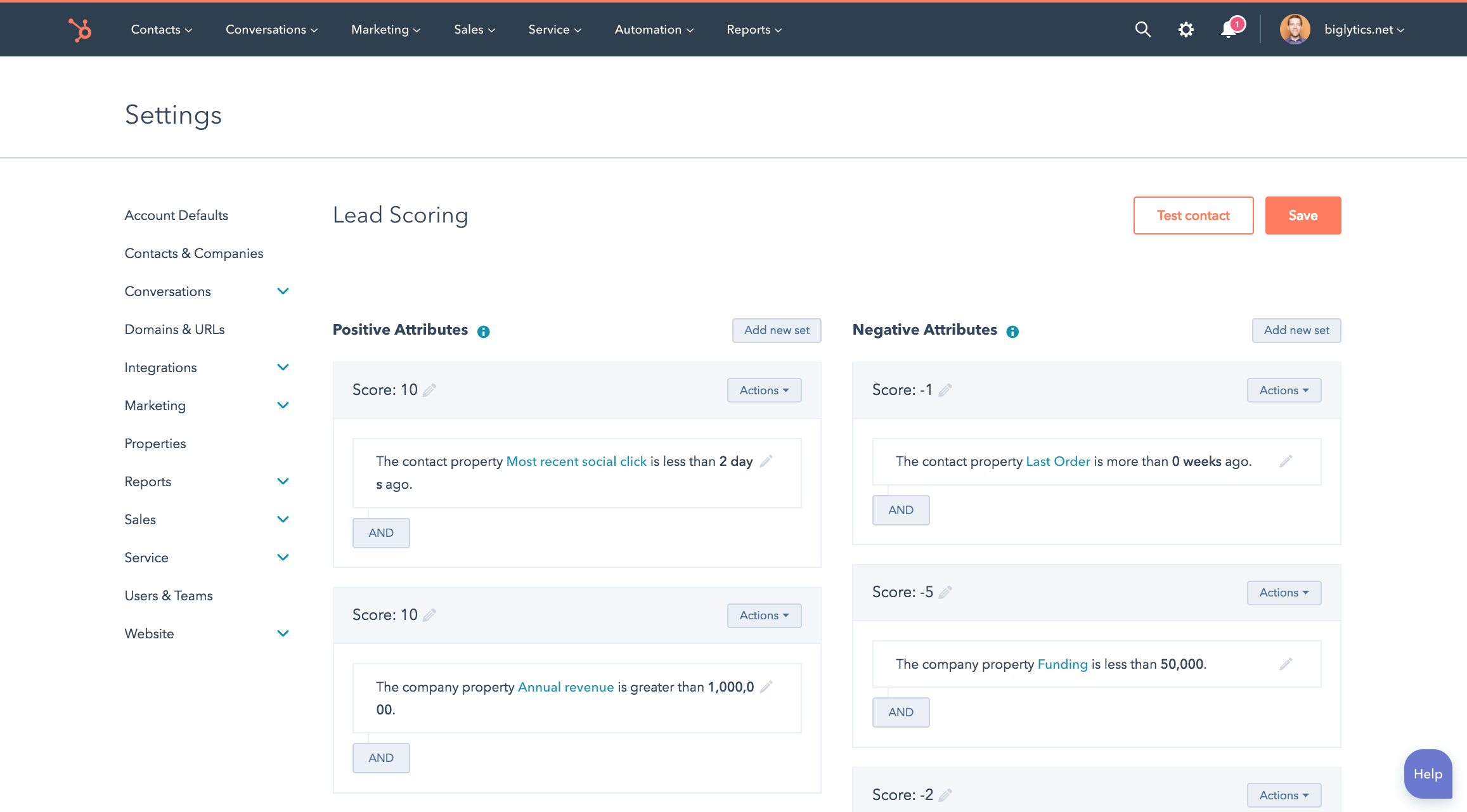 #4 Lead Scoring
According to HubSpot's Sales Report, prospecting is the part of the sales process that salespeople find most challenging. This is often due to a lack of direction and confusing criteria that salespeople are given when asked to establish that first interaction. Moreover, 22% thought qualifying was also a phase of the sales process for which they needed more quality. Do you know how 3 out of every 10 businesses have decided to respond to these struggles? Automating them!
After establishing particular criteria, HubSpot can analyse your database and categorise your contacts into different categories, so your sales team is handed a fully segmented and qualified database. Setting different levels of priority for each customer type will help sales reps to view which potential deals require urgent attention, allowing them to filter deals with higher priority and better invest their time.
#5 Nurturing Automation
But lead qualification is not the only thing that can be automated… Did you know that 61% of the companies that use automation outperformed their revenue targets in 2020? This is, most likely, due to the efficacy of lead nurturing! Nurturing refers to the fact that only 1 lead out of every 4 is sales-ready when they start the conversation with you and that, consequently, you need a platform that allows you to slowly engage and add value to those leads, getting them closer to conversion.
HubSpot's platform was designed with a particular goal, delivering the right message, to the right person, at the right time, and that shouldn't entirely depend on your team. To facilitate this process, HubSpot is one of the main platforms offering automation, either through workflows or sequences. As less time is spent on basic tasks, automation allows you to focus on important projects! You can have as many automation workflows as you want, leveraging the segmentation of your database.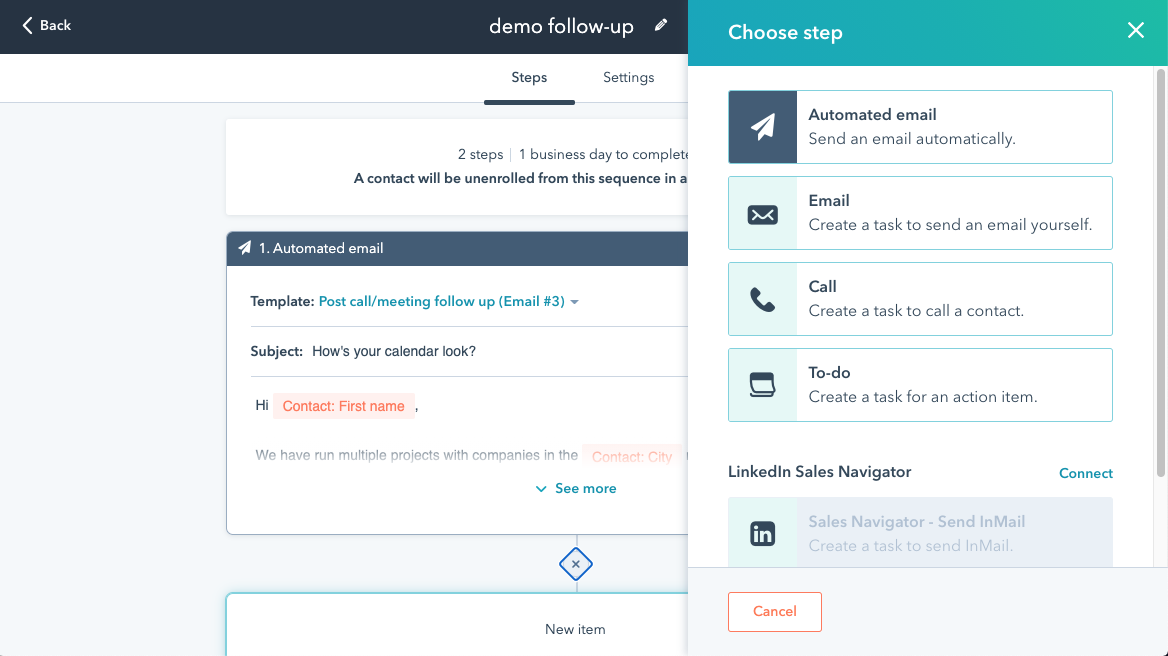 #6 Trigger-Based Sequences
HubSpot's automation tools enable you to trigger actions without any human input, so you reach a particular contact when it best fits them. This means that if, for example, potential customers have visited one of your product pages, an email on that topic is triggered and sent to them timely. Using sequences allows users to manually register contacts in a thread of emails that are sent from a specific mailbox and that can be tracked when they are opened or replied to.
HubSpot's new feature, which was enabled in August, allows automated sequence enrolment and un-enrolment based on changes in a user's status or a set property. This is intended to maximise the impact of conversations with users. There is no excuse anymore!
#7 Templates and Snippets
When it comes to those conversations that cannot be automated, there is still room for improvement. 53% of the companies surveyed by HubSpot reported focusing on optimising email templates when creating new materials for their sales teams. And, truth is, sales teams use a lot of content to market their services to prospective clients! Often overlooked, sales content is an important part of the sales process.
This content includes case studies, whitepapers, product demo decks, pricing information, and more. HubSpot's content library is designed to make it easy for your sales team to find content on any sales-related topic. This library is organized and searchable, so you can find what you need quickly and easily. Through templates and snippets, you can make sure your team knows exactly what to say when interacting with a new prospect.
#8 Document Activity Tracking
Organising your document is not the only benefit that hosting your sales content on HubSpot can have… If your sales documents are on HubSpot, you will get alerted as soon as prospects engage with the content you send. Whenever your prospects click a link in an email or share it with a colleague, you will be notified by the platform and, that way, when prospects are interacting with your content, you can respond in a timely and relevant manner.
Having these documents on HubSpot will also allow you to report on their usage and efficacy. You will get to know how often your salespeople are using different pieces of content and whether these have influenced the success of a particular deal. This will provide you with the necessary information to either encourage your sales team to use more of the documents that perform well or to improve those that are not quite as useful… yet!
#9 Quotes
62% of the construction leaders interviewed in the Construction Front Line Survey believed that making physical documents, such as quotes, available digitally would make the sales process more efficient. HubSpot allows you to record transactions, categorize them into pipelines and stages, and create and send sales quotes that allow you to collect signatures and payments. Gone are the days when you had to scroll through your inbox looking for a quote issued a couple of weeks ago!
Making it even more convenient, 36% of HubSpot users have used the platform to automate the process of issuing quotes! These can be done within HubSpot itself or through other integrations. Did you know that HubSpot connects with over 500 other software to make sure that all the apps that you use are synchronised, updated, and on the same page? The HubSpot Ecosystem is a truly diverse one!
#10 Forecasting
1 out of every 10 construction leaders confessed to struggling to figure out their ROI. To address that challenge, HubSpot has positioned its Goals tool as a helpful resource for sales directors and managers to track different performance indicators for their sales teams. You can assign goals at the user, team, or pipeline level, ensuring everyone is held accountable.
HubSpot revenue goal tracker helps sales teams set goals and keep the team on track by allowing them to easily measure progress, automatically reflecting any changes the leadership team makes to KPIs, and by comparing results against monthly, quarterly or yearly milestones.
So, Let's Start!
The Construction Front Line Survey found that businesses that had invested in internal management software had seen a significant increase in their productivity. This was typically due to the software ensuring that workers were being managed effectively and efficiently. When asked about the challenges the new technology helps overcome, companies stressed the importance of shared data availability.
As a HubSpot partner, we have helped dozens of companies adopt a new CRM that helps them build the conversation with their construction leads. Sales enablement can help businesses catch up with digital sales practices, but it's not a one-man job. If you are looking at adopting a more proactive sales approach, it is important for you to know that you have access to the right resources. By working with a specialised agency, you can improve your chances of success.
About Insynth
At Insynth we deliver a predictable flow of leads, customers, and specifications for building product brands through our inbound marketing approach, proven to reach a technically demanding audience.
We use the latest marketing techniques such as construction inbound marketing, to equip building product companies to grow sustainability in this era of digital transformation.
As the only HubSpot certified agency to major in construction marketing. We have a proven formula of bringing a variety of functionalities together including CRM Implementation, Web Design, Sales Automation, SEO, and Email Marketing to achieve your ultimate aim: Growing your business and gaining new specifiers and customers.