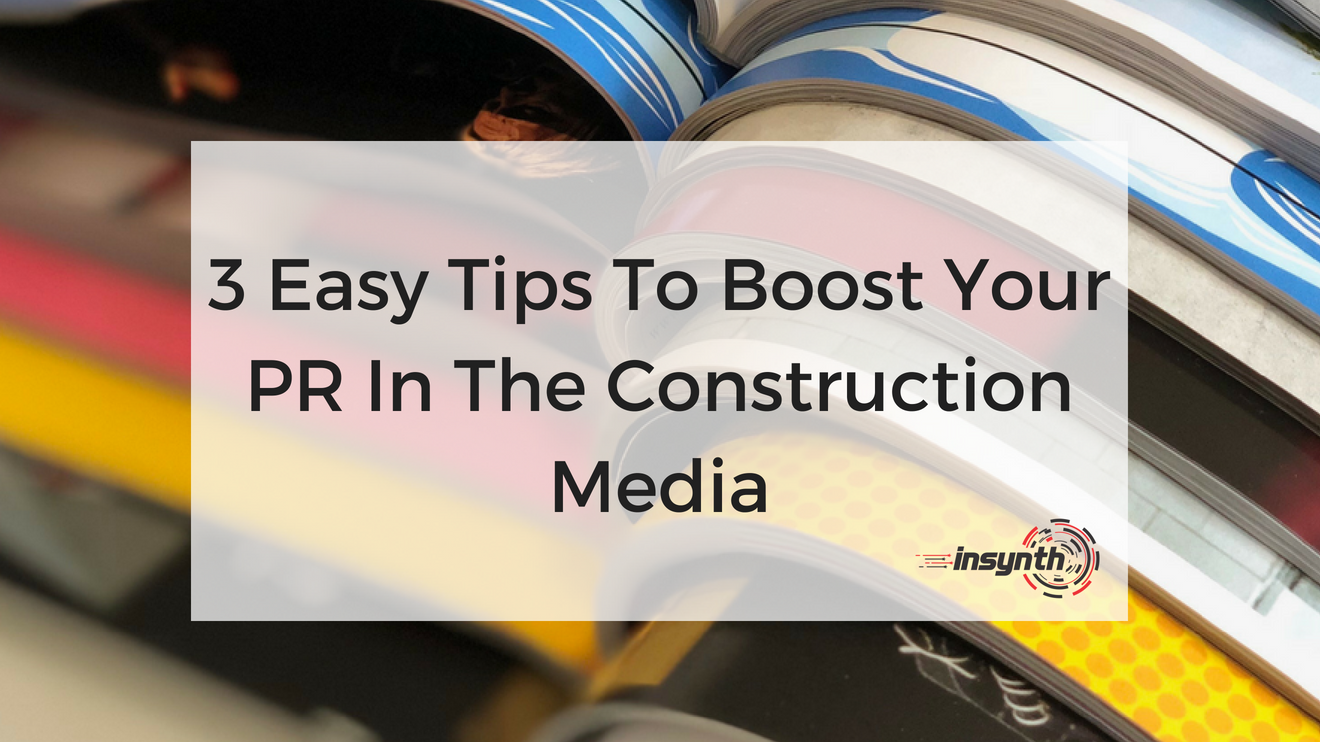 Getting your product news, case studies or opinion pieces published in reputable trade titles and industry blogs is a great way of publicising your brand, creating awareness, authority and trust.
Ideally, the title will also include your article on their website too, giving you valuable backlinks to your website, which improves your website authority and helps to generate traffic and boost your organic rankings on Google and other search engines.
To make the most of this 'backlink juice', there are three quick and simple tips for you to get the most benefit of these links and be able to track the traffic that they generate.
Optimise Your Anchor Text
Anchor Text is the visible, clickable text in a hyperlink. It is often blue and underlined, such as this link to the Insynth homepage.
There are the main types of anchor text;
Exact-match
Exact match anchor text includes a keyword that mirrors the page that it's linked to. For example: 'BIM Models' linking to a page about BIM models.
Partial match
Anchor text that includes a variation of the keyword, or a close match to the linked-to page. For example: 'construction marketing strategies' linking to a page about construction marketing.
Branded
A brand name used as anchor text. For example: 'Insynth' linking to an article on the Insynth Blog.
Naked link
A URL used as an anchor 'www.insynth.co.uk' is a naked link anchor.
Generic
A generic word or phrase used as the anchor. "Click here" is a common generic anchor.
Images
Whenever an image is linked, Google will use the text contained in the image's alt attribute as the anchor text.
To optimise results for your rankings on Google, it's best to get an exact match or partial match link, as this tells the search engine what the link is about and builds your authority in this area.
A quick audit of sites linking to you is all you need to do, and then a quick phone call or email suggesting a change in the anchor text will usually get the job done.
Simple.
Check You Have 'Follow' Links
All links are good, as they all provide referral traffic to your site. However, some are better than others.
A 'no-follow' tag in the link will tell the search engines not to bother about looking at your site when they crawl the referrer's site. Although you get the traffic from the link, you don't get any SEO or ranking benefit.
A 'follow' link, on the other hand still gives you the same great traffic, but your site will be crawled too as the search engines are indexing sites. This adds to your overall domain authority, which in turn boosts your ranking on Google, Bing, Yahoo and all the other search engines.
To check if the links to your site are follow links, you will need to view the source code of the pages that refer to your site. Use the 'find' command to search for "nofollow", which will highlight any instances of the phrase. If you find a nofollow against your link, then a quick call or email asking for it to be changed will often do the trick.
Another quick win!
Link UTM Codes
Now, you're getting all of that great traffic, but how do you know exactly which press releases and campaigns are performing well?
You can track your referrers on Google Analytics (GA) to see overall how much traffic they're sending your way. It doesn't help much though if you get ten articles per year published on the same site.
The trick here is to give each article, or even each link, a unique reference so that you can monitor the performance of each article over time. This reference is called a UTM (Urchin Tracking Module) code.
A great tool here is the Google Campaign URL Builder. This simple and easy to use tool has several boxes for you to fill in, such as, URL, Campaign Source, Medium, etc., which then produces a URL for you to use as your link.
If this URL looks too long, then paste it into the bitly URL shortener to produce a nice little one.
Conclusion
So, there you have it, three quick and easy tips for improving the performance of your PR links.
When you're booking your PR and media with your chosen titles, insist on:
Anchor Text that is Exact Match or partial match
Follow Links, and
Provide a UTM coded link for the title to use so that you can track performance
Remember the biggest boost to your rankings and PR performance will always be the reach and authority of the titles you're using.
If you download the Insynth UK Construction Media Grader Report, you can see which titles will give you the best 'backlink juice' for your campaigns and websites.
Right now, Insynth is offering full implementation of the HubSpot Free suite (that's a sales and marketing automation platform + CRM system for free - forever!) for just £495. So, you can get up and running with HubSpot in days and try out loads of its functionality for a very small investment.
Click below to register your interest and get started with HubSpot and Inbound Marketing.
About Insynth
Insynth Marketing is a leading UK construction marketing consultancy based in Shifnal in the West Midlands. Insynth employ the latest inbound marketing techniques to help building product manufacturers grow their businesses by aggressively driving sales lead generation activity.
As the only HubSpot certified agency to major on construction marketing, we bring together digital strategy, website design, SEO, content marketing, email marketing, sales automation, marketing automation and CRM implementation to produce successful campaigns and great results for our clients.