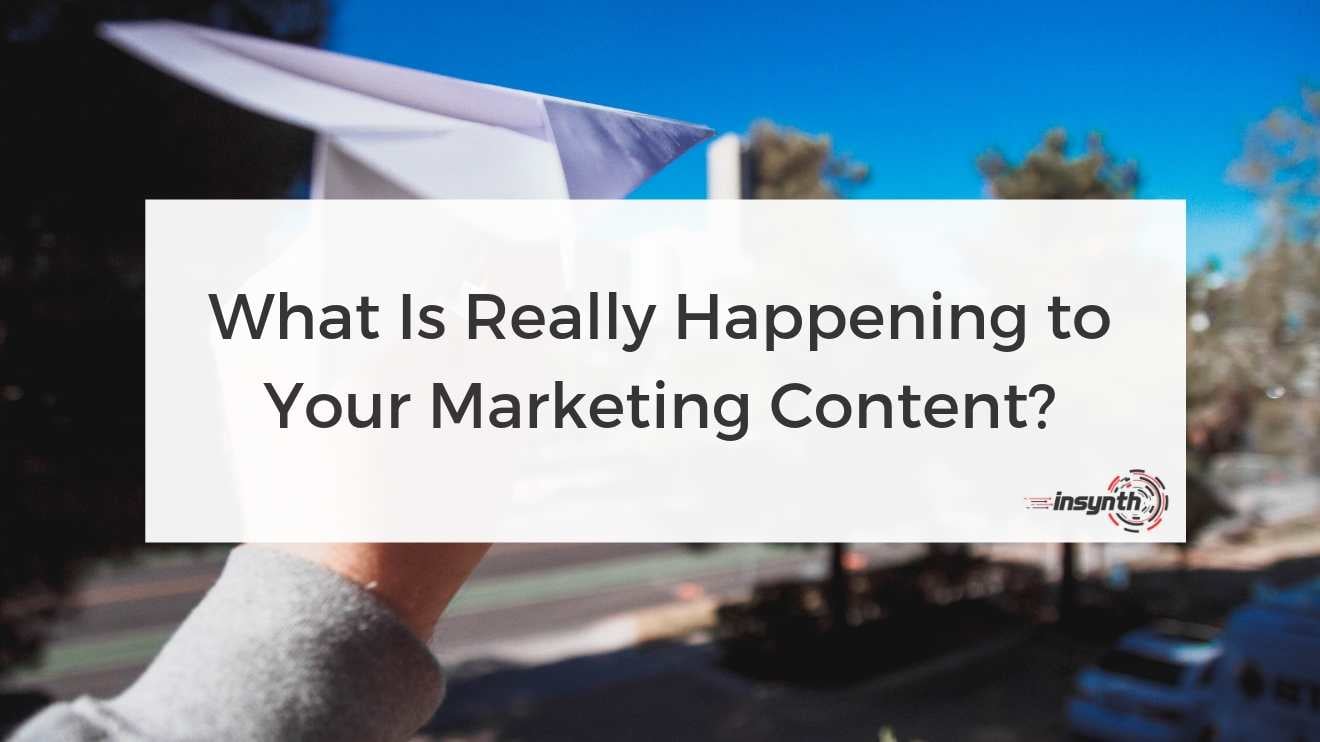 According to The State of Sales Enablement, 90% of marketing content goes unused by sales. Reps are often unhappy with what marketing is producing and create 40% of all enterprise content themselves.
Not only does this leave less time for sales teams to sell but also its wasting time and resources (through duplicated or unused content) in often an over-strained marketing department.
This issue frequently goes undetected, according to the same report the perception is that marketing creates 80% of content whereas, in reality, that figure is more like 30%. The remaining 70% is created by sales (40%), engineering (10%), services (10%) and other (10%).
Why Are Sales Creating Their Own Content?
Typically, it's because the content just hasn't been created yet, or it has, and sales teams can't find it. Perhaps sales and marketing have their own directories or work off different systems.
You'll likely find your business to be in one of these stages of sales process maturity: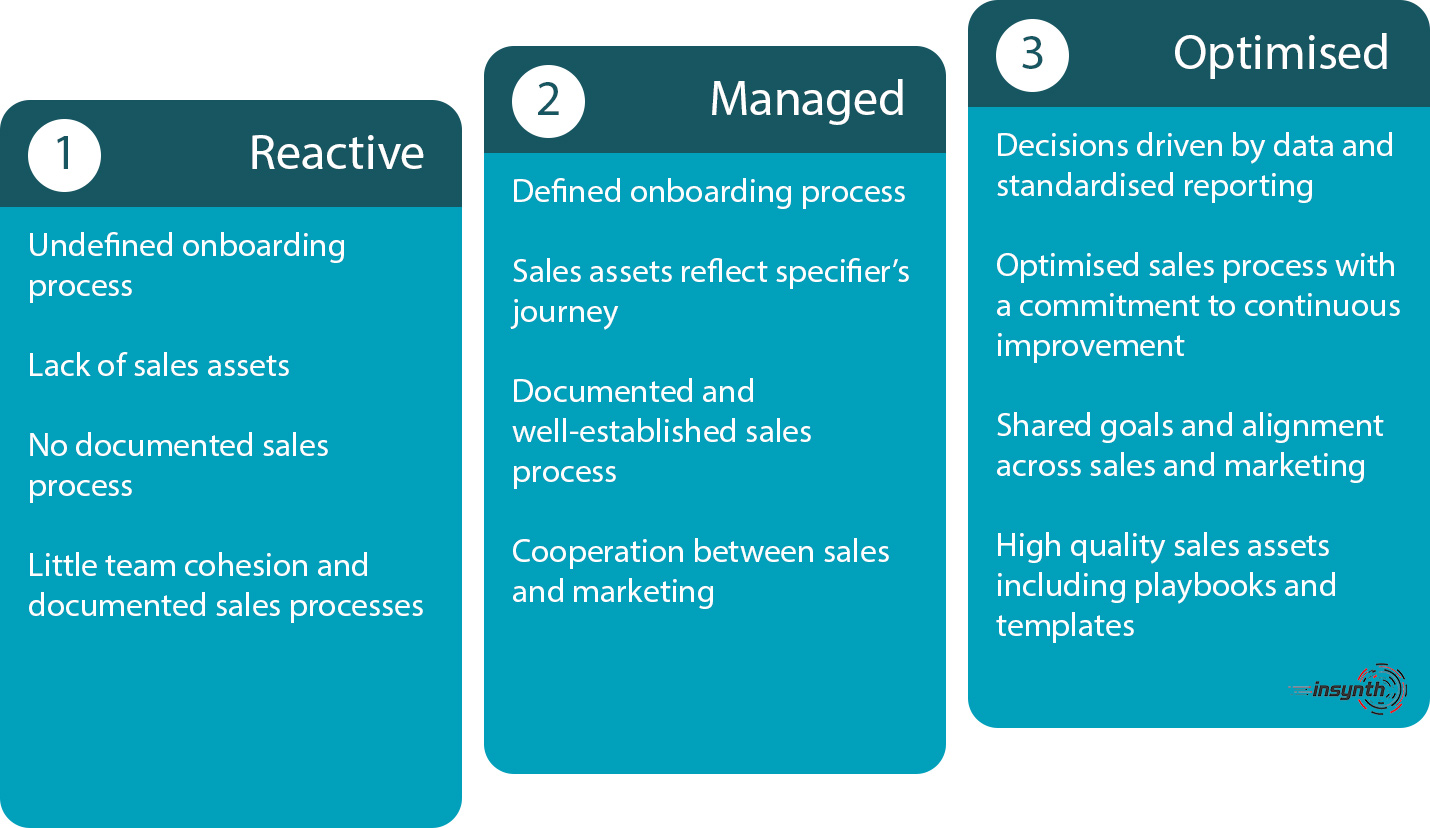 To reach the ultimate 'optimised' level, you'll need your reps to field test your content and a solid relationship between sales and marketing. To reach this level businesses have looked towards sales enablement technology. In fact, it has been one of the fastest growing areas in business.
Whose Responsibility Is Content Creation?
The majority of construction marketing content should be created by marketing to free up time for sales teams to sell. With this in mind sales should not ignore content completely, they spend the most time with the customer and should be feeding back ideas to marketing continuously.
When adopting this approach, ensure that:
Reps are exposed to all content produced by marketing
Content is tested for performance and feedback is given
The content is easily accessible
For this to happen successfully, there needs to be someone leading the collaboration between sales and marketing.
Using Sales Enablement to Align Your Teams
One of the core elements of sales enablement is sales and marketing alignment. As stated by Aberdeen, aligning sales and marketing leads to 38% higher sales win rates.
Research group IDC defines it as: "The delivery of the right information, to the right person at the right time in the right format, and in the right place to assist in moving a specific sales opportunity forward."
When it comes to implementing it, what's required?
Depending on the needs of your business we'd recommend at least a weekly sales and marketing alignment meeting.
Running A Sales and Marketing Alignment Meeting
It might seem tricky to get the two departments to collaborate at first, but a solid agenda will help the meeting stay on track and both teams will reap the rewards.
A typical sales and marketing alignment meeting agenda may look like this:
Presentation of SLAs
This is a service level agreement between sales and marketing that establishes a set of deliverables between the sales and marketing department.
It will need to outline a shared revenue goal for the company and how both teams can help each other to achieve this.
Performance discussion
By working backwards from your shared revenue goal, you'll be able to work out how many leads are needed and the percentage of those that need to be closed. In this meeting, you'll be able to present trends in your report, both positive and negative, and analyse these together.
Content review
Sales are often left out the conversation around new content. This is a chance for marketing to feedback what prospects are consuming prior to being passed over to sales. This will help sales have a deeper understanding of the customers' problems.
Sales are in contact with customers every day, they'll know what sort of questions come up time and time again. If marketing can help answer these questions through content the buyer can consume beforehand, not only will it shorten the sales cycle, but it will also help to establish trust between sales and the buyer.
Next focus
This is a chance to decide on collaborative goals and tasks for the upcoming week. Perhaps in the 'they ask you answer' format, sales might come up with a list of questions they frequently hear as content ideas for marketing as a goal.
Use this end to the session to celebrate joint successes, discuss competitors and create an understanding that working together will help move the business forward.
Conclusion
With 90% of marketing content not getting used by sales, businesses are wasting time and resources. This is not to say we should stop producing it, with higher win rates, shorter sales cycles and a better understanding of the customer the benefits of content to sales teams are boundless.
In order to reach a stage in which building product businesses can make the most of both their sales and marketing teams, they'll need alignment meetings, shared resources and a shared revenue goal. To achieve this, businesses can implement sales enablement.
Sales enablement requires sales and marketing teams to work together and close the feedback loop between marketing, sales and the customer.
About Insynth
Insynth Marketing is a leading UK construction marketing agency based in Shifnal in the West Midlands.
They use the latest inbound marketing techniques such as construction inbound marketing, to support building product companies to grow their business by proactively driving sales lead generation activity.
As the only HubSpot certified agency to major on construction marketing, we bring together construction marketing strategy, digital strategy, website design, SEO, content marketing, email marketing, sales automation, marketing automation and HubSpot CRM implementation to produce successful campaigns and great results for our clients.