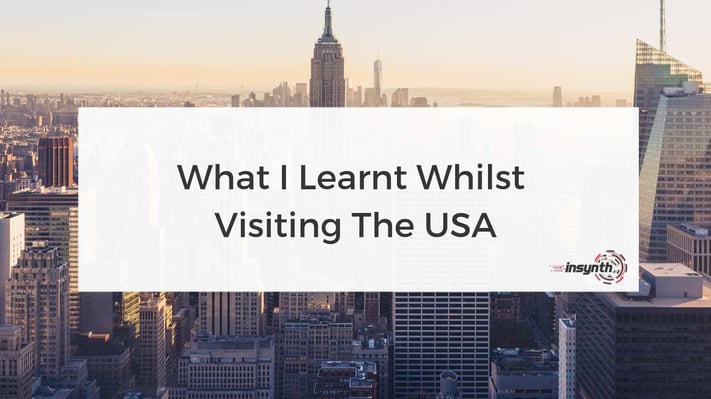 The Insynth team visited Boston last week for the annual event called Inbound. It's a marketing event which features hundreds of speakers, ranging from experts in social media, content, SEO, sales, and so much more. It's held by HubSpot.
Other than finding out everything you see in American films is real, such as the FedEx vans, the manholes in the streets that let out steam and the fact there are donut shops everywhere, I learnt a lot of interesting progressions within marketing and business.
Insynth attend the most forward thinking innovative events to ensure our clients can always be ahead of the competition.
Being the only registered HubSpot partner in the building materials and construction industry we feel it is our responsibility to share with you the latest trends and strategies that work.
American People Are Way More Up For Networking
Although us Brits perceive Americans as smiley and overly friendly it's actually a massive bonus when networking and attending events.
In each session you're likely to sit next to people as the rooms are normally full. I can honestly say every single time I had a conversation with someone, they instigated it.
I came away from the event wishing I'd spoke to more people and wishing I'd started the conversation first because at the end of the day, only good can come from it.
I've attended events in the UK and even when forced to by the speaker to talk to the person next to you, we normally don't.
Why are we so scared to just have a conversation with someone?
Women Get An Awful Maternity Leave
As it's technically business related I thought it was only fair to mention this as it genuinely shocked me. It's well known that in America they have to pay for healthcare and have to have health insurance whereas we have the NHS.
However if a woman wants to start a family whilst working in America she is entitled to 12 weeks unpaid leave if they work at a company with 50 or more employees. Many female speakers mentioned that it's not common for women to even take the full leave as they can't afford to.
In comparison to the UK, women can take up to 52 weeks maternity leave. Within the first 6 weeks they get paid 90% of their average weekly earnings. The next 33 weeks they get £148.68 or 90% of their average weekly earnings (whichever is lower).
In some states they've passed laws for paid maternity leave but this has to be passed in each individual state for it to be carried out across the whole of America.
A Donut Shop Doesn't Just Sell Donuts
In the UK if you go to a coffee shop such as a Starbucks or Costa you may notice you can buy a reusable mug. In the states they go one step further, every coffee, bakery or donut shop we went to you can by cookery/baking recipe books, t-shirts, tote bags, aprons, caps and mugs.
Their offering is far greater than ours is.
This is how committed they are to providing an excellent service. They know that if their customers are buying baked goods, then they may want to bake them themselves or need the utensils to do so.
The shops didn't sell everything possible merchandised, it sold products that aligned with the bakery's overall message and ultimately what their customers would want to buy.
By selling these additional items they're keeping their brand alive and fresh without changing the original product that people love.
Conclusion
Visiting the states was honestly the work trip of a lifetime, not only the time spent attending the event but also experiencing the way of living over there.
One thing that was clear from the beginning is they're way ahead of the UK in business in a number of ways. The UK has gradually seen a shift with customer service becoming the most important factor when making a purchase decision rather than the price.
Although it's the norm to tip people in America, I was surprised that not every cafe and bar we visited went above and beyond to provide excellent customer service. This then demonstrated which companies were ahead of the game and understood the importance of service.
If you're expected to tip everywhere you go as it's known they get paid a low wage, then you get frustrated that you're then tipping even when you feel like they don't deserve it.
Although we were only there for 5 days, we found ourselves returning to the same bakery for breakfast every morning as they provided the best service every single time.
About Insynth
Insynth Marketing is a leading UK construction marketing agency based in Shifnal in the West Midlands.
They use the latest inbound marketing techniques such as construction inbound marketing, to support building product companies to grow their business by proactively driving sales lead generation activity.
As the only HubSpot certified agency to major on construction marketing, we bring together construction marketing strategy, digital strategy, website design, SEO, content marketing, email marketing, sales automation, marketing automation and HubSpot CRM implementation to produce successful campaigns and great results for our clients.