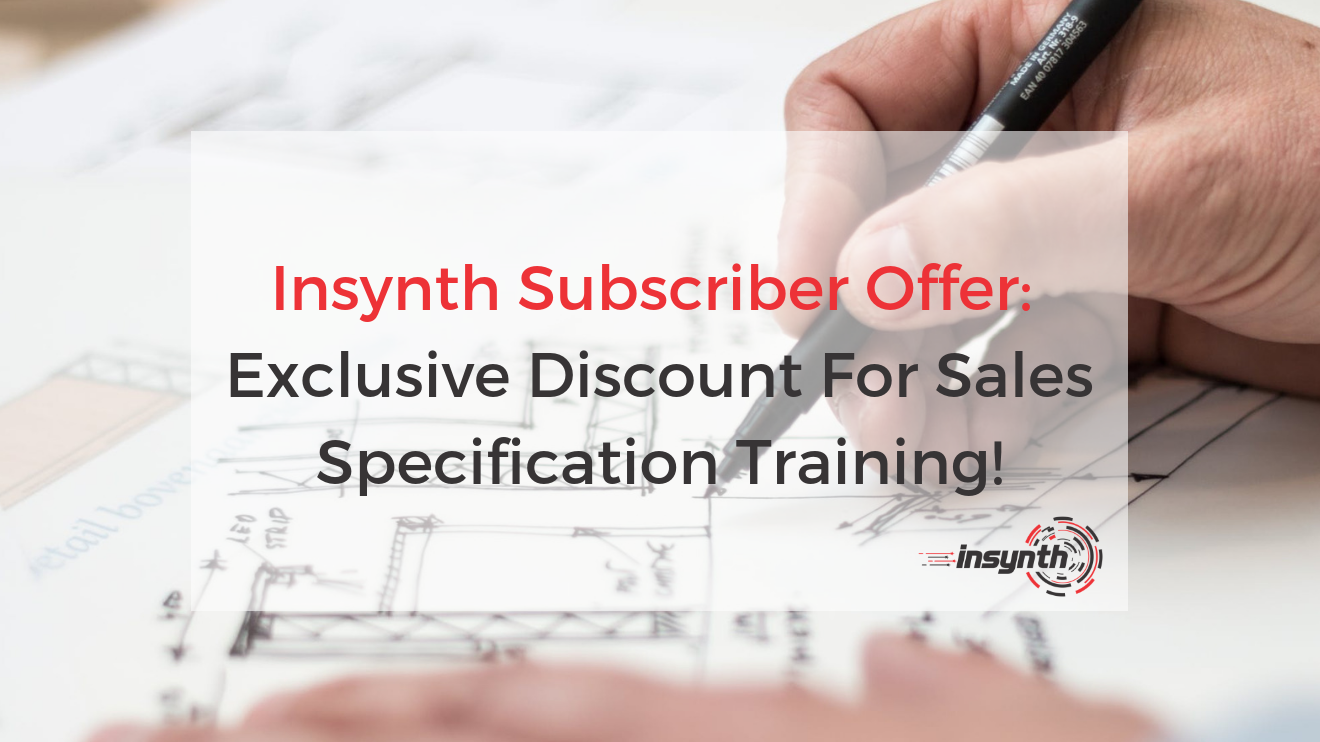 Insynth have teamed up Competitive Advantage to offer an extended early-bird discount to our blog subscribers for their one-day course on "Creative Demand Through Specification"!
Read on to find out more about this training and how you can get an exclusive discount...
About This Course
The course is designed for specifically for building product manufacturers and their sales and marketing teams to improve their effectiveness in generating specification for their products and gaining competitive advantage.
It explores the market dynamics which influence decision making and the specification process itself.
It identifies how specifiers, contractors and distributors work, and offers guidance on how to manage your relationship with these influencers and decision makers to secure and protect your specification.
This course is suitable for those in marketing and sales management roles in the building product industry as well as marketers and sales peoples who engage with architects, engineers and contractors.
Content is extremely helpful for those new to the construction industry and a valuable refresher to more experienced practitioners.
If you want to improve your market share or profitability, then you must create demand. This course will teach you how.
The course takes place in Central London on 10th October 2018 from 09:00 – 16:00, with breakfast, lunch and refreshments included.
You can also gain 6 CPD hours while taking this course.
Insynth Discount
As a subscriber to Insynth's weekly email newsletter you can enjoy this course with discounted admission!
Subscribe to the Insynth blog before the end of September, sign on to Competitive Advantage's "Creating Demand Through Specification" one-day course, enter your Insynth Exclusive Code CD-SPEC and receive the early-bird rate of £247 (+VAT).
If you work in construction marketing or sales, whether you're new or experienced in the industry, this course is the idea way for you to gain and hone your skills in building products marketing while making the most of our exclusive offer!
About Insynth
Insynth Marketing is a leading UK construction marketing consultancy based in Shifnal in the West Midlands. Insynth employ the latest inbound marketing techniques such as construction inbound marketing, to help building product manufacturers grow their businesses by aggressively driving sales lead generation activity.
As the only HubSpot certified agency to major on construction marketing, we bring together construction marketing strategy, digital strategy, website design, SEO, content marketing, email marketing, sales automation, marketing automation and HubSpot CRM implementation to produce successful campaigns and great results for our clients.