Last month Insynth's website developer Tom had the pleasure of attending HubSpot's digital conference, HubSpot.Extend(), HubSpot's event built just for developers. We knew this event will be slightly technical, so we sent our very own Tom, our lead developer, to make the most of the presentations and workshops led by HubSpot thought leaders, sessions on cutting-edge content, inspiring community stories, and more.
The aim of this event was to share and give access to the platform's latest developments, teach new techniques, discuss technical topics and connect with developers around the world.
We spoke with Tom to discuss the key takeaways and his highlights of the event.
HubSpot's CMS and the Aim to Create High-Quality Online Experiences
But, what does HubSpot have to say about website design and online experiences? HubSpot has been developing in the last few years their own content management system or CMS. A CMS is there to help you build and manage your website with very limited technical knowledge, as well as work as one with your business. Until recently, WordPress was the go-to CMS for building a website.
It was initially cost-free and the developing tools were rather affordable, but that has changed. Currently, 118,630 live websites are built using HubSpot CMS Hub, and this number keeps growing. In fact, most users admit not only feeling limited after a short time using this WordPress, but also overwhelmed by the add-ons they rely on, and that is when HubSpot comes in.
With 24/7 threat monitoring, the CMS Hub offers in transit SSL encryption, WAF and DDoS protection, and regular vulnerability tests, so the security of your site is always granted. Additionally, The CMS Hub includes, at no extra cost, some of the most popular plugins for business websites, while offering a CMS that is perfectly integrated with your tech stack.
The CMS Hub was designed to work as a bridge between developers and CMS users without IT knowledge. As a result, HubSpot users can easily create, modify, and add modules to pages using an intuitive drag-and-drop editor. This particular feature has contributed to HubSpot's CMS Hub being considered best web content management software for medium-sized businesses by G2.
Key Takeaways from HubSpot.Extend()
Just like we mentioned after attending INBOUND2022, the topic of disconnection was once at the centre of the discussion.
Disconnected systems are the number one pain point and causing more customers to become disconnected in a post pandemic world where more and more businesses have moved to engaging more on digital platforms. Customers want personalised and valued touchpoints, access to CRM features to streamline and connect their data, and online communities to create relationships and learn from others.
HubSpot plan to tackle this crisis by investing more into CMS and CRM tools. It was clear they were eager to share some of the work HubSpot has been doing to support and strengthen the developer community by investing in the platform, building innovative tools, and creating new learning opportunities. As the global HubSpot developer community grows, HubSpot's product offerings continues to evolve.
The conference left us with a few big updates such as new JavaScript Rendering CMS development experience, a new BETA functionality for customising and a extending the capabilities of CRM, more investment in standard development frameworks, and a greater ability to code server side react.

Highlights from Tom
"I really enjoyed "How JavaScript Rendering Powers Business-enabled Sites" which explored some of the new building blocks that are being added to the developer toolbox."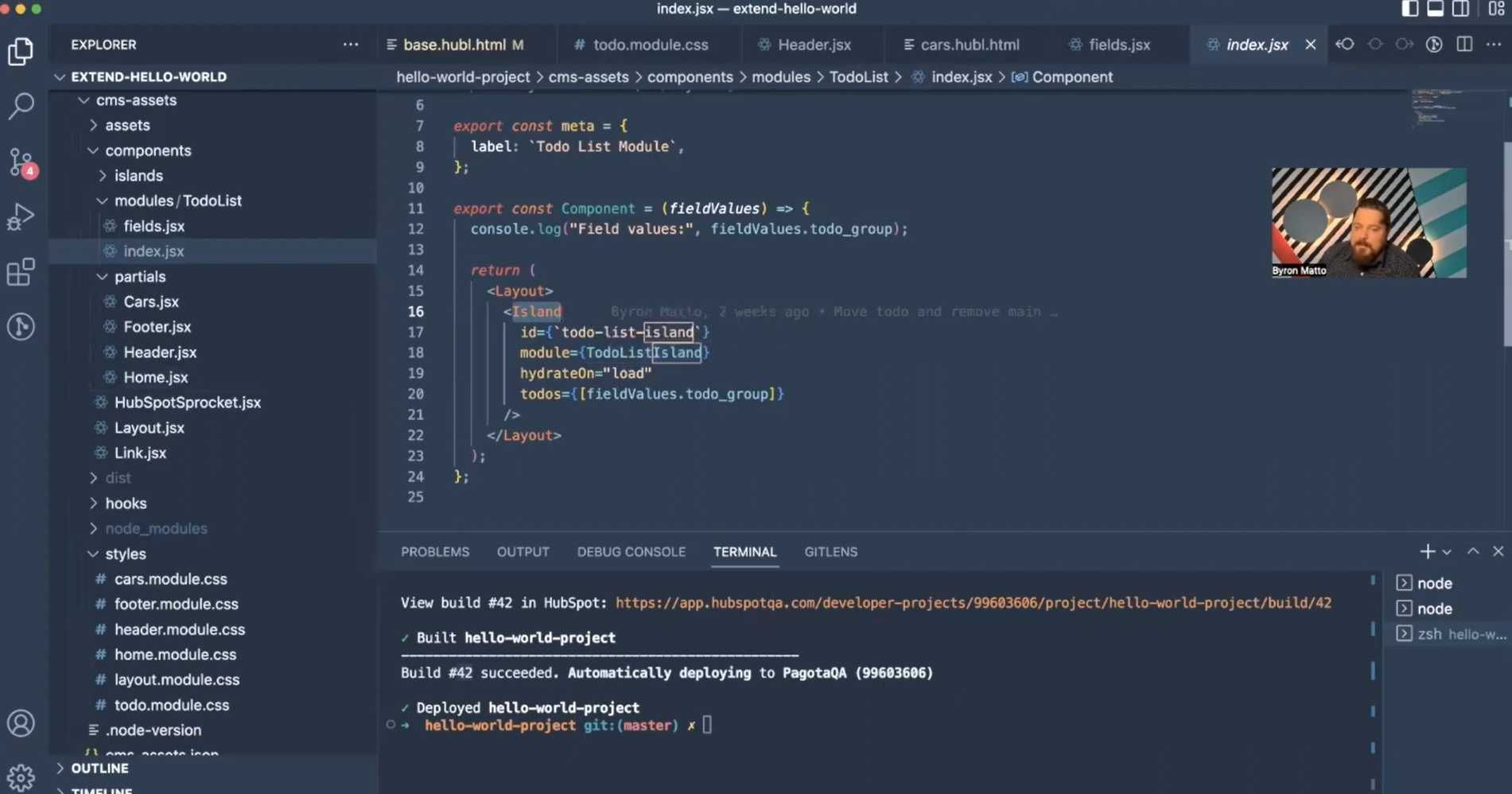 "Byron Matto, who is the Engineering Lead at HubSpot, built a sample webpage with JS blocks which really helped me digest how everything needs to be orchestrated on the platform."
"I really like being able to work locally and HubSpot have met developers half way with the local tools which allows me to sync my code with HubSpot. Now it will be possible to spin up a local development server and preview my work before I send it up to HubSpot which saves me time and frustration."
"I got the impression that HubSpot have been listening to the developer community and are adapting the platform to meet the industry standards that an IT professional expects to see. I also got an opportunity to chat to other developers while watching the seminars which was an added bonus."
Why is This Important?
In 2019, a report produced by Sana found that over 84% of construction companies were planning on selling their products exclusively online in the next few years due to up to 38% of architects relying on search engines when looking for new products to specify. Offering a seamless user experience, as a result, has become an undeniable priority that the CMS Hub can help securing.
Whilst most CMS platforms are mainly devoted to hosting content (i.e., WordPress or Wix), the CMS Hub is carefully designed to drive growth through user and company data leveraged from its CRM and organised in comprehensive reports that help you create a more detailed user experience for each of your visitors. Through HubSpot's CMS, you can continuously optimise and produce data-based analytics, allowing you to improve your site to better cater for your user experience.
As HubSpot partners, we do not only recommend and use the tools offered by the platform, but we also follow their philosophy and are committed to their vision of offering the best possible digital experience to website visitors. HubSpot is investing heavily in making the user experience a one-of-a-kind.

Conclusion
All together this event was a great opportunity for web developers around the world to tune in and learn about the new updates for HubSpot as well as meet with other developers.
Digital events like HubSpot.Extend() allowed developers like Tom to tune into seminars with the flexibility of watching from home or the office. And with all the seminars uploaded to YouTube, he can watch on demand at any time for a refresh.
If you missed out on the event you can access on demand content here.