As more building products and construction companies become more educated on the inbound marketing methodology, Insynth is pleased to welcome our new Digital Content Marketer, Rich Newsome to the ever-growing team.
As the only HubSpot certified agency to major on construction marketing, Insynth is leading the way with the latest inbound marketing techniques.
Read on to find out more about Rich…
Rich's Marketing Story
University of Worcester graduate, Rich developed his professional skills within the Primary Education sector, becoming a specialist teacher of English, before embarking on his career in Marketing.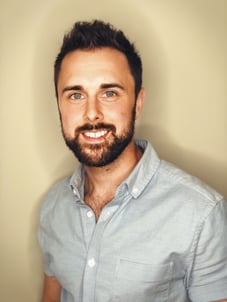 Working to tight deadlines, adapting to ever-changing situations and continually thinking outside of the box are just a few of the skills that Rich has cultivated during his six-year career thus far.
With a passion for writing and a keen interest in technical subjects, Rich is excited to work within the building and construction industry and welcomes the challenge, quoting Marcus Sheridan: "You can always teach a great writer to be a good Marketer" as his main driver moving forward.
When he isn't working, you will find Rich playing his guitar, reading fiction or doing his best to keep healthy and active.
Why Inbound Marketing?
As a 'people person', the Inbound Marketing methodology appeals greatly to Rich. Putting the consumer first and educating them through high-quality content is what initially attracted Rich to the role.
Being in an industry that is designed to attract visitors and potential customers, rather than outwardly pushing a brand, product or service is another reason for his move to Inbound Marketing.
With his educational background, Rich hopes to convey technical information in an accessible way, appealing to a variety of consumers.
Working alongside fellow content marketer-Olivia, Rich will be producing blogs, eBooks, white papers, website copy, and social media content, promoting businesses through increased website traffic.
Continued Growth
This is an exciting time for Insynth as it continues to grow its client base, employing specialists from a range of backgrounds and creating diverse, engaging and stand-out content. Insynth is proud to share this journey with you.
About Insynth
Insynth Marketing is a leading UK construction marketing consultancy based in Shropshire, West Midlands. Insynth employs the latest inbound marketing techniques to help building product manufacturers grow their businesses. Get in touch to find out more about our vision and how we can help your business grow.