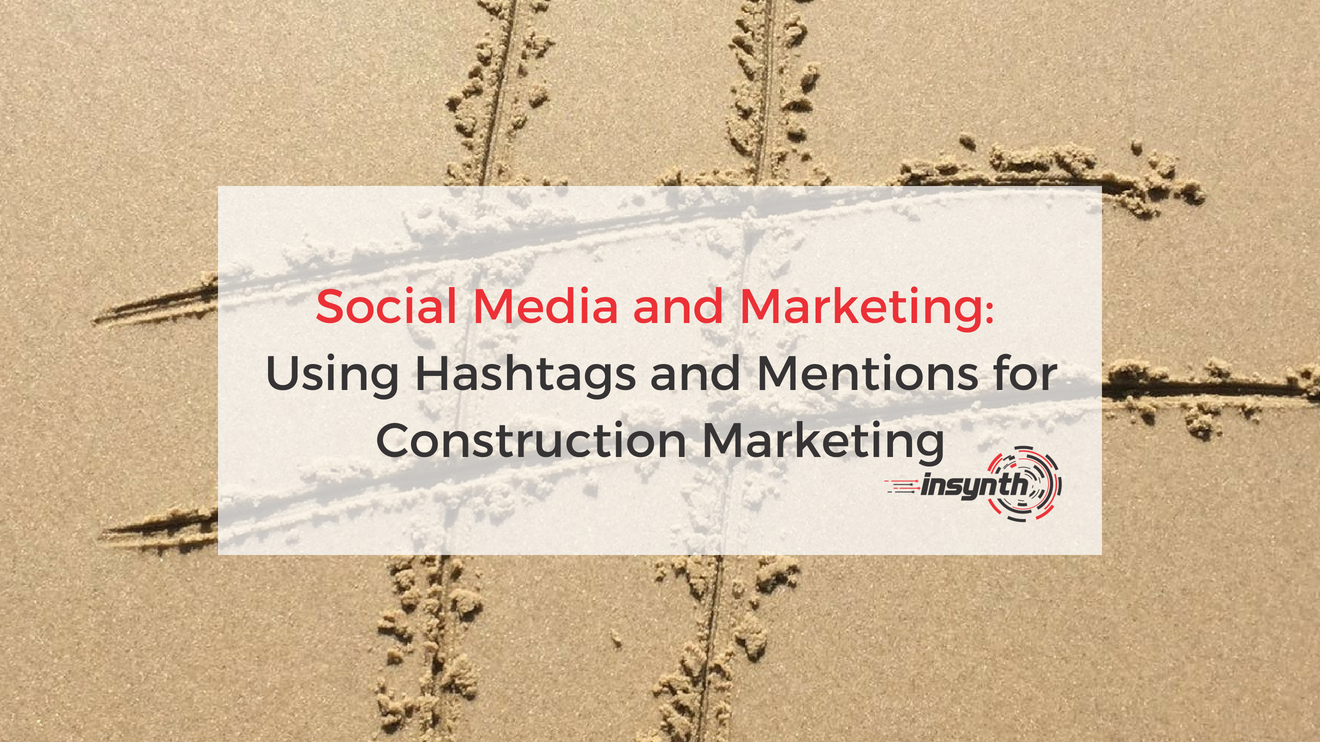 The use of hashtags and mentions on social media is an old concept constantly being made new. Every year more and more sites make them a key feature of the user experience revolutionising the ways in which businesses on social platforms can reach out to potential clients.
Download The Definitive Guide To Social Media Marketing
While hashtags are generally associated with the likes of Twitter and Instagram, they are growing in presence across other sites such as Facebook, who made them an active part of social networking in 2013, LinkedIn, and Pinterest, which currently have a limited range of usage for hashtags but are slowly increasing their capabilities. Being an active user of social media is a key part of the content, and inbound marketing strategy and embracing the changing behaviours and tools on social media is key to succeeding in construction marketing.
Mentions are more commonplace. Social media campaigns rely on keywords to create trends. Similar to how hashtags work; mentions are about ensuring that content has the exact keyword that people are searching for in your posts so that it will land amongst the other like-minded tweets, pins, photographs and posts where your intended audiences can easily find them. Twitter has led the way for mentions in the past but other social platforms are now catching up. Here is some of the ways in which you can utilise your hashtags and mentions for the purposes of successful construction marketing.
How Can Hashtags and Mentions Help?
Hashtags and mentions are a huge advantage to construction marketing. They create a direct link between your business and the potential prospect. Your post not only gets placed on a page with other related content, but prospects searching social platforms will have a better chance of finding you via their own posts in relations to their needs. This gives you the chance to connect with as many potential clients as possible with just a single post.
Social media posts are like everything we encounter; they have a lifespan. This can vary from platform to platform so it is important to optimise your posts to ensure that whatever length of lifetime they may have; they reach the maximum amount of people that it is possible for it to reach.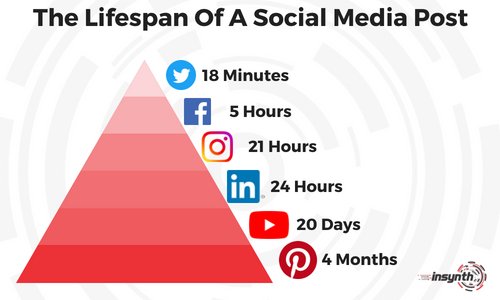 By including keywords as mentions and hashtags you automatically place your post on a page with other posts of the same subject matter. This, in turn, reduces the risk of your post being lost within that limited lifespan and potentially extends it depending on how much similar content is being posted on the same platform. For social media sites like Twitter, where the life of a tweet in a matter of minutes; this is invaluable to a business reaching out to consumers.
Mentions and hashtags can also become part of your SEO strategy. As prospects use social media for posting customer service reviews, calls for recommendations or requests for information and announcements, your ability to respond to that; either with direct response or your own regular postings, inclusion of those keywords become an integral part of using SEO for construction marketing.
Making Use of Mentions and Hashtags
Using social media for the purposes of construction marketing means making the most of the tools that they offer. Hashtags and mentions are critical for ensuring that your post gets placed on a page with other, related content that tallies directly with yours. For a business, this means that potential prospects searching social media platforms have a much better chance of finding you and seeing how you are able to meet their needs.
In order to do this, it is important to make sure that your posts include enough relevant information that will draw in and educate your audience quickly and concisely. This is where hashtags and mentions come into their own.
It is important to only mention, and hashtag, what is relevant to the message you are trying to convey. As seen in Insynth's Using Twitter for Construction Marketing post; there is no point hash-tagging a post with #constructionwinners if prospects are looking for #constructionmarketing or #marketingagency, which is much more likely as it states exactly what they are looking for on social media.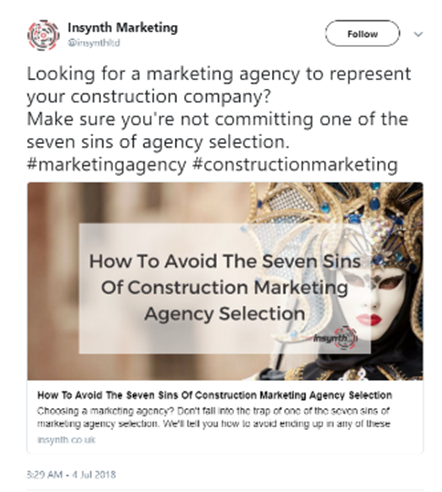 However, it can also be of value to businesses to make use of top trends on social platforms in order to boost the potential audience. These are typically displayed in the sidebars of pages, so it will be easy to stay up-to-date with what the majority of your social network is talking about. It will reduce the lifespan of your post because so many others are being produced under the same trend and as a result, you may have to post more often in order to get noticed within these circles.
For example; if in the UK the most talked about trend is a heatwave, then why not use this as an opportunity to score some additional views for products? For companies in the construction industry, this could include talking about that trending heatwave in the context of your air conditioning units, swimming pool company or garden water feature installation.
If people are writing about trends then they are also reading about them. Making use of these ever-changing topics of discussion through the inclusion of hashtags and mentions is a really strong way of getting yourself noticed by the audiences you are hoping for. Potential prospects could be scrolling through discussions of the heatwave and social media, come across your post and before you know it; a conversation could be taking place. Just make sure your post is in some way relevant to the trend.
Here is an example of how top ten UK trend 'Brexit' was utilised by Insynth for the purpose of boosting a blog post on construction marketing and industry news: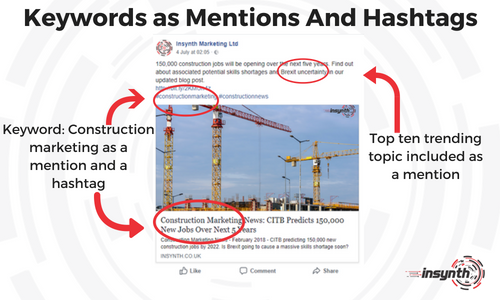 Hashtags are especially important on social media. They can reduce the formality of an online exchange with a customer while keeping your content relevant to the topic of discussion. However, it is always key to remember that on certain platforms like Twitter and Facebook, too many hashtags can be off-putting; whether in a general post or a direct response. These platforms recommend a maximum of two hashtags per post, while other, more hashtag-driven sites like Instagram rely on the use of them to increase the visibility of the user's content.
Mentions and hashtags are key to using social media in construction marketing. They can boost increase the lifespan of your content and connect businesses with prospects in a more social environment. They allow for posts to be seen by as many potential customers as possible and place content alongside similar posts in less crowded circles. Making use of trending topics is important and posting little and often can also help boost the visibility of your content across all of your social media.
How Insynth Can Help You
Are you achieving the results you want to with your social media posts? Insynth's social media service is designed to provide you with complete control over your brand image and messaging across social media platforms. We will work with you to tailor a personalised social media presence, advising you in terms of:
Social consultancy: developing your personalised social media strategy based on your marketing goals.
Managing your brand: securing engaging usernames and profiles that match your campaigns to highlight your brand image.
Social tone and nature: finding the right voice and style for your brand's social media presence.
Social media monitoring: Highlighting customers' positive feedback across your social media channels and involving you in conversations.
Social PPC: Implementing social ads to develop your social media presence.
Social PR: Networking on social media platforms to expand your range of contacts, prospects and clients.
Creative Discussion: Creating fast, reactive updates to spark conversations and visibility online.
Reporting and Analytics: Analysing data to review the effectiveness of your social media strategy and activity on each platform, to inform future activities.
Cross Channel Promotion: Ensuring that your messages reach audiences across all social media and marketing channels to expand your reach.
You can also stay up-to-date with what Insynth are doing! Follow us on Twitter, LinkedIn, Facebook and Google+ to stay in touch!
About Insynth
Insynth Marketing is a leading UK construction marketing consultancy based in Shifnal in the West Midlands. Insynth employ the latest inbound marketing techniques such as construction inbound marketing, to help building product manufacturers grow their businesses by aggressively driving sales lead generation activity.
As the only HubSpot certified agency to major on construction marketing, we bring together construction marketing strategy, digital strategy, website design, SEO, content marketing, email marketing, sales automation, marketing automation and HubSpot CRM implementation to produce successful campaigns and great results for our clients.