Unfortunately with social media there's no one answer or technique that suits all companies. Successful social media campaigns vary due to a number of factors as well as the company itself and its target audience.
Specifically for the building products industry are 5 tips that contribute to having a successful social media campaign.
Read on to find out more...
Download The Definitive Guide To Social Media Marketing
#1 Post Regularly
Similar to blogging, posting content often shows you're active. Some companies start social media accounts and then forget to post for 6 months. As social media is becoming as essential as a website when it comes to business, it's important to show you're active. Prospects will search for you on social media like they do on Google to find your website.
If upon finding your social media account they see you haven't posted for a long time, this isn't going to fill them with confidence. Its similar to blogging on your website, by posting regularly you provide another positive signal to your prospect that you're active.
On their Social Trends 2021 Report, Hootsuite published that 1 out of every 2 of the companies surveyed were planning to increase the budget devoted to Facebook, YouTube and LinkedIn in the following months. 78% of the interviewees believed Facebook to be the most effective platform for reaching their goals, closely followed by LinkedIn.
Depending on the platforms you're active on you should post at least 3 times a week if not daily. Below is a illustration to show the lifetime of posts on specific platforms. This is not to say you need to tweet every 18 minutes but you should definitely post more on Twitter than LinkedIn.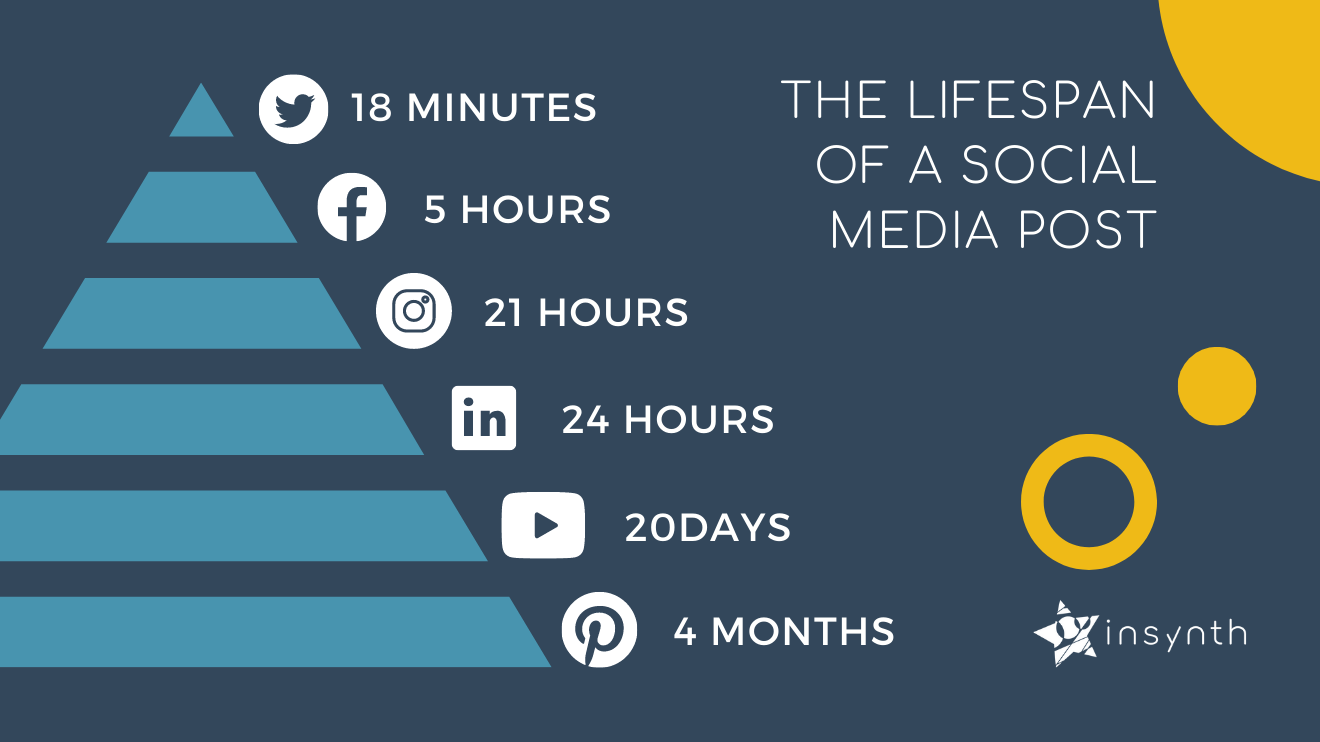 Keep this in mind when planning your social media content for the month ahead. Scheduling tools can be great for keeping posts consistent.
When posting live it can sometimes be forgotten or other things come up that are more important. By scheduling it ahead you can allocate yourself an hour or 2 at the start of the week so there will always be content posted.
Buffer and Hootsuite are free tools that are great for beginners scheduling social posts.
#2 Link Back To Your Website
It sounds really simple but a lot of people get carried away with the post itself, the images, hashtags and wording that they forget to add a call to action.
Ensure you give viewers the option to find out more or book a place, whatever your message is make sure your call to action relates and is specific.
For example, if you are introducing a new product, then link to the actual product page rather than the home page. By making it easier you remove any friction, you're also seen as being helpful.
Social media is an opportunity to attract new prospects so ensure you're giving as much guidance as possible to allow people to find out more.
#3 Double-Check Spelling And Grammar
A simple tip is to check your spelling and grammar, it sounds obvious but you still see mistakes on social media posts. This is also another reason to schedule the post rather than rushing as you are less likely to make a mistake and you can check it on a free tool such as Grammarly .
Another tip is to get someone to review them, you may need someone higher up to sign things off anyway but try asking someone who hasn't seen some of the posts before to give their feedback.
Would they scroll past, is it eye catching enough? Is there too much text?
Take their feedback on board and improve your posts where possible.
#4 Use Analytics To Improve
Most of the social media platforms have analytics integrated, some you may have to be a business account.
This gives you insight into which post has performed the best regarding reach, engagement and click through. Scheduler tools can also give you analytical data to help you improve your posts.
By reviewing and observing your posts you can start to experiment with timings. You might always post at a specific time, try posting at a different time to see the results. You can do this with the type of language you use, the content you share and more.
The more you trial and test the better you'll understand your audience on each platform and when they engage. This should allow you to reach more people as they are specifically targeted.
#5 Respond To All Mentions And Comments
Even if someone is commenting to say great picture or great job you should always like the comment and or respond to say thank you, or make a comment back. It's an opportunity to continue the conversation and looks good as again it shows your active and responsive.
This is really important on social media as a lot of people prefer to use features such as live chat to answer a query rather than calling up. If someone can see you respond to comments quickly they will feel more confident that you'll be able to answer their query.
It's also important to reply to negative comments and queries as it represents how well your company deals with customer service. Insynth's Digital Marketing Report revealed that 80% of building product companies didn't respond to a customer enquiry. That's when we went direct through the website, which you'd hope would notify more than 1 person.
With social media it's important, especially if you schedule your content, to have notifications going to a device you see often such as an iPad or your phone. This way you can ensure you respond to any queries as quickly as possible.
[2021 UPDATE] Top 5 Social Media Platforms For Construction Businesses
HubSpot reedited their State of Marketing 2021 report last August to include data related to the UK market, making it more relevant for businesses operating at a country-level. The report opened with an unbeatable headline: social media has been the #1 channel used in marketing in 2021 with 8 in every 10 companies investing in their social presence.
But, how accurate is that data for manufacturers and construction companies?
When asked about the social outlets construction professionals most often used, the participants of the 2018 Social Media in Construction survey highlighted LinkedIn and Facebook. 78% also reported using Twitter, and 61% explained having dived into the world of video content and YouTube. Surprisingly, Instagram was only present in the strategy of half of the businesses surveyed. Read more about the 5 best social media channels for building professionals here.
Conclusion
These 5 tips should give you the structure to successfully manage and post on social media. By presenting your company as being helpful you're more likely to be trusted, making it easier to build relationships with potential customers.
Social media is essential to the construction industry as many of the products and projects are very visual. They're also normally part of a bigger project or build which can cause a lot of attraction, especially locally.
If you struggle with social media or want to learn more about how Insynth can help then get in touch today.
If you found the information in this post insightful, we recommend you look into some of the most popular articles in the Insynth Blog regarding social media! Our favourites are:
About Insynth
At Insynth we deliver a predictable flow of leads, customers, and specifications for building product brands through our inbound marketing approach, proven to reach a technically demanding audience.
We use the latest marketing techniques such as construction inbound marketing, to equip building product companies to grow sustainability in this era of digital transformation.
As the only HubSpot certified agency to major in construction marketing. We have a proven formula of bringing a variety of functionalities together including CRM Implementation, Web Design, Sales Automation, SEO, and Email Marketing to achieve your ultimate aim: Growing your business and gaining new specifiers and customers.
Book A Free Consultation Today