The first reason to be on social media is because its free. The only cost is time; having someone who manages it. You can invest in tech to make things easier but a lot of tools and schedulers are free to use anyway. As it's free it means that everybody's on it, which in turn means there's a lot of competition.
In this blog we'll explore the main reasons why businesses within the construction and building products industry should be on social media and the benefits it has to their customers.
Download The Definitive Guide To Social Media Marketing
The Building Products Industry Is Extremely Visual
Some products and services within the building products sector can be a work of art. Take pride in what you do and share your work on social media. It will help build your reputation and increase the chances of being seen.
Sometimes companies within the sector try and sell the product rather than the end result. What I mean by that is if you were selling windows for residential properties, a picture of the house with the windows installed looks a lot more attractive than a product picture of just a window.
People like to be able to relate to things, and it's the same with products. If you're portraying images of windows in residential properties only, people will get the message that residential is your main focus.
It sounds very simple, but a lot of companies have amazing pictures, sometimes from suppliers of their product being used in an area that they don't specialise in.
Sticking with windows an example of this would be a picture of windows on a school. The company then wonders why they're getting enquiries for educational buildings?
Think about the message you give viewers of your content, is it consistent?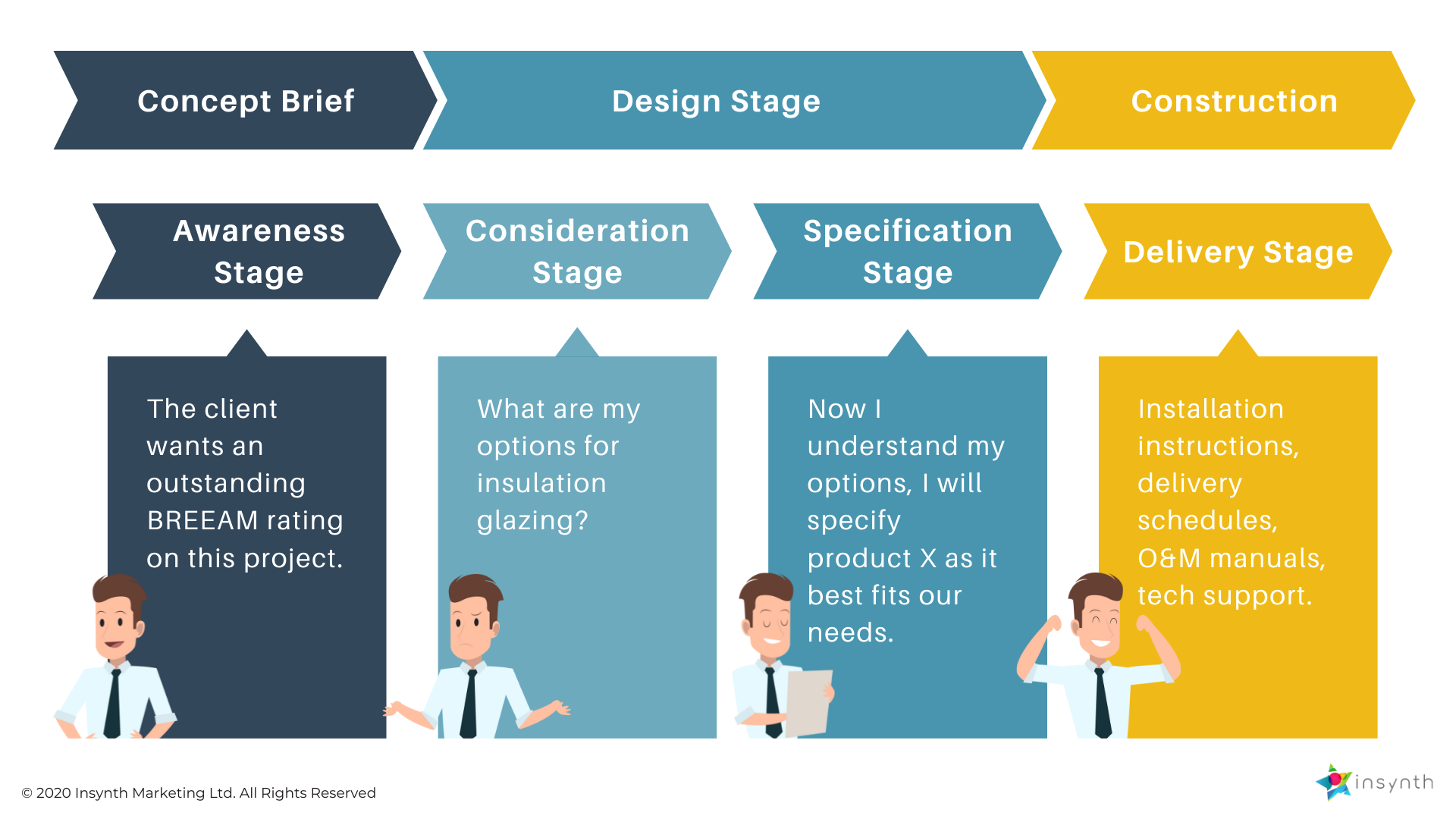 People Are Making An Important Decision
Typically products and services within the building products industry are an important part if not the main feature of a build. They're usually an investment and cost is generally higher, therefore the decision is harder to make.
Although this sounds like a disadvantage its actually the complete opposite as you know the customer will want as many validations possible when it comes to choosing you. You need to ensure you're giving your prospects as much information as possible. This allows them to move through the buyers journey and make their decision confidently.
By being present on social media, the content you put out should be supporting your message, making the decision a little less harder to make. Think about the buyers journey and the time in which they take to make decisions. If a prospect is considering 2 or 3 companies and yours is constantly putting out informative content you will be at the top of their thought process.
It may be that the prospect doesn't need your solution now, but in a years' time when he does you'll be the first company he thinks of as he's seen your name everyday on Twitter. He might not even read your content everyday but your brand name and logo appears and resonates with a particular solution.
It's A Competitive Space
When looking for a solution a prospect may look at 2, 3 companies? Maybe more. In this research they will most likely check out their social media pages. If 2 of the 3 companies haven't posted for 2 years and the other is consistently posting then they're already 1 up on you. Not only does it show they're involved and in the 21st century but it shows they are actually active and still going.
Put yourself in the customers shoes, if you came across a Twitter page that hadn't been used since 2016 you might think they're not in business anymore. You might find within your specific sector that competitors are extremely active. This is a good sign as it shows there's people interested in your solution. It also gives you the chance to see what they're doing and how they're engaging with people.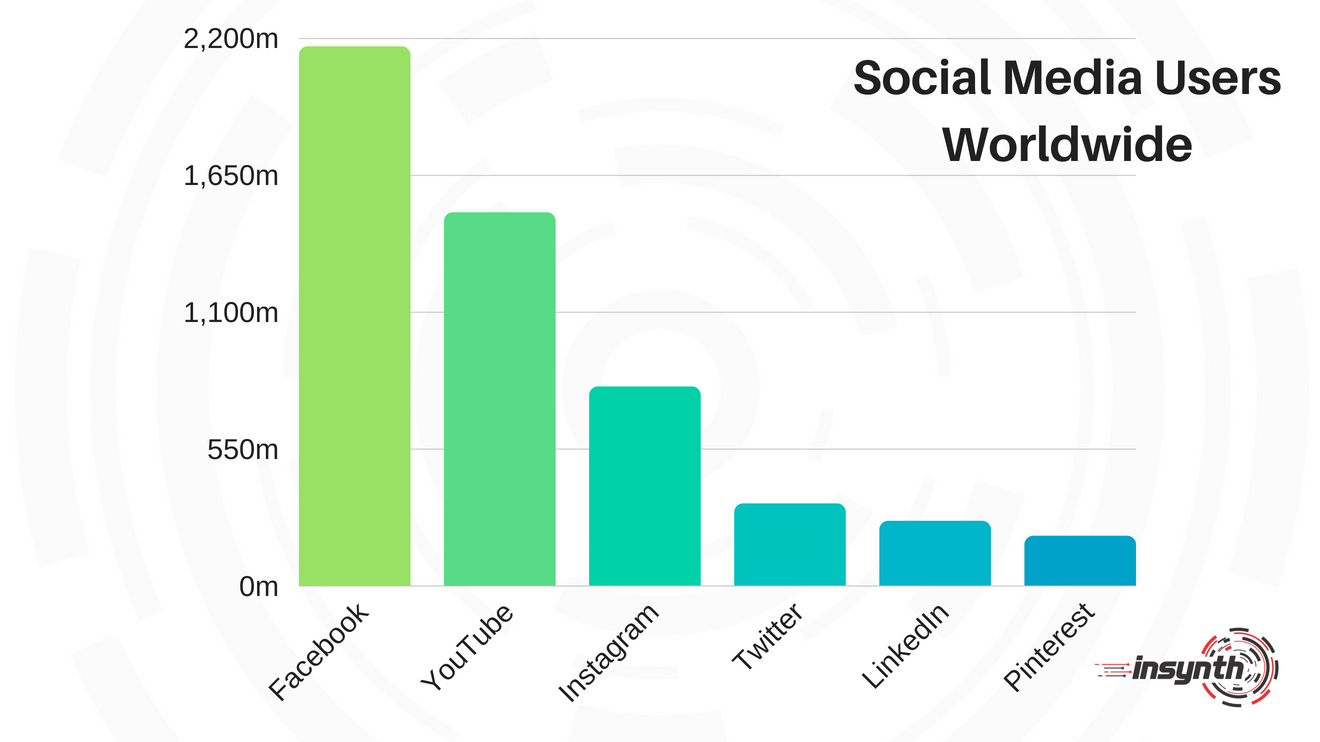 People Are Using Mobile More Than Ever
Year on year the use of mobile rises, social media is a huge part of this. Think about who your customers are, are they on the go, are they normally on site? If yes then they'll most likely be using their mobile more than their laptop.
With mobile comes the opportunity to create really engaging valuable content. Think about who in your company is out and about. It may be sales people, architects, specifiers or installers. Get them involved.
They are in the midst of all the action, they are the product.
People love to see progression pictures and videos. You might be so used to your product and been at your company so long that you've forgot how great it is. Don't undersell yourself, make sure you're putting as much information out there. The more you get people involved the more they'll come back.
It Increases your Chances Of Being Seen
Finally, the most obvious reason for being present on social media is it increases your brand awareness which in turn can increase your lead generation. According to the Sprout Social Index, 57% of consumers will follow a brand to learn about new services. Up to 47% will continue to engage with a brand after they have followed it on social media, with 89% making a purchase.
It's expected that companies are present on social media, just like it's expected every business has its own website. This is why people like to be present on at least 2 or 3 platforms as it increases your chances even more.
Different types of people use different platforms, so someone who uses Instagram a lot may search for you on their initially. Normally if people can't find you on one they'd check another or revert to the homepage of your website where there should be icons linked to all platforms that you're present on.
[2021 UPDATE] Top 5 Social Media Platforms for Construction Businesses
HubSpot reedited their State of Marketing 2021 report last August to include data related to the UK market, making it more relevant for businesses operating at a country-level. The report opened with an unbeatable headline: social media has been the #1 channel used in marketing in 2021 with 8 in every 10 companies investing in their social presence.
But, how accurate is that data for manufacturers and construction companies?
When asked about the social outlets construction professionals most often used, the participants of the 2018 Social Media in Construction survey highlighted LinkedIn and Facebook. 78% also reported using Twitter, and 61% explained having dived into the world of video content and YouTube. Surprisingly, Instagram was only present in the strategy of half of the businesses surveyed. Read more about the 5 best social media channels for building professionals here.
Conclusion
A lot of people don't understand the capabilities of social media. It can be hard to track down direct sales from social so people see it as a waste of time. Its true someone might not buy from you because of one specific tweet.
However they may buy from you because your website's easy to use, you have downloadable data sheets and you continuously post project pictures of work on social.
Think of social media as the cherry on top of the cake. It might just be the difference between someone picking you over a competitor.
Social media plays a huge part in brand awareness. It allows you to constantly be reminding people who you are, what you do and how you solve their problem without annoying them.
If you were to send every social media post you did as an email people would unsubscribe. Social media is different as they probably won't read your posts let alone click a link but the continuity of seeing your name is cognitive – it reminds them you're still there.
If you found the information in this post insightful, we recommend you look into some of the most popular articles in the Insynth Blog regarding social media! Our favourites are:
About Insynth
Insynth Marketing is a leading UK construction marketing agency based in Shifnal in the West Midlands.
They use the latest inbound marketing techniques such as construction inbound marketing, to support building product companies to grow their business by proactively driving sales lead generation activity.
As the only HubSpot certified agency to major on construction marketing, we bring together construction marketing strategy, digital strategy, website design, SEO, content marketing, email marketing, sales automation, marketing automation and HubSpot CRM implementation to produce successful campaigns and great results for our clients.