In a year where businesses are struggling more than ever, and redundancies and furloughs are being made left right and centre, hiring a new sales rep for your building products business doesn't sound like the best idea.
However, with technology such as marketing and sales automation, you can hire a robot sales rep who will be working for you, growing your business around the clock, and without even the need for a new desk!
In a time of massive industry change, isn't it time to move away from those old-fashioned spreadsheets and the hassle of manually tracking your leads?
Read on further to see how marketing automation can be your new technical sales rep.
Marketing automation exists to take up the strain in your marketing activities through automating and streamlining those tasks that take up precious time but are still extremely important for your marketing and sales funnel.
Following up on leads without having to do anything? Done. Nurturing your relationships with present and future customers? Achieved. Staying top of mind in your market? Completed it.
Marketing automation allows you to nurture your leads through automated emails, interactions and follows ups.
Most importantly, the software is triggered when customers who engage with your website content show interest and then can automatically begin that customer relationship on your behalf.
An Automated Expert Sales Rep
For Your Construction Company
Marketing automation works alongside your CRM to track and monitor how your prospects are landing on your site, how long they spend there, and whether they raise their hand for a sales call either through a form or some sort of 'contact us' button.
All of this will feed into their 'lead score', a way of keeping tabs on how interested your prospect is in your business and how high their intent to purchase is.
This means that automated lead nurturing can then step in while you save time and only have to step in when your prospects reaches a stage (score) where human intervention and engagement will get them over the final sales finish line.
A different score can determine a different playbook of marketing tactics including frequency of contact and even from which person/department they receive emails from.
Scale Your
Building Products

Business Faster

Automation is all about making those every day tasks happen repeatedly, with a little bit of advanced planning. What used to take you weeks over a working year, can now take hours. Companies that use automation to manage their lead nurturing process are set to see a 10% or more increase in their revenue in the 6-9months following the implementation.
Aside from that, the time and money saved through this incredible software is also great for businesses in the competitive construction industry. Fewer man hours are needed when you have a robot in your marketing department!
But what can you actually automate?
Automated Activity Logs: Any interactions with your prospect, either through emails or phone calls, can be detailed in the CRM without the need for time consuming manual inputs. This is great for future reference, potentially as cold leads from last year may pop up again this year.

Automated Contact Record: Wherever your prospect finds you from, whether a webinar or blog post, the software will generate a record card for them and continue to track how they move through the sales funnel with you. This is great for referring back to later to see what website content or events you are running are really bringing in those high-quality leads.

Automated Interactions: Scheduling sales emails and follow ups can now all be done automatically at pre-determined intervals. This can be customised to your sales life cycle: how long do projects go on for in your industry?

Automated Lead Scoring and Assignment: Your prospects can be automatically labelled either high or low quality, marketing or sales qualified, or disqualified through the use of criteria pre-set on your system. Triggers and filters allow you to reduce the need to manually make these decisions. It also removes any human error/misunderstanding in your company's benchmarks for what makes a burning hot lead and what doesn't.

Automated Task Management: All of this can come together while also helping your actual sales reps with tasks and workflows. These will give cues to your team of what needs doing next regarding lead nurturing and deal processes. This ensures important tasks are done and nothing slips out of view.
Conclusion
Marketing automation can provide so many benefits for your construction business, but the best for your sales team comes from the ROI it provides in providing another set of hands for your team, especially if your business is struggling coming back from furlough.
The automation technology streamlines your sales and marketing team and becomes an additional technical sales rep on behalf of your company.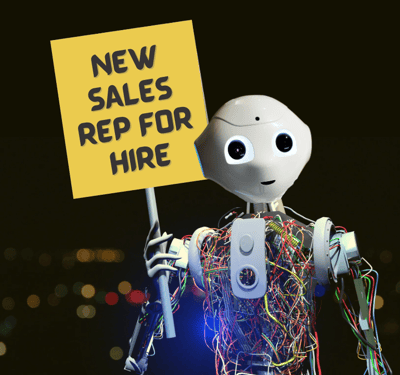 It works in conjunction with the rest of your marketing activities while improving your efficiency, nurturing your leads, and personalising your customer interactions. Everything comes together to improve your customer's experience and increase their engagement with your business.
Want to learn more about marketing automation for your building products or construction business? Read our BEGINNER'S GUIDE to Marketing Automation for Construction Companies.
About Insynth
Insynth Marketing is a leading UK construction marketing agency based in Shifnal in the West Midlands.
They use the latest inbound marketing techniques such as construction inbound marketing, to support building product companies to grow their business by proactively driving sales lead generation activity.
As the only HubSpot certified agency to major on construction marketing, we bring together construction marketing strategy, digital strategy, website design, SEO, content marketing, email marketing, sales automation, marketing automation and HubSpot CRM implementation to produce successful campaigns and great results for our clients.