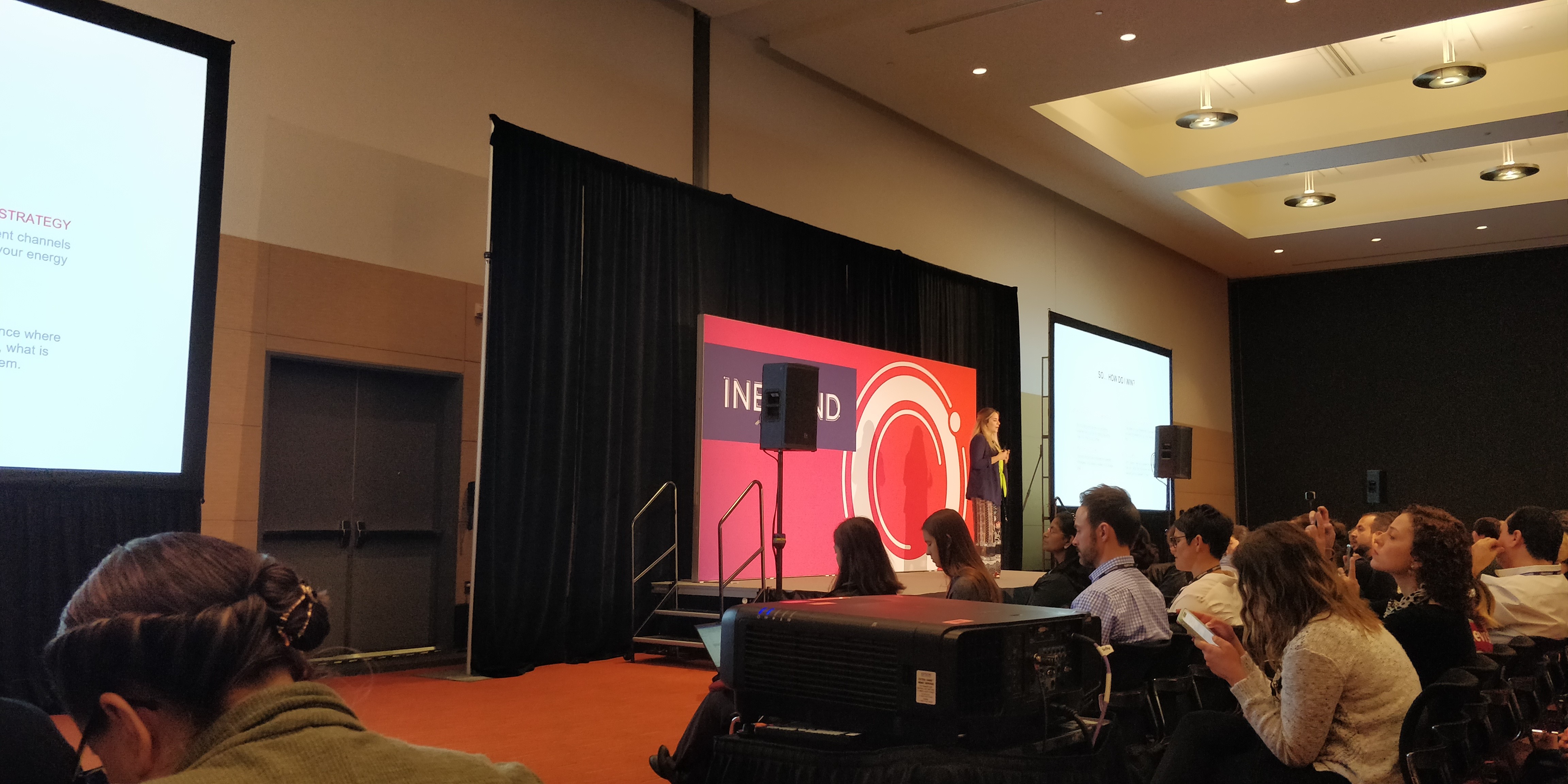 Tell me if this sounds familiar: you're producing content, and regularly sharing everything on social media, but your engagement is down.
The network's new algorithms don't help, and you start thinking, "Social media is old news, I'm not putting more effort into this."
Truth is, social media isn't played out, the playbook you've been using since 2016 is. In this session, you'll learn how to reinvent your social media strategy for 2019 and beyond.
LikedIn: https://www.linkedin.com/in/isabela-carvalho-m-souza/
Key Takeaways
Learn stories about what other companies did to differentiate themselves, using AI, Omnichannel strategies and more
See what Social media strategies looked like 5 years ago, and learn why your strategies could be outdated
Messaging, Voice search and more: discover current and future trends
Intended Audience
B2B and B2C Marketers who need to reinvent themselves to hit their results and make their businesses grow
Owners of companies who lead/track social media efforts and are frustrated with their results
Anyone who is interested in innovation and storytelling in Social Media
What's Changed Over The Past Years
Customers expectations are up, social responsibility is increasing, technology is constantly updating and organic reach is down.
"Businesses need to sell experiences"
Think about companies that go out their way to personalise your experience. Netflix is dedicated to suggesting content that's personal to you, based on your interests and likes.
Being Customer Centric
Regardless of the motivation behind the establishment of a company, there's one tenant that's common to all of them: If you don't acquire and retain customers, you won't survive.
Customers experiences and expectations have changed.
What's changed?
From brand-led to customer-led
From "one size fits all" to personalised offers
The use of virtual assistants will increase dramatically
Social Content
Creating content for social media used to be about the quantity of posts you published a week rather than the quality, so you get noticed by the platforms.
Over time the platforms have fixed the way they rank posts and how the algorithms work. With this the way we post has to change.
Now we share intimate and authentic stories with data based buyer personas. Content that's created for social media and tailored for each channel:
Personal
Personalised
Relevant
Authentic
Aligned to your brand narrative
Be entertaining enough to get them and relevant enough to keep them
Get out of your comfort zone – but keep your brand personality
Try different formats
Create interactive content: quizzes, live video, custom AR videos, polls, contests, get creative!
Make people feel like a part of something
Facebook is investing a lot in groups this year – use that!
Try using the "close friends" list on Instagram
How to go viral with no budget?
Brand humanisation
Timing/ Relevance
Customer delight
Organic visibility
Social Ads
Then: Social adverts used to be a lot cheaper so there was more room to make mistakes. There were also less format options available when creating ads. As a user we were less demanding and "trained" to skip adverts.
Now: We now have personalised adverts. As a viewer we are mindful of user privacy and how much the company knows about you through cookies. Now you can add value to your adverts and try different formats by testing everything.
Don't talk about your brand, solve a problem.
To summarise the first section, remember that:
Customers expectations are higher
That doesn't mean you have to rethink your strategy. Be authentic and mindful of their expectations.
Be mindful of user privacy
Being transparent is not a choice anymore, its mandatory.
Quality best quantity
That goes for the amount of content and which influencer you might choice to work with.
Integrate everything
Use HubSpot to make sure your online, offline, organic and paid efforts are all aligned with each other.
Keeping Up With Current Trends
Just because everyone is doing it doesn't necessarily mean you have to too, but you should always keep your eyes open to what's happening.
Social Commerce
If your product or service is available to book or buy online with a click of a button then make sure you remove any friction.
The Facebook marketplace is used by more than 800M people
Instagram commerce is growing fast
Social commerce and WhatsApp integration (and other big ones to come) are now real.
If you use Instagram, the stories feature is on the rise, growing 15x times faster this year. Spontaneous posting is best with stories.
Specifically for the construction ad building products industry you could share behind the scenes of manufacturing, designing and even installing on site.
Instagram is ideal for this as you can log onto multiple devices and once you're logged on your done. So your whole installer team could be constantly posting updates on projects.
Video Trends
Video continues to grow with it being the preferred format of content across the majority of social media platforms.
Tips for your video strategy:
Authenticity over big-budget productions
Platform-tailored videos over "one size fits all"
Leverage integrations can help you create personalised videos.
Include live videos in your strategy (live demos, office tours, employee takeovers, get creative!)
Instagram video is growing everyday
Monitor Your Competitors Streams
See what posts are performing best for the competitors in your streams and find new ways to grow and engage your own audience. You can have up to 3 competitors in your HubSpot stream at a time. If you don't have HubSpot you may have to keep tabs on them manually.
Once you've monitored the competitions, next you need to take action. Crete a recurring meeting or calendar for 30 minutes every month to see what your competitors are up to.
Analyse the posts that have the best results and why.
Not only is this important for your social media content but this is great for keeping tabs on what other companies are doing within your space. Are they bringing out new products, have the improved the service they provide?
Get Prepared For What's Coming
Chatbots – 80% of senior marketers and executives will use Chatbots by 2020.
Social Listening – Social platforms are listening to what you say.
Voice Search – 50% of all searches will be voice searches by 2020.
Augmented Reality – AR video content, AR virtual stories, AR events and games.
To summarise the second section remember that:
Its useless to the fight the stories trend
Use it to your advantage and get creative
Monitor your competitors
And take action from it.
Video is still growing
Leverage integrations and remember you don't need huge productions to create great videos.
The future is here
We'll be hearing a lot about AR, Voice Search and Social Listening next year.
Balance Is Key
Make sure you don't put all your money or time and efforts into one place. For example you'd want a balance between paid ads, owned channel distribution, earned organic traffic and shared collaborative content.
Remember that social media is more than lead generation.
Social Selling - Use social as a channel
Customer Service – Provide the experience your customers expect
Brand Building - Position your brand in the smallest details
Employee Advocacy – Make your brand human, increase engagement and brand awareness.
Find The Balance Between Being An Early Adopter And The "Philosophical Stone Syndrome"
Always doubt new technology and question whether that actually takes you to your goals. However don't wait for everyone else to be doing something so you can do it as well.
To summaries this section remember that:
Balance where you put your money
But always measure and see what brings you the most results.
Distribute your content correctly
Quality without good distribution loses its power.
Use social media at its fullest
Don't let lead generation blind you from seeing the potential other strategies have.
Measure Your Efforts Correctly
If you don't measure your efforts correctly, how do you know if you're doing a good job?
Outcomes – Always focus your strategy on the outcomes you expect of those efforts, not the outputs you'll give to get there,
Outputs – Always know what success looks like in it's detail – When? What? Who? How?
Outcomes X Outputs
Describe – the outcomes you want to achieve – Why are you going after the goal?
Turn – them into a quantitative measure – Good old smart goals
Confirm – outputs and outcomes are aligned – is it reasonable to expect these outcomes based on the resources you have.
Implement – light, camera, action – put your plan to action with KPI's for ever step.
Measure – beyond KPI's – attach you KPI's to actual revenue goals.
To summarise this section remember that:
Measure outcomes not outputs
Differentiate them and make sure they're aligned
Get creative with the social filter and the reporting tool
How is the behaviour from leads that came from social
So… How Do I Win?
People want to feel important – By focusing exclusively on providing experiences, you're not going the extra mile. It's time to go further.
Find balance in your strategy – That goes for you investment channels and also for where you put your energy into.
Measure outcomes – Outputs should be consulted for specific strategies, and always related to a broader goal.
Have empathy – Don't guess – ask your audience where they are, what they consume, what irrelevant and convenient to them
Remember: Behind every screen, there is a human.
The best strategies come from understanding what humans want.