Digital PR is about far more than just getting your name in the newspaper or published online.
It's a proven way to help build brand awareness, gain trust in your building product and increase your authority online.
But you might be questioning how something so simple can have such a dramatic effect on factors beyond brand awareness. In fact, digital PR is so important that a small run can have a significant impact on your domain authority and Google rankings.
So, what is domain authority, and how can digital PR make a difference to your search rankings?
This blog explores that and more...
What Is Domain Authority?
Domain authority is a search engine's way of determining how likely a website is to rank after a search. Rated between 0-100, 0 being no authority and 100 being the most, domain authority is based on a range of factors and calculations that search engines take into consideration.
The higher your domain authority, the higher your position on Google will be, despite how much content you have around the searched term.
Things such as the number of websites that refer to your website as well as those that link to content have an impact on domain authority. On top of this, the higher the domain authority of websites linking to your building product brand, the more impact it'll have on yours.
This means when looking to earn backlinks, you want to look for online publications and news outlets with a higher domain authority than your building product brand website.
If you had a low domain (0-10) and you managed to earn a link from an industry publication like Construction News (rating 74) that would have an immediate impact, increasing your authority.
Why Is Domain Authority So Important?
Because domain authority and the number of backlinks your building product has is so important and has such an impact on your Google rankings, building it up can be seen to be one of the most important factors of SEO.
Let's see how much of a difference domain authority can make while exploring different keywords and how frequently they are used.
Using SEO-tool ahrefs, we can see how difficult a keyword is to rank for and how many backlinks are needed to get you ranked in the highest positions.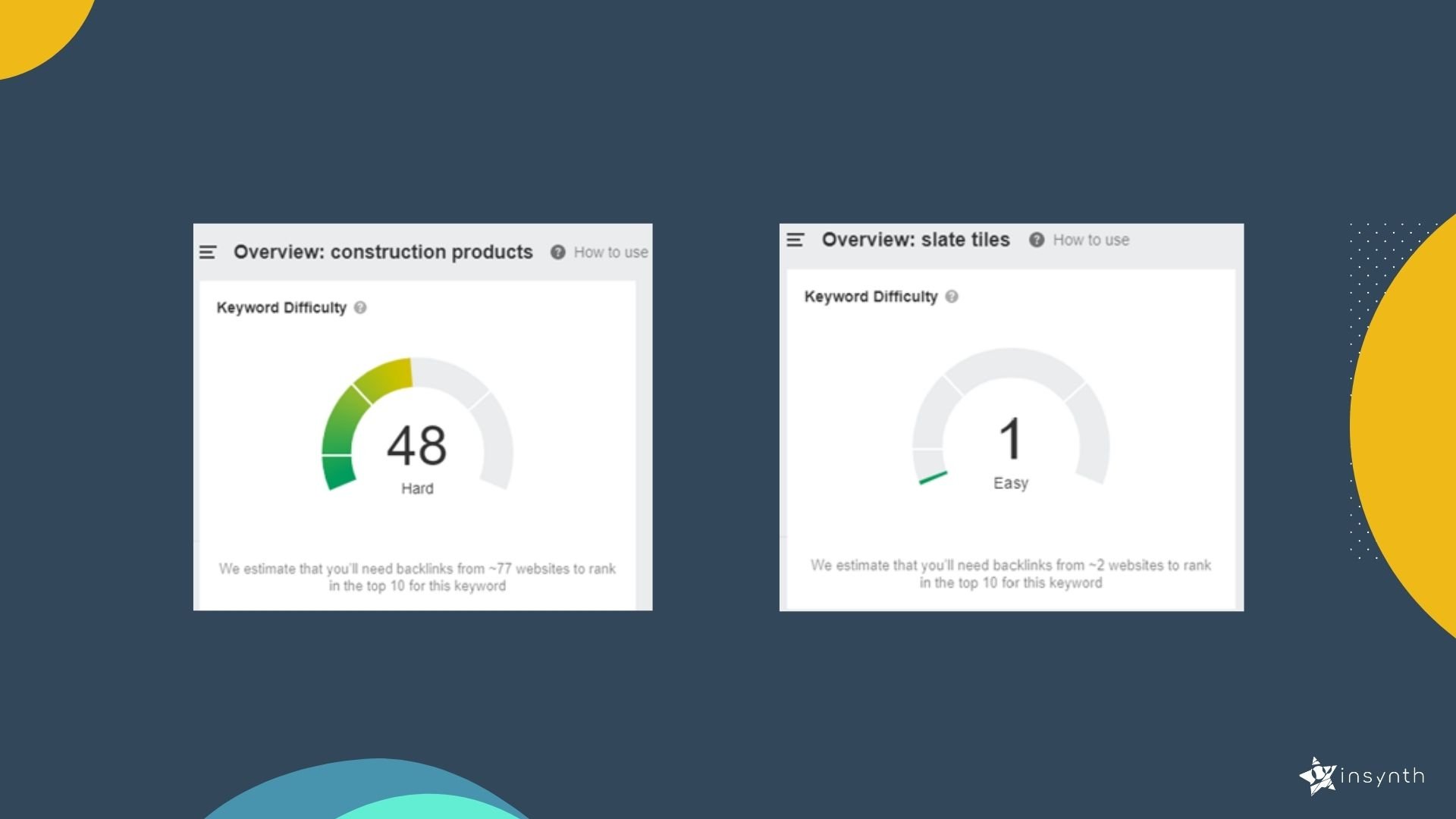 Take the keyword 'construction products'. Ahrefs ranks it 48/100 for difficulty, making it a difficult keyword to rank for. But ahrefs advises that you need 77 backlinks (and therefore a significantly higher domain authority) to rank in the top positions.
In comparison, the keyword 'slate tiles' is much easier to rank for with a difficulty 1/100. With only 2 links required to rank on the first page of Google, it starts to become clearer how important these backlinks are.
But how do you get them?
Increasing Your Google Rankings With PR
Earning backlinks organically isn't easy. It would take a lot of well-written content, in a particular niche sector of the construction industry to earn backlinks from other domains throughout the web.
You could also reach out to other websites and offer your content as a means of providing value to the content they have to earn backlinks. Again, this takes a lot of time, effort and rejection, this is made much harder when trying to receive a backlink from sites with larger domain authorities.
The best way to earn backlinks from websites with high domains is by using digital PR.
Instead of blindly finding websites that you think might be a good fit and sending out emails full of hope asking for a link, digital PR connects you with the industry publications your customers read.
Building up relationships with a handful of these publications and having news stories, interviews, and industry insights published consistently builds up your domain authority and can immediately see a difference in your Google rankings.
This method is far more productive and rewarding than searching aimlessly until you get a thumbs up from an obscure website after months of searching.
Do You Need Digital PR?
You can see how important a successful run of digital PR can be, so what's stopping you?
Just a handful of backlinks from a reputable website can increase your domain authority, taking it higher than your competitors and pushing your website towards the top of Google.
Backlinks are more than just a way of connecting websites, they have a huge impact on how Google finds and assess your building product brand and digital PR is the quickest and easiest way of gaining them.
PR is more than just getting coverage, there a fundamental SEO reasons to use it. So, what's stopping you?
About Insynth
At Insynth we deliver a predictable flow of leads, customers, and specifications for building product brands through our inbound marketing approach, proven to reach a technically demanding audience.
We use the latest marketing techniques such as construction inbound marketing, to equip building product companies to grow sustainability in this era of digital transformation.
As the only HubSpot certified agency to major in construction marketing. We have a proven formula of bringing a variety of functionalities together including CRM Implementation, Web Design, Sales Automation, SEO, and Email Marketing to achieve your ultimate aim: Growing your business and gaining new specifiers and customers.
Book A Free Consultation Today