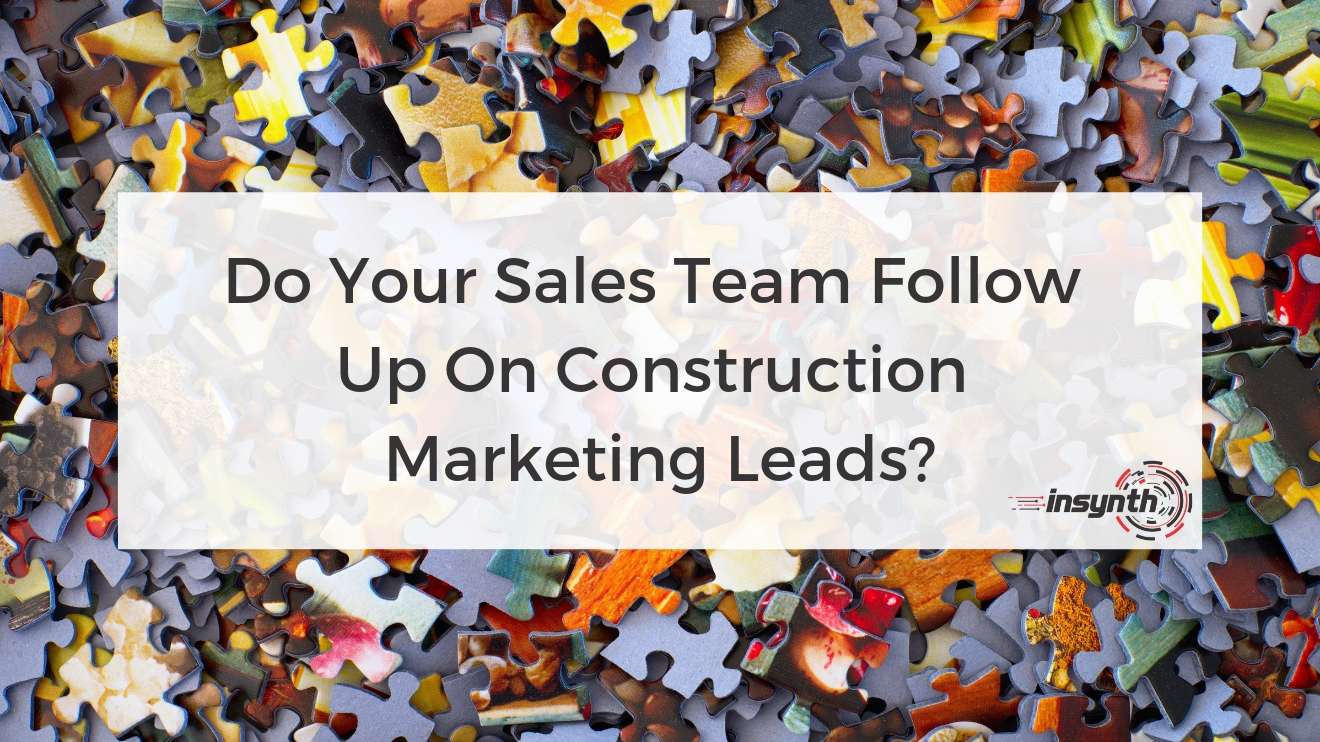 A lot of time, effort and money is spent on gathering construction marketing leads each year. For building product companies, this may be through trade magazines, building product directories, online marketing, emails, tradeshows or a combination of these. Often, they all point back to one place… your website.
Taking a mystery shopper approach, in our The State of Building Product Digital Marketing 2019 Report, we discovered that 80% of building product companies didn't respond to a product enquiry through their website in any way. Of the 20% that did, only 6% answered the phone to enquire about our requirements and offer additional help.
Why are building product companies not following up construction marketing leads?
Too many leads - you may think the more leads the better; however if there's no time for your sales team to follow up, then you're missing out on sales. You can reduce your sales and marketing budget, automate the process or expand your headcount.
Not organised - do your sales and marketing teams have a shared system for tracking opportunities? If not, they won't follow up. They'll be reactive and jump on new leads and phone calls while neglecting their follow-ups.
Lack of motivation - if your sales team isn't motivated to close more deals, they're not going to follow up. Make sure they have KPIs and possibly a bonus structure that keeps them focused.
Inefficient Construction Marketing Lead Management
When conducting our research, we received random samples and brochures from suppliers without any qualification of what assistance we needed. Leads are not valued by building product manufacturers – they even appear to be treated as an inconvenience.
This problem is caused by inefficient lead management. Modern systems exist to enable the automation of lead capture, distribution, follow-up and management. These systems are incredibly cost-effective and likely to pay for themselves many times over through the improvement of enquiry management.
When working together, marketing automation platforms and CRM systems create a powerful sales and marketing tool.
It's a customer acquisition process which identifies potential buyers (leads), educates them, engages with them, and when the leads are considered qualified, get passed from marketing to sales.
What Is Lead Management?
Lead management is a systematic process to capture, track and qualify leads. It will help bridge the gap between marketing and sales by identifying potential buyers, engaging with them and determining the point in which they should be handed over from marketing to sales.
Understanding what your ideal customer looks like and what stage of the buying journey they are at is important in determining what happens next when in the sales process. You can do this by creating a buyer persona, download your free buyer persona guide here.
6 Signs Your Building Product Team Needs Lead Management
1. No single source of information. Salespeople are constantly juggling between multiple tools to access lead information. We often find that when sales reps don't like the CRM their using, they find their own way of organising information.
2. No initial lead qualification. When you get a sales lead come through your website, what happens next? Qualifying good fit and bad fit prospects can help save time for your sales team.
3. No insight into lead's activities. Are you tracking your prospect's activities on your website, what pages they've visited, the content they've downloaded? This will help you identify when it may be appropriate for one of your sales reps to reach out.
4. Lack of visibility. Do your sales reps know which stage in the buying journey your lead is at? Sales reps don't have visibility into the lead's buying journey to provide the right collaterals and documents to move them through the sales cycle.
5. Missed follow-ups. Are your sales reps forgetting to make a follow-up call or email? You are in danger of making the prospect feel neglected prompting them to move to a competitor.
6. Lack of lead nurturing. How are you currently nurturing your leads? Is your sales team focusing on the 'good' leads rather than the leads who require relationship building and extensive follow up?
Conclusion
We feel that construction marketing leads are undervalued by building product companies. I don't think this is maliciously but instead through lack of organisation through in-efficient systems. It could be that resources to send to clients aren't in a central location or repetitive tasks such as allocating leads and data entry may not be automated – eating into a salesperson's time.
Perhaps the buyer's journey hasn't been defined? Maybe there is confusion or a lack of communication between sales and marketing on who should be sending what content and when?
If you can relate to any of these problems, why not check out our other blogs on how to approach solving them? We are also happy to spend 15 minutes with a complimentary sales and marketing consultation.
About Insynth
Insynth Marketing is a leading UK construction marketing agency based in Shifnal in the West Midlands.
They use the latest inbound marketing techniques such as construction inbound marketing, to support building product companies to grow their business by proactively driving sales lead generation activity.
As the only HubSpot certified agency to major on construction marketing, we bring together construction marketing strategy, digital strategy, website design, SEO, content marketing, email marketing, sales automation, marketing automation and HubSpot CRM implementation to produce successful campaigns and great results for our clients.