'It's happened, email is finally cool' – it's the happy place for offers
Email marketing isn't dead, actually, it's more than alive, it's kicking. With recent events, email marketing performance has been rocketing.
Jay Schwedelson, CEO at Worldata delivered a session on email marketing techniques at #INBOUND2020. His session was incredibly valuable and insightful for B2B and B2C companies.
In case you missed it, don't worry! Here at Insynth we're blogging about the interesting and impactful sessions from #INBOUND2020 – so read on to discover what Jay covered in his session…
Throughout this session, Jay covered metrics based on emails from the last 30 days compared to data from January. All of the information below is what he has found, it showcases the differences in data before the pandemic and during the pandemic.
Open-Rate
For B2B and B2C, Monday's are the best day for emails compared to Fridays being the worst.
Why is this the case? It's because we are kicking off our weeks and getting up to speed in digital spaces, so Mondays are the preferred days.
The Power Of Subject Lines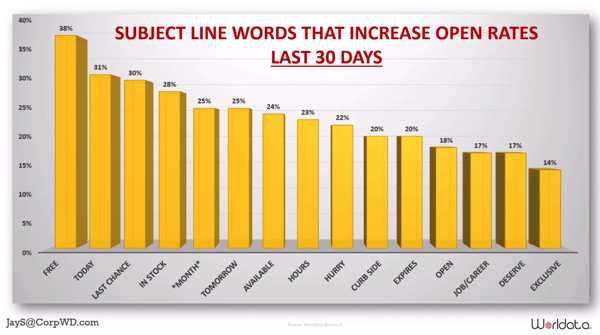 Subjectline.com is a great tool to analyse your subject lines to generate high open and click-through rates.
Although the word 'Free' has the highest open rate, it's overused. Using words that deliver offers that are expiring (words like 'today' or 'hurry') have a 67% higher overall response rate for B2C and 51% for B2B.
In the last 30 days, different words that are directly related to the pandemic have seen higher open rates.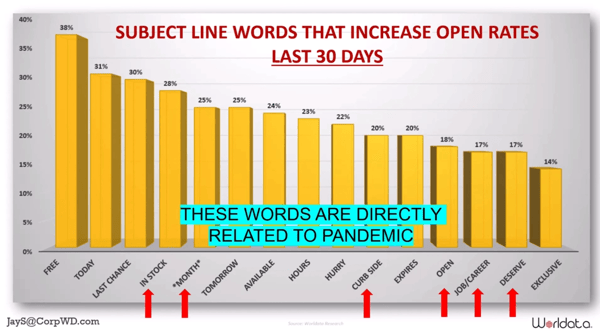 Less Is More
Subject lines with the word 'deserve' perform well, because subconsciously we all feel like we deserve something.
The word 'new' has also been found to perform well because as humans we are sick of the old stuff and are becoming more interested in the 'new' stuff.
Subject lines with less than 20 characters have seen to have an open rate increase of 29% (B2C) and 27% (B2B) - proving that short and snappy lines can grab attention.
However, Is Less Really More?
Brands are now adapting to the short and snappy rule for straplines, whilst Apple has been adhering to subject lines with more than 65 characters.
Subject lines with more than 65 characters have found to have an open rate increase of 19% (B2C) and 15% (B2B). In the email world, we need to stand out from the crowd...
Stand Out From Competition
During this pandemic, unemployment has risen. So, it's important to open up forms that allow for personal emails and not just work emails.
Jay found that opening forms on landing pages to consumer domains can increase registration by 22%.
We understand that you need to stand out, however, you must acknowledge the current situation with the pandemic as well.
Email subject lines that acknowledged the pandemic has seen an increased open rate of B2C (48%) and B2B (34%).
What Are 'Bad' Words To Avoid?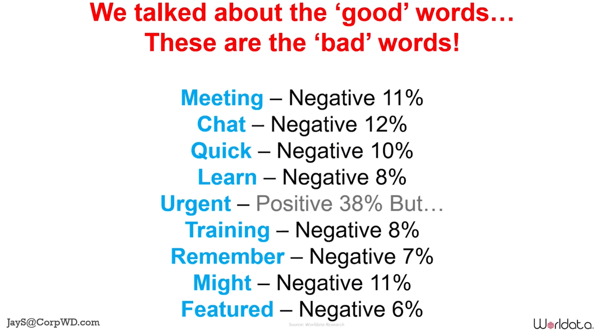 These words have been found to harm email open rate.
While the word 'urgent' has seen to have a positive open rate – there are more urgent things going on right now and using this word can promote your email as 'fake news'.
Exaggeration Is Sooooooooo Cool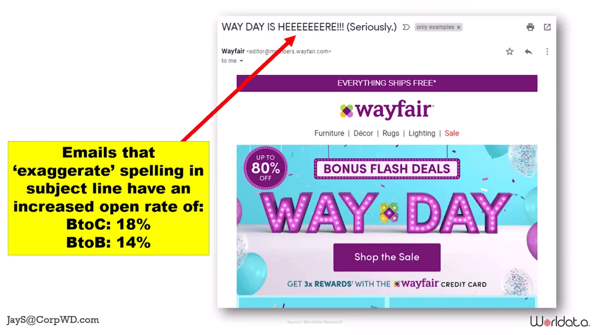 By exaggerating spellings in your subject line, you can see an increased open rate of 18% (B2C) and 14% (B2B). Try exaggerating spellings in your email subject line to grab user attention and to boost open-rates.
Adapt An Aggressive Approach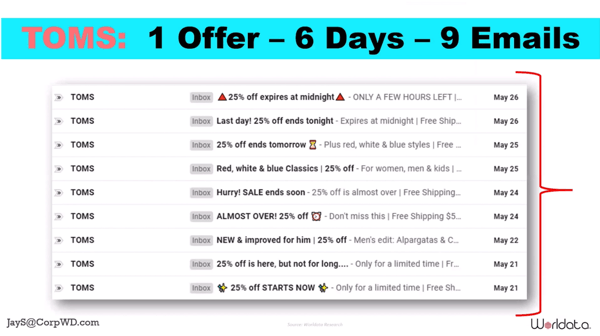 Current trends showcase that 'aggressive' email schedules are working. In fact, email offers sent 2 days in a row (compared to over 4 days) has a 28% higher response rate in B2C and 24% in B2B. This suggests that condensed email schedules are preferred.
Where Does Your Logo Link To?
It's not unknown that logos in emails have high click rates with B2C at 27% and B2B at 31%. Jay found that emails that have all primary links going to an 'offer' page can see a 57% higher overall conversion rate.
So, don't link your logo to your home page, link it to the desired call-to-action of your email.
Animation, GIFs and Emojis: Do They Work?
Jay found that animated GIFs that are used within emails can have a high click-through rate with 31% with B2C and 27% with B2B.
Have fun, it works (even the word used in the subject line). Brands that are using emoji's in their subject lines have seen increased open rates at 17% (B2C) and 14% (B2B).
Conclusion
Email is important, nearly 300-billion emails were sent and received each day in 2019. With such competition and pressure with current events, Jay's tips can help drive your email marketing strategy so that you can stand out from the rest and ultimately drive more sales for your construction company.
About Insynth
Insynth Marketing is a leading UK construction marketing agency based in Shifnal in the West Midlands.
They use the latest inbound marketing techniques such as construction inbound marketing, to support building product companies to grow their business by proactively driving sales lead generation activity.
As the only HubSpot certified agency to major on construction marketing, we bring together construction marketing strategy, digital strategy, website design, SEO, content marketing, email marketing, sales automation, marketing automation and HubSpot CRM implementation to produce successful campaigns and great results for our clients.