Understanding who your perfect customers are is a vital part of your construction marketing strategy, but one that is often skimmed over or missed altogether.
If you intend to tailor and segment your content and message to your different audiences, profiles and personas will be very useful. So, what's the difference between a buyer profile and a buyer persona?
What Is A Buyer Profile?
A buyer profile is a description of your ideal customer using demographic data. Profiles are great for segmenting and grouping target audiences and for conducting analysis of your marketing activity by sector.
You may look at geographic location, company type, company size, turnover, number of employees, age, the technology they use, etc.
The Buyer Profile data would normally be stored in the company and/or contacts sections of your CRM system. Common fields are;
Company Activity
Sales Region
Address fields
Budget
Turnover
Job Title
What Is A Buyer Persona?
The buyer persona is a semi-fictional description of your ideal customer, as in the actual people you will be trying to attract and engage with. They're also described as marketing personas.
Personas try to tap into the psychology of your ideal customer or specifier, understanding what makes them tick, what their triggers are and how you should attract and engage with them.
It will try to reveal answers to key questions about your perfect customers too, such as;
The way they find new products
The way they evaluate new products
The way they select new products
The way they tell their peers about new products
In the construction industry, you would expect to have numerous personas, built around the different job roles involved in the specification and decision-making journey.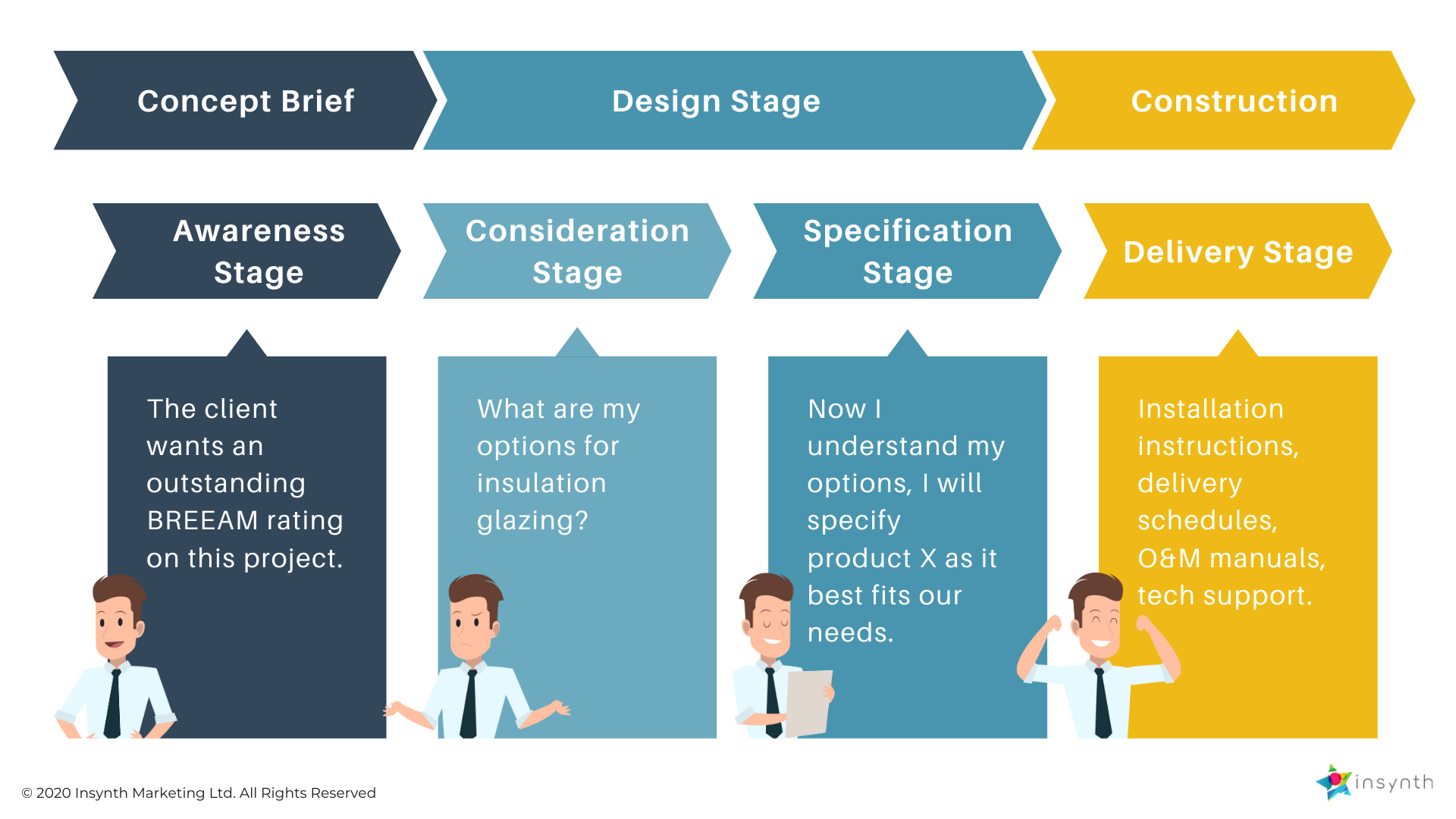 You may also find that you have multiple personas for different demographics in the same role, i.e. a millennial architect (aged 21-35) is likely to have different research habits to a baby boomer architect (aged 50+),
Consider the challenges they face each day, how they research and buy products, what social media they use (if the use any at all), where they find their news, who their influencers are, what are their likely emotional triggers, what time they are best reached, how do they prefer to be contacted, etc.
The finished persona should be a touchstone for every part of your sales and marketing activity, with everyone involved 'checking-in' to consider how the persona is likely to respond to your efforts to attract and engage with them.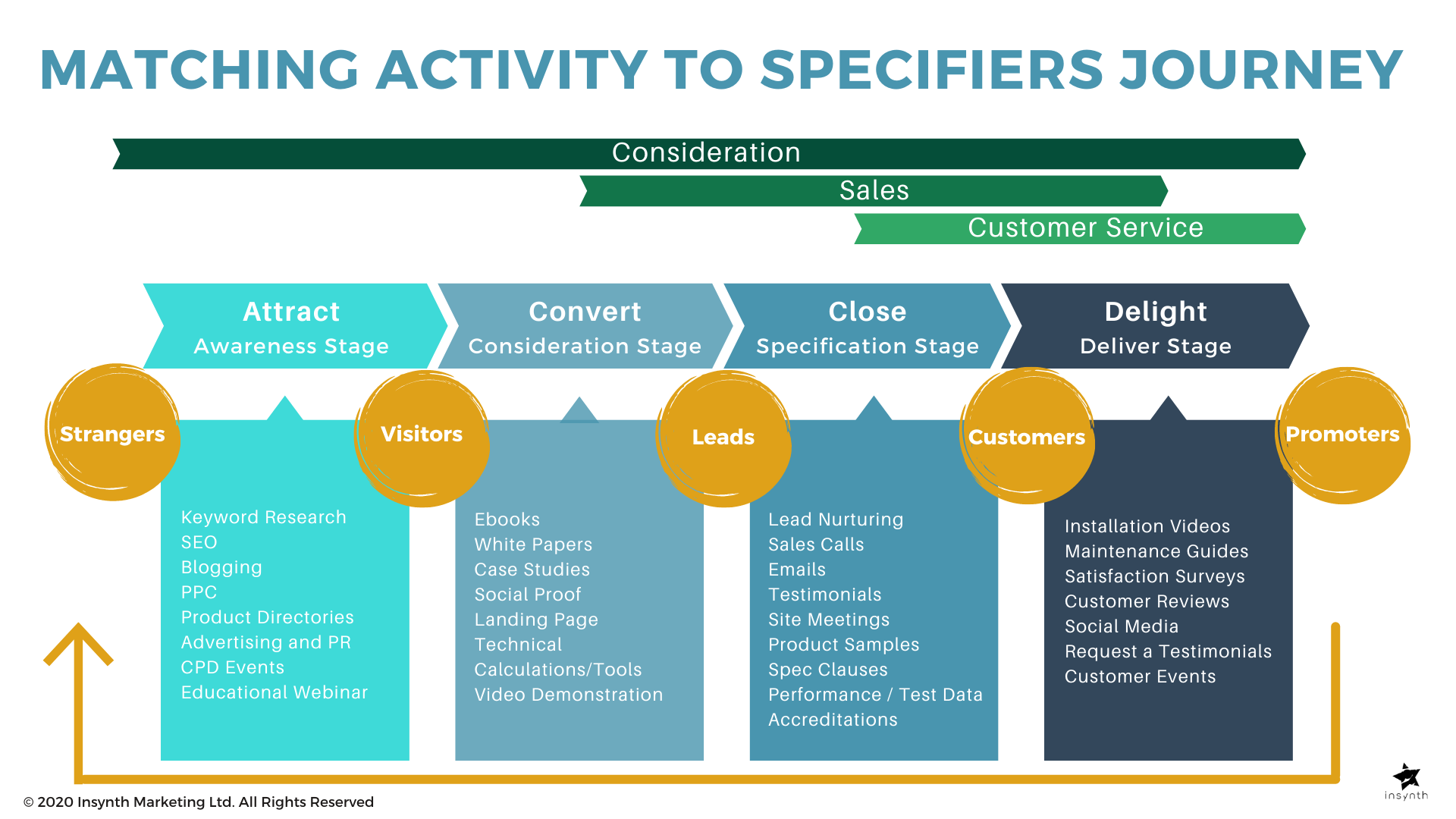 We would recommend that everyone in the sales and marketing teams has a copy of all of your personas and fully understands them.
How Do You Create A Buyer Persona?
Buyer personas require research and a structured and consistent approach. Whilst you should not be afraid of having multiple specifier personas, it is important not to go overboard and define a maximum of 5 personas to cater for. The more time and research you devote to developing your specifier personas, the more accurate your marketing efforts will be.
Within the construction industry, we have identified different personas that, nevertheless, you will need to analyse in the context of your sector.
Architects
Due to their remarkable attention-to-detail, architects are thought to be hard to impress and, if possible, even harder to convince. But it is precisely because of their rigorousness that they will be loyal to a brand when it has shown to be the right fit for their project. For architects, your product is only as attractive as the available data about it. Ensure that the information available about your products is easy to find and accurately describes its main capabilities.
Specifiers
If they were featured on a James Bond film, it will most likely be called "Licensed to Specify". Even though they tend to have worked as architects in the past, the professional background of specifiers can vary, leaving them to be defined by one particular characteristic: they are exclusively trained to advise their team on the product that best fit their project. They focus on function and how your product stands out from the crowd.
Contractors
Despite frequently being left in the background when designing a construction marketing plan to attract specifiers, contractors can completely change the course of a specification process and, most often than not, they tend to have the last word when a product is specified. Rather than details, contractors care about efficiency and seek a product to be practical over anything else.
Design Professionals
Even if not part of all specification processes, catering for design professionals can open the gates to high-end projects that do not only seek a product, but a thought-leading brand. As we entered 2021, designers involved with the construction industry shifted their focus towards sustainability, prioritising products made of recycled materials and with a high energetic efficiency. Clearly stating how you contribute to making the construction industry more sustainable is key when speaking to design professionals.
Insynth have produced a detailed guide to creating buyer personas, which is free to download.
If you found the information in this post insightful, we recommend you look into some of the most popular articles in the Insynth Blog regarding content marketing! Our favourites are:
About Insynth
At Insynth we deliver a predictable flow of leads, customers, and specifications for building product brands through our inbound marketing approach, proven to reach a technically demanding audience.

We use the latest marketing techniques such as construction inbound marketing, to equip building product companies to grow sustainability in this era of digital transformation.

As the only HubSpot certified agency to major in construction marketing. We have a proven formula of bringing a variety of functionalities together including CRM Implementation, Web Design, Sales Automation, SEO, and Email Marketing to achieve your ultimate aim: Growing your business and gaining new specifiers and customers.