Search Engine Optimisation (SEO) is a way to get a higher ranking on Search Engine Result Pages (SERPs). When it comes to digital adoption, SEO is too valuable to miss out, here's why…
70% of marketers see SEO as more effective than PPC
96% of global traffic comes from Google search, Google Images, and Google maps
53.3% of all website traffic comes from organic search
If your website has a higher rank, each time someone searches about a construction product or service you're offering, your site will feature at the top.
Read on to discover how you can digitally adopt SEO for your building products business…
What Is SEO?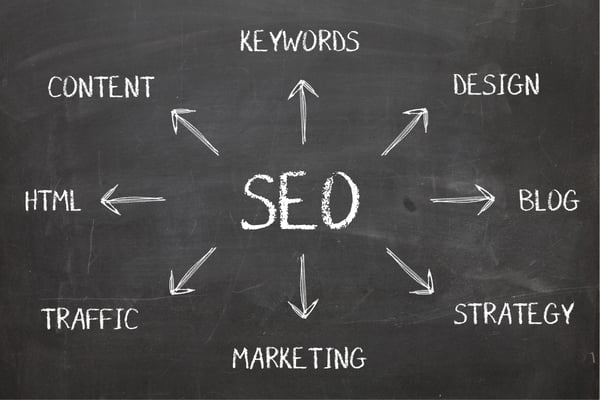 SEO is the practice of improving both the quality and quantity of website traffic, as well as exposure to your construction company, through non-paid (also known as "organic") search engine results.

It's about recognising and understanding what visitors are searching for online, the answers they're looking for, the words they're using, and the type of content they wish to consume.
Knowing the answers to these questions will allow you to connect to the people who are searching online for the solutions that your construction brand offers.
Search engines like Google don't just view your website and rank you on page 1. You have to tell Google about your efforts with the use of content marketing, keywords, image optimisation, back-links, keyword-rich product pages and so much more.
To understand the basics of SEO click here.
Optimising Keywords For SEO
Keywords are one of the more important factors of SEO, in fact, SEO is pretty much impossible without keywords. Keywords make it likely for people to find your site via search engines.
A website that's well optimised for search engines "speaks the same language" as its potential visitors with keywords for SEO that help connect these visitors to your construction website.
You ultimately want to rank high with the relevant keywords that your customers are searching.
To find out more about how you can conduct keyword research for your construction company click here.
How Blogging Can Help Boost SEO
For successful digital adoption with SEO, blogging can really help boost SEO quality. This is because blogging positions your construction website as a relevant answer to your customer's questions.
Blog posts that purposely use a variety of on-page SEO tactics can give you more chances to rank in search engines and get customers to visit your site.
However, it's important not to keyword stuff and put too many keywords within a blog, this can in turn rank you lower on SERPs.
Focusing on a longer search term like 'window cleaning services for commercial buildings', you simplify the traffic to people only interested in your specific phrase. A long-tail keyword likely has less volume of search, making it easier to rank for.
Optimising Images For SEO
Did you know that 63% of users click on an image on Google, then go on to view the website? So, if you aren't optimising your images, you're missing a trick.
Optimising images for SEO is significantly important because Google only reads text. Regardless of what your image is, if it isn't optimised then it'll never show up in image search.
For digital adoption, this is a quick win. You can make sure your images are optimised by making sure that your images alternative text (or 'alt text') are filled with a keyword that you want to rank for.
This can commonly look like this:

Conclusion
SEO for digital adoption is an important way to make sure your construction company's website is gaining traffic and quality leads that are interested in your solution to their problems.
It's best practice to take time to keyword research what your customers may be typing into Google and then creating keyword-rich blogs and optimising the images used throughout.
Creating blogs around questions you get commonly asked is a quick win to understand what your customers are searching. It's also good to provide helpful content and to get visitors to stay on your website for longer.


ABOUT INSYNTH
Insynth Marketing is a leading UK construction marketing agency based in Shifnal in the West Midlands.
They use the latest inbound marketing techniques such as construction inbound marketing, to support building product companies to grow their business by proactively driving sales lead generation activity.
As the only HubSpot certified agency to major on construction marketing, we bring together construction marketing strategy, digital strategy, website design, SEO, content marketing, email marketing, sales automation, marketing automation and HubSpot CRM implementation to produce successful campaigns and great results for our clients.