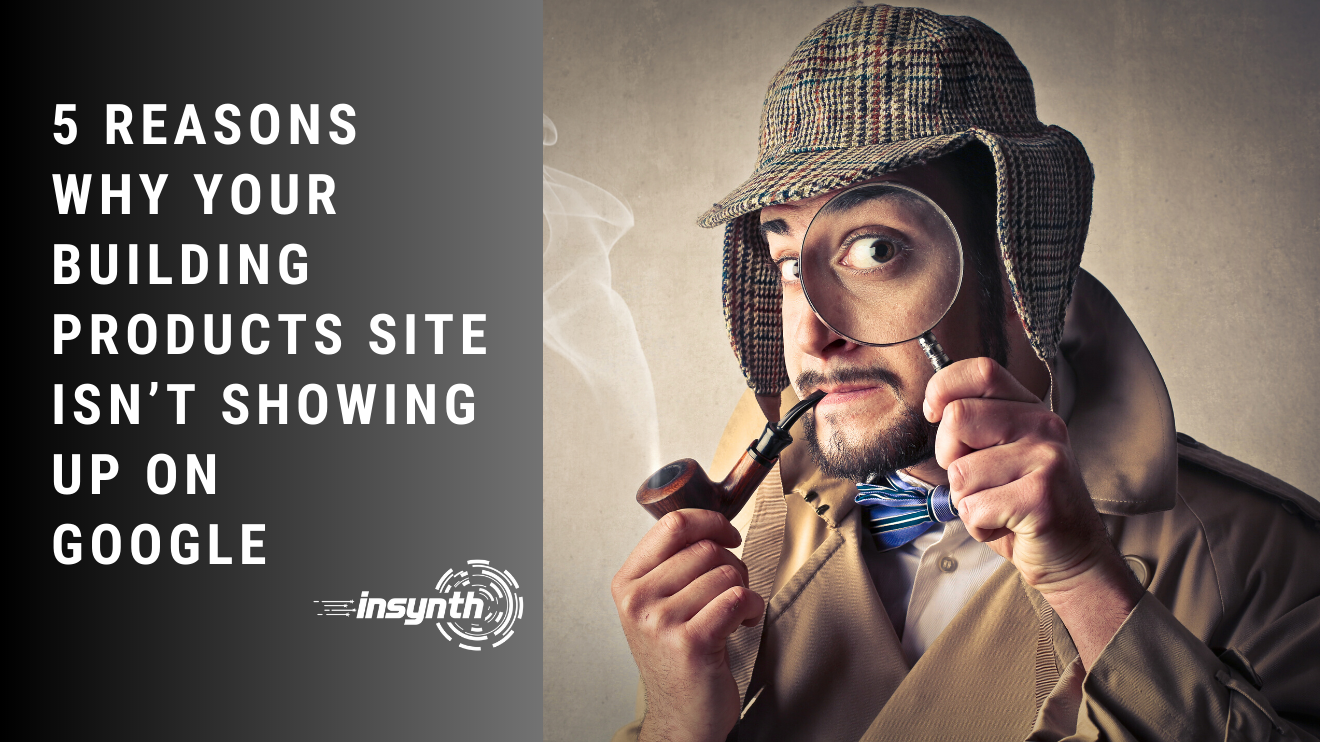 There's nothing more frustrating than your website not showing up on Google when you type in a particular keyword.
You spend so much time improving your website's content; you've got an attractive website; you're promoting your brand in the best light.
Yet, when you're sat there, ready to rake in all the traffic…
Nothing happens. No increase. No ROI.
For construction marketers who are new to digital marketing, this can be disheartening. Fear not, however. There could be one of five reasons why you're not finding your building products website on Google. This post aims to identify them.
1: Google Doesn't Know About It Yet
If you're new to the market, or if your site is new, you need to allow time. Your site will need to get crawled, indexed and ranked, meaning that it's not just an overnight process.
Sometimes it takes days; sometimes it takes weeks for Google to discover your site.
Top tip: Submit your site's XML sitemap to Google Search Console to help speed up Google's discovery process. In Search Console, you can also use the 'URL inspection tool' to find out how specific pages are doing. The tool tells you exactly how Google crawls and views your site.
2: You've 'Noindexed' Your Site Or The Piece Of Content
One of the most common reasons for Google not indexing your site or a specific page is because it has inadvertently been 'noindexed.' By adding the 'noindex' meta robots tags to a page, you're telling Googlebot that it can crawl a page, but that the results can't be added to the index.
To check whether your page is noidexed, you need to open the new page and view the source code. Near the head of the page, you'll find the following code:
<meta name="robots" content="noindex">
This code tells search engine crawlers that the content on the page shouldn't be added to the index, meaning that it won't get ranked.
Thankfully, this is an easy fix to rectify. If you're a WordPress user-as so many of you are-you can click this link to access a step-by-step guide on how to reverse the 'noindexing' of a post.
3: Google Can't Crawl Your Building Products Site
Whilst you may have accidentally told Google not to index your content, it's also possible that you've told Google not to crawl your site at all.
Have you ever been asked whether you want to block crawlers? Always make sure that this option is unticked. A so-called robots.txt file is a sure-fire way to never get any traffic.
4: Your Construction Content Isn't Very Good And/Or It Doesn't Match User's Intent
So far, we've explored some of the technicalities surrounding why your site doesn't show in Google. However, that's not the whole story.
Your content simply might not be effective or authoritative enough for Google to pick up your targeted keyphrase. A lot of the time, people focus too heavily on how Google would find your site, and thus, neglect the queries your audience may have.
At this point, we can't stress enough the importance of effective keyword research and knowledge of your buyer personas before embarking on your content strategy.
To develop your content marketing strategy, click here.
5: Your Construction Content Lacks High-Quality Backlinks
Creating content that is worth reading is key to improving the number of high-quality backlinks you could receive.
Within the building products and construction industry, it's all about getting as many eyes on your content as possible. This could be achieved with a well-thought-out PR and Media strategy.
As construction marketers, you need reliable media partners: publishers who can be relied upon to help to promote great content and keep your audience up to date with the latest news and product and design innovations.
But ensuring you choose the most effective media pathways is essential. Otherwise, you risk spending a lot of money for very little in return.
This essential report will help you to plan your media and content strategy, enabling you to get the best value for your media spend.
The Power Of Social Media For Construction Marketers
Also, don't neglect social media. Are you effectively utilising all your available social platforms? Creating compelling content and using a social scheduler tool will ensure your content is regularly shared, with little time spent on your part.
Conclusion: There Are More Reasons
Of course, there could be numerous reasons for a site or post not showing up in Google. The aim of this post is to give you a quick idea of where to look when not seeing your post in a search engine.
If you'd like any more information or insights as to why your site isn't being picked up by Google, talk to one of our experts today-who'll give you a free site audit and actionable next steps.
About Insynth
Insynth Marketing is a leading UK construction marketing agency based in Shifnal in the West Midlands.
They use the latest inbound marketing techniques such as construction inbound marketing, to support building product companies to grow their business by proactively driving sales lead generation activity.
As the only HubSpot certified agency to major on construction marketing, we bring together construction marketing strategy, digital strategy, website design, SEO, content marketing, email marketing, sales automation, marketing automation and HubSpot CRM implementation to produce successful campaigns and great results for our clients.