It's important to learn from errors to prevent them from happening again. Mistakes shape us and we learn from them, even the most successful individuals have made mistakes along the line.
With 2020 already being a challenging year, you can learn from the mistakes made and adopt them in 2021 to ensure your building products business thrives.
Read on to discover 5 mistakes you need to avoid for your construction marketing in 2021…
#1. Not Using SEO
Your construction website needs to get found on a SERP's page (search engine results page) because it can lead to more visitors to your website and make you stand out against competitors.
Once identifying the keywords you want to rank for, you can work through to make sure you've used them throughout the content and titles of your website.
Google will see that your website is relevant for those keywords and once a user searches them keywords, your website will appear on the SERPs.
Boosting your SEO will improve your domain authority, which will work to give your website more authority and higher rankings.
The nice thing about SEO is that there's so much information about it, so you can easily optimise your website. Discover how you can bounce back with the right SEO tactics here.
#2. Not Actively Blogging
Don't think you need to blog? Well, you're wrong. Whether your building products business is small or large, you can certainly benefit from blogging.
Blogs increase traffic, they work to boost your SEO. To showcase how important blogging is, it's proven that businesses with blogs have 97% more inbound links, which helps increase traffic.
This helps with SEO greatly because it gives Google and other search engines a reason to re-crawl your construction website to find new content to index.
Your blogs can also help you build a relationship with your customers and are a great way for specifiers to come across your construction website when searching for answers to their problems.
#3. Avoiding Guest Blogging
One of the easiest, most popular, and most proven methods for getting exposure, traffic and leads is to write guest posts for other blogs. It's so simple, however, not many companies are doing it.
This is where you can beat your construction competitors.
There's a lot of opportunities out there. Sites like Huffington Post, Problogger and Lifehacker are always looking for new and fresh content.
Just by searching "guest blogging opportunities in construction" you'll find some websites that you can guest blog for.
Not only will guest blogging get you exposure and traffic to your site, but you'll also get links to your site that will boost your SEO efforts too.



#4. Forgetting Totally About Mobile Users
Everyone has a mobile phone in their pockets, it's used for almost everything. If you're forgetting about mobile users – you're missing a trick.
Mobile accounts for approximately half of the web traffic worldwide – this a huge percentage to neglect. Just having a website simply isn't enough, your website needs to be optimised for mobile devices.
50% of people said they would use a company less often if they did not have a site that's mobile-friendly even if they liked the brand.
You don't want this for your construction company, especially if they then go to your competitors.
Always keep in mind how a website will look on mobile when creating a website. If you're using a CMS like HubSpot you can quickly view how a page will look on a mobile device so you can make sure that it's mobile optimised.
#5. Not Using A Call-To-Action
Something valuable I've learnt from Donald Miller's book – Building A Story Brand is that customers don't take action unless they are challenged to take action.
If your desired goal is for customers to book a meeting with you after reading one of your blogs, how will they reach this action without a call-to-action (CTA)?
If you have a great marketing campaign or construction blog without a CTA, it's virtually useless.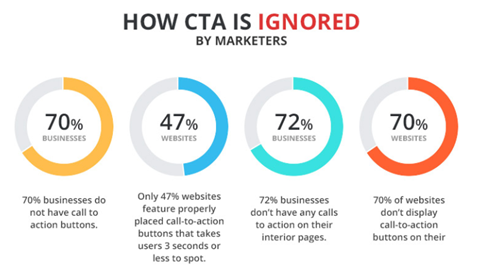 (Source: neilpatel.com)
Ensure you're not missing out lead capturing. After writing a blog or a marketing email, think about what action you want your construction customers to do to help them move through the buyer's journey funnel?
For new customers, a relevant CTA would be 'Book A Meeting' or 'Book Your Free Site Audit'.
Conclusion
Recognising these mistakes will help you strive for growth for your building product business in 2021.
Don't be discouraged if you went through this list and realised that you're making some of these mistakes.
Now you've recognised these mistakes you can work to improve and make sure you don't make the mistakes again.
Fortunately, these mistakes are connected and correcting one of these can help with other construction marketing mistakes too.



ABOUT INSYNTH
Insynth Marketing is a leading UK construction marketing agency based in Shifnal in the West Midlands.
They use the latest inbound marketing techniques such as construction inbound marketing, to support building product companies to grow their business by proactively driving sales lead generation activity.
As the only HubSpot certified agency to major on construction marketing, we bring together construction marketing strategy, digital strategy, website design, SEO, content marketing, email marketing, sales automation, marketing automation and HubSpot CRM implementation to produce successful campaigns and great results for our clients.