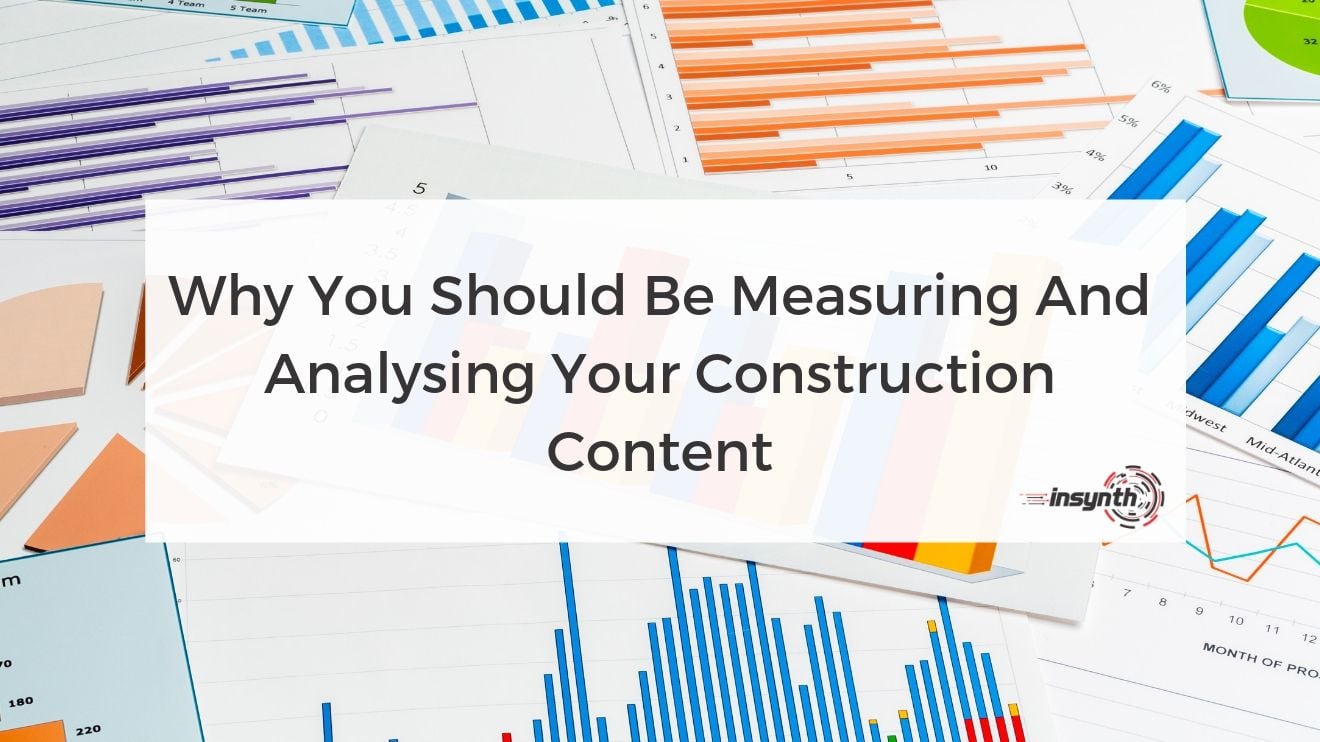 Colleagues want facts and figures. They want measurable and profitable results.
What evidence do you have that your content marketing efforts are successful? This information will allow you to see if the content you've invested so much time on producing is actually working, and most importantly, whether it's driving sales.
Measuring and analysing can help you:
Find out if your marketing efforts are impacting on sales.
Discover insights and where to go next.
Document and report on progress for future use cases.
Interestingly, only 8% of construction marketers consider themselves successful at tracking the performance of their content marketing efforts.
Think about the leverage it will provide you with against your competitors if you took the time to measure and analyse your content.
Uncover Insights You May Have Missed
What works best for your audience? Has this changed over time? Is there a new trend in your industry? These are all key considerations to stay on top of.
Review not only your content but that of your competitors to be sure you're addressing basic questions and new developments.
With so many sources out there ranking highly in searches, it's important to measure and analyse your content marketing to maintain a strong presence amongst all the other savvy construction writers.
Collecting And Interpreting Data: How
Now we've uncovered the importance of measuring and analysing content, we'll look at the sometimes-tricky issue of tracking data. There are six different areas to focus on when tracking and measuring your content marketing efforts:
Brand Awareness. There are different ways that you can track brand awareness. You could measure reach on various channels such as social media followers.
You could also measure conversations about your brand, such as media and press coverage, or reviews online.
An effective way to track mentions of your brand online is to create a Google Alert for the name of your business. The service will send you an email when it finds new results-such as web pages, newspaper articles, and blogs-that match the user's search term(s).
Engagement. This will help you discover not only who's seeing your content, but who's interacting with it. Social media is an effective way of tracking engagement because you're able to view likes, shares, comments, and retweets.
You can also measure engagement on your website. For example, who's commenting on your blog and how many comments did it receive?
When you send out a content offer via email, do your recipients click and download the offer?
All of these engagement 'signals' help you to determine the most successful content pieces, topics, channels, and formats.
Lead generation. Things you may consider measuring here are how many leads you generated, whether they're blog subscribers or whether they downloaded a content offer. From this, you can measure what activities led to someone becoming a lead. Was it a specific piece of content, campaign or source?
4. Customer conversion and sales. What is the total return on investment (ROI) for your content marketing efforts?
You can track the quality of sales influenced by content marketing and compare it to cold sales to help prove the ROI. Do marketing qualified leads have a faster time to close than cold leads? Do they purchase more, and more often?
You can also discover what the ratio of leads to customers is. This information will allow you to understand where your strategy may be falling short.
Customer loyalty and retention. Can you compare the lifetime value of a customer originally sourced by marketing to that of a sales-sourced customer?
How often do your customers buy from you? Are they recommending your business to friends or peers in their field?
Website performance. If your website isn't optimised for user experience, your content strategy will be pointless. Keep track of your website's performance through traffic, unique visitors, and which sources of traffic are top performers for your business.
There are many sources where visitors could come from, like paid search, organic traffic, email marketing, and more.
Bounce rate is also an important metric to track because it is representative of how well your content is living up to your visitors' expectations. The longer someone stays on your site, the more your search engine rankings will improve.
At Insynth, we use SEMRush, Moz, and Google Analytics to track your website performance metrics like the ones listed above.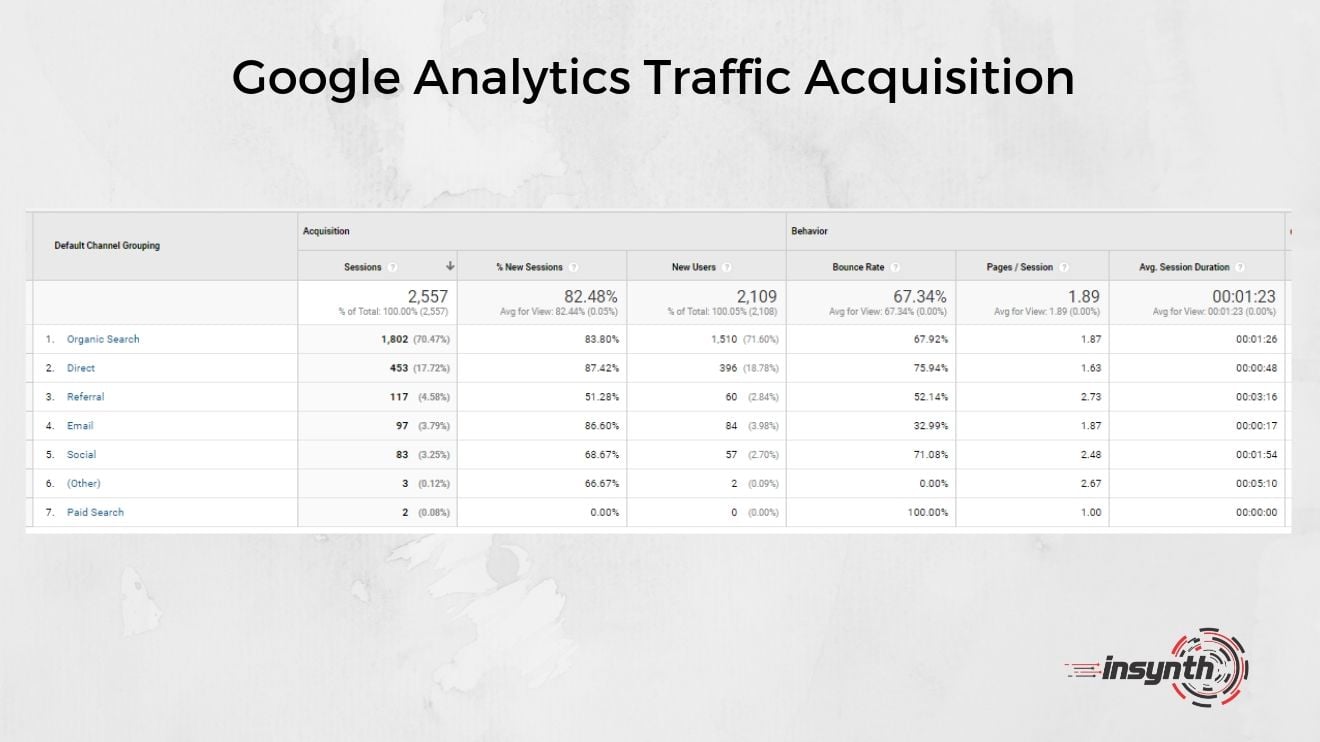 The picture above demonstrates how Google Analytics breaks down traffic acquisition into organic, direct, referral, email, and so on. This provides us with the data needed to analyse our content marketing efforts and the specific areas we need to focus on.
What Do You Do With Data Once You've Collected It?
Review and share it with key stakeholders in your building products and construction company. This may include your management team, all the way up to your managing director.
Every month our clients receive a detailed report of their website's performance and key metrics that have been impacted through our content marketing efforts.
One of our clients, Contour has seen a large rise in their Google rankings since July last year. They now have 117 keywords in the top ten of Google's search results; 86 of which are in the top three. All of this is down to our consistent content marketing efforts.
By documenting this data in a monthly report, you are demonstrating the value of your content marketing efforts.
Conclusion
If you want to stand out against your sea of competitors, measuring and analysing your content might just be what gives you the edge. Having a firm grasp on what content is performing well and what content is generating the most leads will enable you to regularly reflect and adapt accordingly.
Marcus Sheridan's article entitled "How Much Does a Fiberglass Pool Cost?" generated more than 3 million in revenue for his company, River, Pools, and Spas. Creating content is more than just writing blogs. It's what fuels sales and empowers buyers to make a decision.
If you'd like to learn more about how content marketing can help improve your reach, rankings and ROI, get in touch today.
About Insynth
Insynth Marketing is a leading UK construction marketing consultancy based in Shifnal in the West Midlands. Insynth employ the latest inbound marketing techniques such as construction inbound marketing, to help building product manufacturers grow their businesses by aggressively driving sales lead generation activity.
As the only HubSpot certified agency to major on construction marketing, we bring together construction marketing strategy, digital strategy, website design, SEO, content marketing, email marketing, sales automation, marketing automation and HubSpot CRM implementation to produce successful campaigns and great results for our clients.