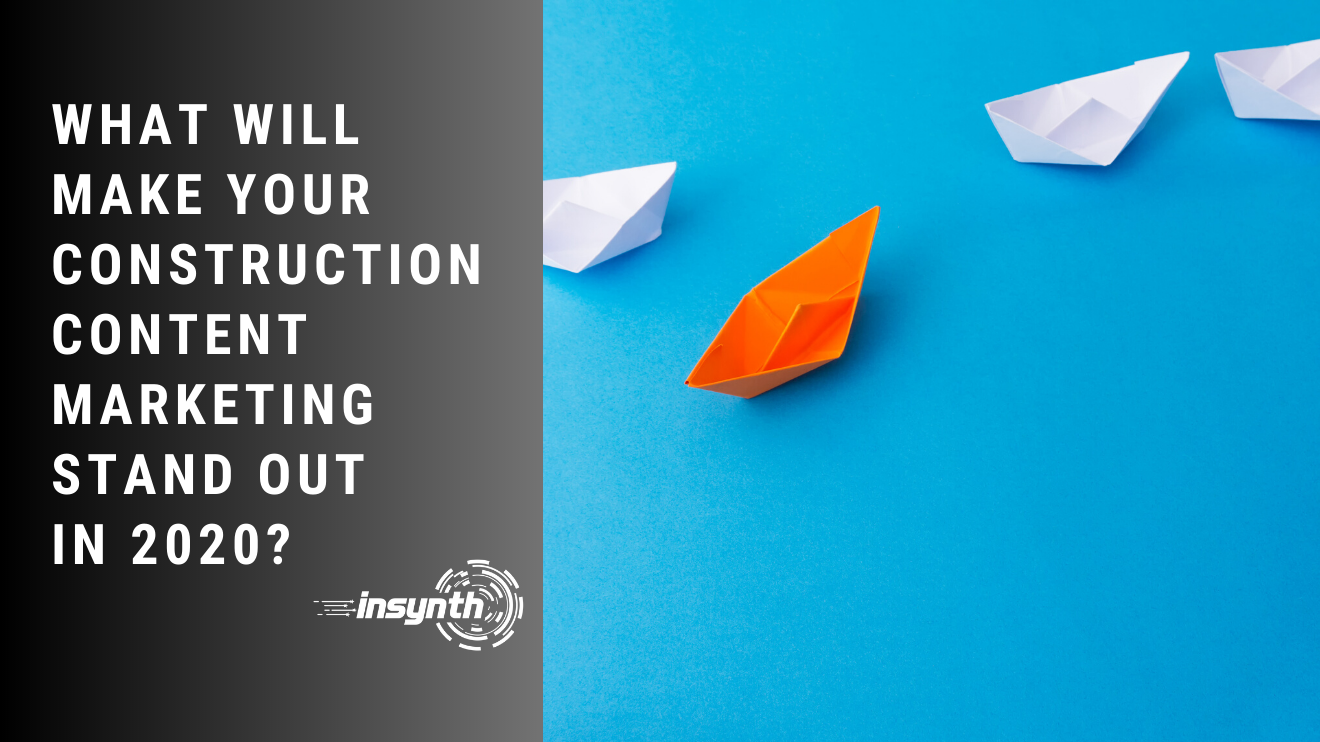 Want to make your construction content marketing stand out in 2020?
You've come to the right place.
As we enter into the new decade, we need to understand that the times are changing. So, before I break into a clichéd Bob Dylan quote, I'm going to share some key tips to make your construction marketing content stand out, increase specifications and win you the projects you deserve.
Relevant, Helpful Construction Content
Companies within the building products and construction industry are recognising that it's not enough to simply have a website that acts as a product brochure.
In 2020 and beyond, your online presence is more about the relationships that you build with various stakeholders of a project. This collaboration can only take place via an information-rich environment, and your website content is at the heart of this.
Your website's content is vital in upholding this effective collaborative relationship.
For the specifier, collaboration involves close working with many parties, including the client, contractors and, just as importantly, construction product manufacturers.
Making your content relevant and helpful will ensure that specifiers enter into a project with an in-depth understanding of the solutions that you provide, and why they should choose you over your competitors.
Your Construction Content Should Be Keyword Focussed
Achieving page one of Google requires you to have a firm understanding of the role that keywords in your construction content marketing strategy.
The focus keyword or key phrase is the search term that you want a page or post to rank for most. When people search for that phrase, the ultimate aim is that they find you.
For your construction content marketing to stand out in 2020, we recommend that you make effective use of keywords throughout your content. This doesn't mean only plugging them in the main body of your copy. Optimising your page's Header Tags with your keywords ensures the best possible chances of Google crawling your page's content.
Of course, the research that goes into identifying appropriate keywords is vital. Plug a keyword that's too broad and you run the risk of not ranking at all; the search volume will be too great.
On the other hand, if you plug a keyword that's too niche, there just won't be a lot of people on the planet searching for it.
Balance and strategy is vital here. Effective keyword research is at the heart of any great content marketing campaign.
A Good Headline Is Key
You have five seconds, maybe less to for someone to decide whether they're going to read your post or not. Does that mean you have to shock? Does that mean you have to conjure up a wacky headline?
Well… yes and no.
Of course, you want to spark interest with your readers. You want to create content that delivers a lasting impression.
But, as a building product manufacturer, you're not trying to create click-bait. Your intention isn't to generate tonnes of traffic. Yes, traffic is good, but only if it's going to lead to profitable action.
We recommend that you make your headline clear and to the point. What problem or pain point are you trying to solve? Contractors, architects and specifiers are ultimately looking for solutions, so how is your content going to address this?
There is room for creativity, however.
Try using some of the header tactics that regular bloggers use to spark interest:
X Hacks to Create A Comfortable Acoustic Environment…
The Secret to a Safe learning Environment…
Why Offsite Manufacturing Is Kicking Ass…
You can be clear and entertaining at the same time. To read more about effective headlines, click here.
Using A Strong Image To Attract Architects And Specifiers
The main purpose of a header image is to increase its appeal and boost the number of times people click through to read your blog.
Research suggests that blogs containing images are much more likely to be read over blogs without an image; 99% more likely, according to 99firms.
Whilst adding that element of visual appeal, a strong image is a great way to show off your product. We recommend that you include an image of your product from one of your recent projects. This allows the specifier to see it in context, providing your brand with absolute transparency.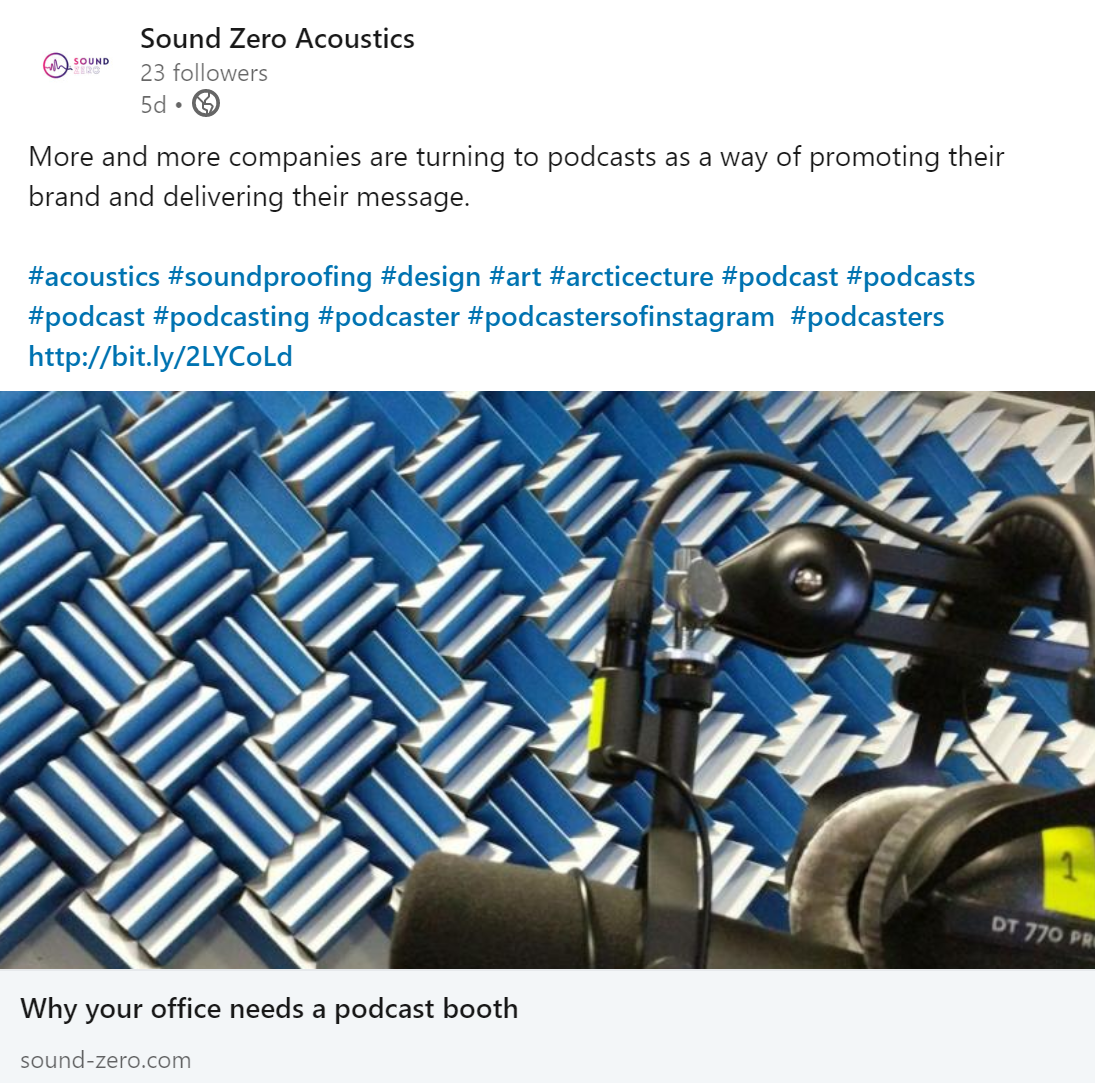 Sound Zero has used an example of their 'transition wall' from their recent Facebook installation to promote podcast studios
Through the use of packages such as Canva, creating a compelling blog image with text couldn't be easier. Having a play around and exploring some of Canva's pre-made templates will ensure that your blog header images are slick and professional with relative ease.
Let's not forget that images can also benefit your site's search engine optimization (SEO) through the use of ALT tags and titles.
The best format for alt text is sufficiently descriptive but doesn't contain any spammy attempts at keyword stuffing. If you can close your eyes, have someone read the alt text to you, and imagine a reasonably accurate version of the image, you're on the right track.
Video Promotion For Your Building Products Brand
The building products and construction industry provides a variety of opportunities to create video content. Whether it's through testimonials, factory tours or product demonstrations, there are numerous opportunities to capitalise on this essential content marketing tactic.
With iPhones being so high-tech these days, an effective video doesn't mean you have to invest in expensive software or hire a videographer. All that's needed is an iPhone and some basic recording software.
1. Video Boosts Conversion Rates
A video on a landing page can increase conversions by 80%, according to HubSpot.
A compelling presenter in a video about your product can dramatically influence buying behaviour and convert a lead into a customer.
2. Search Engines Love Video
Google is constantly looking for content that engages viewers and nothing entices more page views quite like a video. With YouTube being the second largest search engine behind Google, putting your video on there as well as your website will increase your chances of showing up in search.
What's more, if you promote your videos via social media, your chances of getting found go through the roof.
3.

Video Builds Trust And Credibility

Video is a great tool for connecting with your audience and earning their trust. If we turn to the research, 90% of users say that product videos are helpful in their decision process.

The more videos you have that inform and educate your specifiers, the more foundations of trust you'll be building.
Social Media Promotion Is Essential
Social media is a great resource for B2C businesses because consumers like you and I use social media all the time.
B2B social media promotion is a slightly different ball game, and one that requires an adjusted approach.
The only way to reach out to your audience is to delve into their behaviour on social media.
How are architects using social media?
Gensler-one of the largest global design firms, with over 30,000 followers-share-thought provoking content, videos and photos of their projects.
Many architects leverage Instagram's visual delights by sharing photos of architectural interests.
According to Architizer, the young, Millennial architects are the ones most likely to be labouring for hours over the placement of a screw in a BIM plan or spending days researching building materials.
Social media provides a platform for connecting professionals seeking to exchange trends, get inspired, explore projects and gather research.
Online Media Promotion
If you're reading this, I'm guessing that you provide a product or service that people want. In today's world, however, it's not enough just to create a quality solution.
There's too much competition out there.
One challenge that building products companies face is that your audience don't often know they need your products or services; particularly if you're marketing a new solution.
Or if they do, they don't know why they should buy your products or services over the competition.
And that's why building products companies need to include editorial coverage in their marketing strategy in 2020.
Publishing content via a third party, such as magazines, journals, newspapers and other online sources will deliver important and relevant information to your target audience.
Not only that, but it adds to readers' perceptions of your credibility, as opposed to paid promotions-which, if used ineffectively, may come across as self-serving.
Top tip from Insynth CEO, Leigh Simpson,
"PR is an excellent way of generating back-links. Always make sure you link PR to relevant pages, rather than just the homepage."
Benefits Of Editorial Coverage
Editorial coverage that provides value to readers:
Builds credibility
Increases visibility
Expands your reach
Boosts brand and name recognition
Helps you establish and maintain a competitive edge
Demonstrates thought leadership.
Want to know which titles are the most effective in getting your brand and products seen? Download our 2019 Architectural Media Grader.
Email Marketing For 2020
Your contact list is your best asset, and this will continue to be the case for years to come. Email marketing promotion is a highly effective tool in ensuring that your products and services stay relevant.
You can employ a range of tactics to elevate your marketing strategy, and you can find out some of the best methods here.
The most effective email marketing campaigns for building products and construction companies are the ones that regularly send emails to their subscribers every time a new piece of content is created.
Using automation software such as HubSpot will allow you to reach out to your audience with relative ease, allowing you to spend time on other pressing issues (like writing content!)
Key takeaway for 2020: Consider using an email automation software service to save time and enable you to reach out more regularly.
Conclusion
With more businesses within the building products industry flexing their content muscles, the need to do it properly, with the best strategies, is vital.
As you can see, there are a variety of 'branches' that help to elevate your content marketing strategy. For any help or support on one (or more) of these essential techniques, talk to one of our experts today.
About Insynth
Insynth Marketing is a leading UK construction marketing agency based in Shifnal in the West Midlands.
They use the latest inbound marketing techniques such as construction inbound marketing, to support building product companies to grow their business by proactively driving sales lead generation activity.
As the only HubSpot certified agency to major on construction marketing, we bring together construction marketing strategy, digital strategy, website design, SEO, content marketing, email marketing, sales automation, marketing automation and HubSpot CRM implementation to produce successful campaigns and great results for our clients.