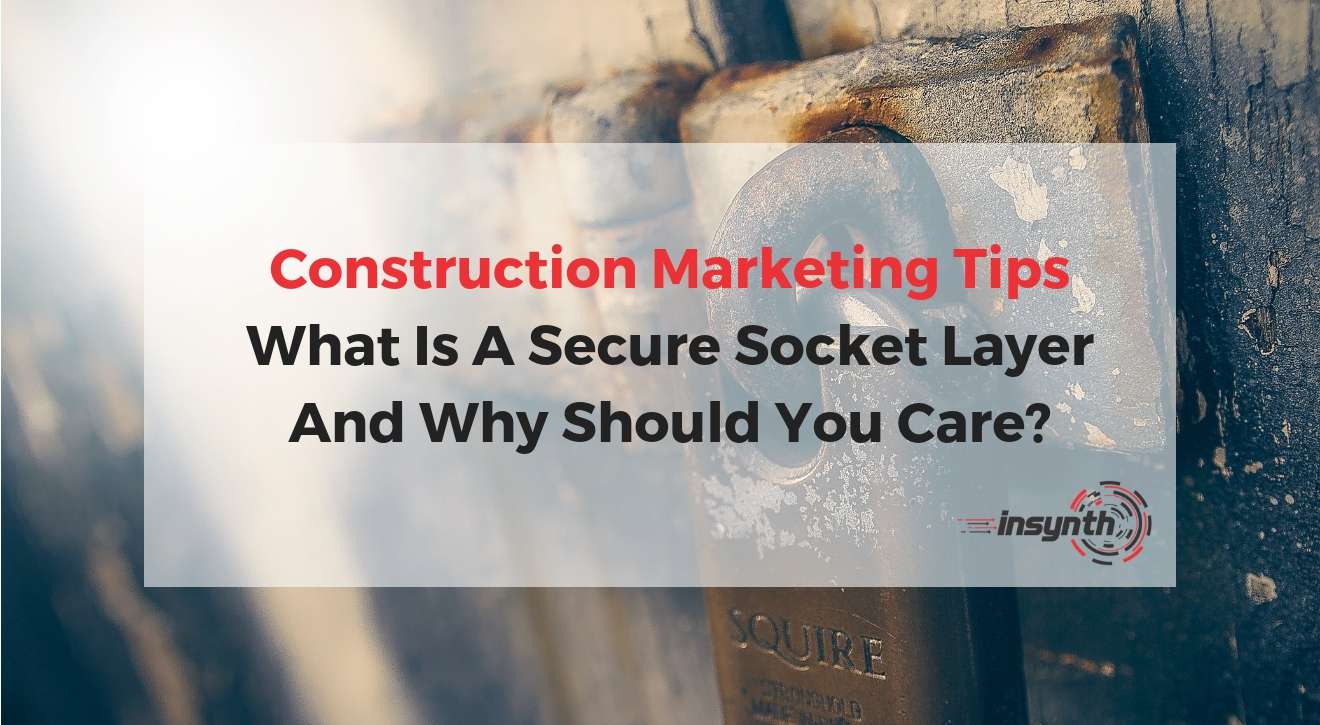 Secure Socket Layer can be shortened to SSL.
When a web browser contacts your secured website, the SSL certificate enables an encrypted connection. It's kind of like sealing a letter in an envelope before sending it through the mail.
Without SSL encryption any computer could intercept the transmission from your browser to the server.
This includes the transmission of credit card numbers, usernames and passwords, and other sensitive information.
29% of Building Product websites were not secured with an SSL certificate – (The State of Building Product Digital Marketing, 2019)

It feels like you're about to try and sell me an SSL certificate
Quite the opposite, in fact we are giving away a construction marketing report. If you'd like to skip straight to that – just click here to download it for free.
Read on to find out how it can improve your conversion rates and build trust with your customers.
How can this be damaging my business?
Ever seen this message before? Beginning July 2018, Emily Schechter (Google's Chrome Security Manager) announced Chrome will mark all HTTP sites as non-secure. It's 2019, SSL certificates have evolved from about 20 years ago and they'll turn your site into HTTPS or recognised by Google as 'secure'.
For your customers, depending on the browser, they'll get anything from a giant warning message recommending them to 'go back to safety' i.e. not visit your site, or a message in the corner of the screen telling them your site isn't secure. Either way, it isn't good for business.
How can this be good for my building product business?
Your SSL certificate confirms you are the legitimate and verified owner of your website. It is estimated that a typical commercial building can require over 5,000 products to construct. Architects haven't got the time to worry about whether the website they're specifying building products from is legitimate – they'll go to a competitor instead.
3 reasons why a secure website is good for business:
Increases conversion. Customers are more likely to make a purchase over a secure connection than not.
Establishes trust with your customers. When you have an SSL certificate, visitors see the padlock icon in the corner of the screen.
Better search engine rankings. Sites that use https rank higher than those without. Simply put, Google prioritises sites that prioritise safety.
Key takeaways
A browser warning can be a serious deterrent for a potential customer.
Having a secure website helps your search engine rankings and confirms you are the legitimate and verified owner of your website.
It protects your customers when filling in forms or exchanging information.
What can I do next?
Fixing this will stop visitors from getting warning messages before visiting your site and increase traffic. It should not cost more than a £100 and is a standard practice by most web developers.
Download our free report
If you'd like, you can download our free 'The State of Building Product Digital Marketing Report 2019' where we highlight how to get specified by more architects and improve your lead generation.
About Insynth
Insynth Marketing is a leading UK construction marketing agency based in Shifnal in the West Midlands.
They use the latest inbound marketing techniques such as construction inbound marketing, to support building product companies to grow their business by proactively driving sales lead generation activity.
As the only HubSpot certified agency to major on construction marketing, we bring together construction marketing strategy, digital strategy, website design, SEO, content marketing, email marketing, sales automation, marketing automation and HubSpot CRM implementation to produce successful campaigns and great results for our clients.