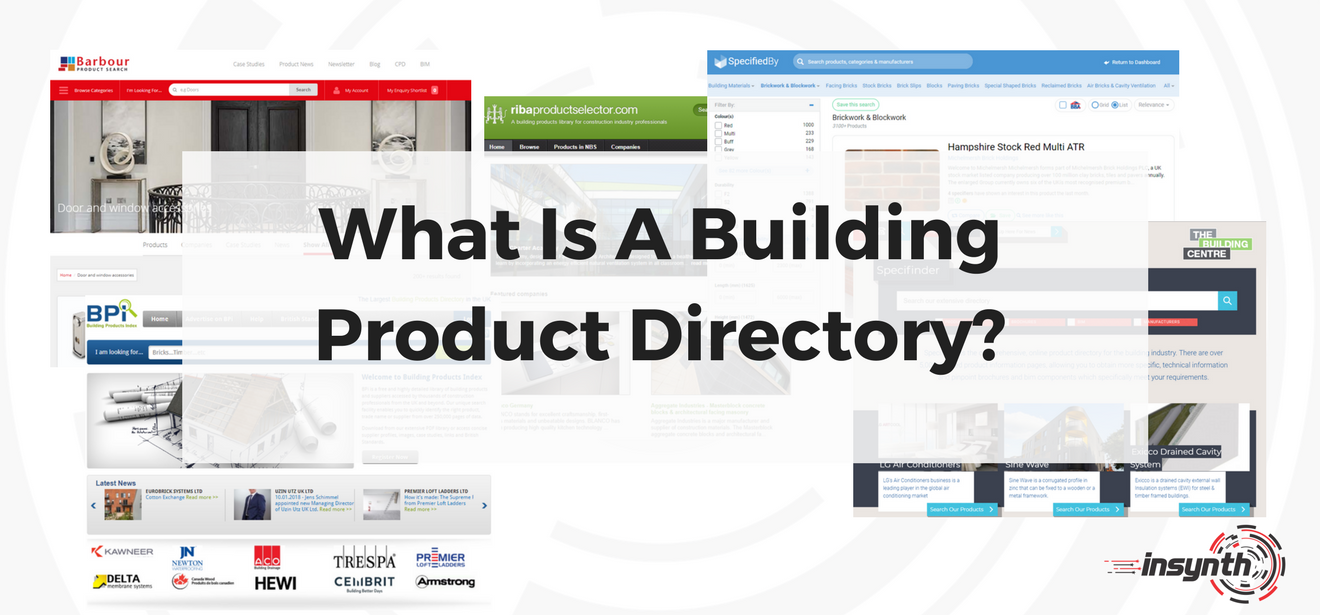 A building product directory is an online resource for building specifiers, such as architects and engineers, that enables the research, selection and specification of building materials for current or future construction projects.
As building product directories are used in up to 76% of product research in the UK, they should be viewed as important components of any construction marketing strategy.
More Than Just A Listings Site
There are a number of sites that describe themselves as product directories, but many aren't much more than trade listing or business listing sites. These sites generally provide little more than company names under broad, generic product categories, with basic contact information, a backlink to the company's website and a brief description.
These sites do provide value for building product manufacturers as the backlink benefits their domain authority, while the referral traffic can generate leads. Unfortunately, they don't offer much assistance to specifiers looking to source products and solutions.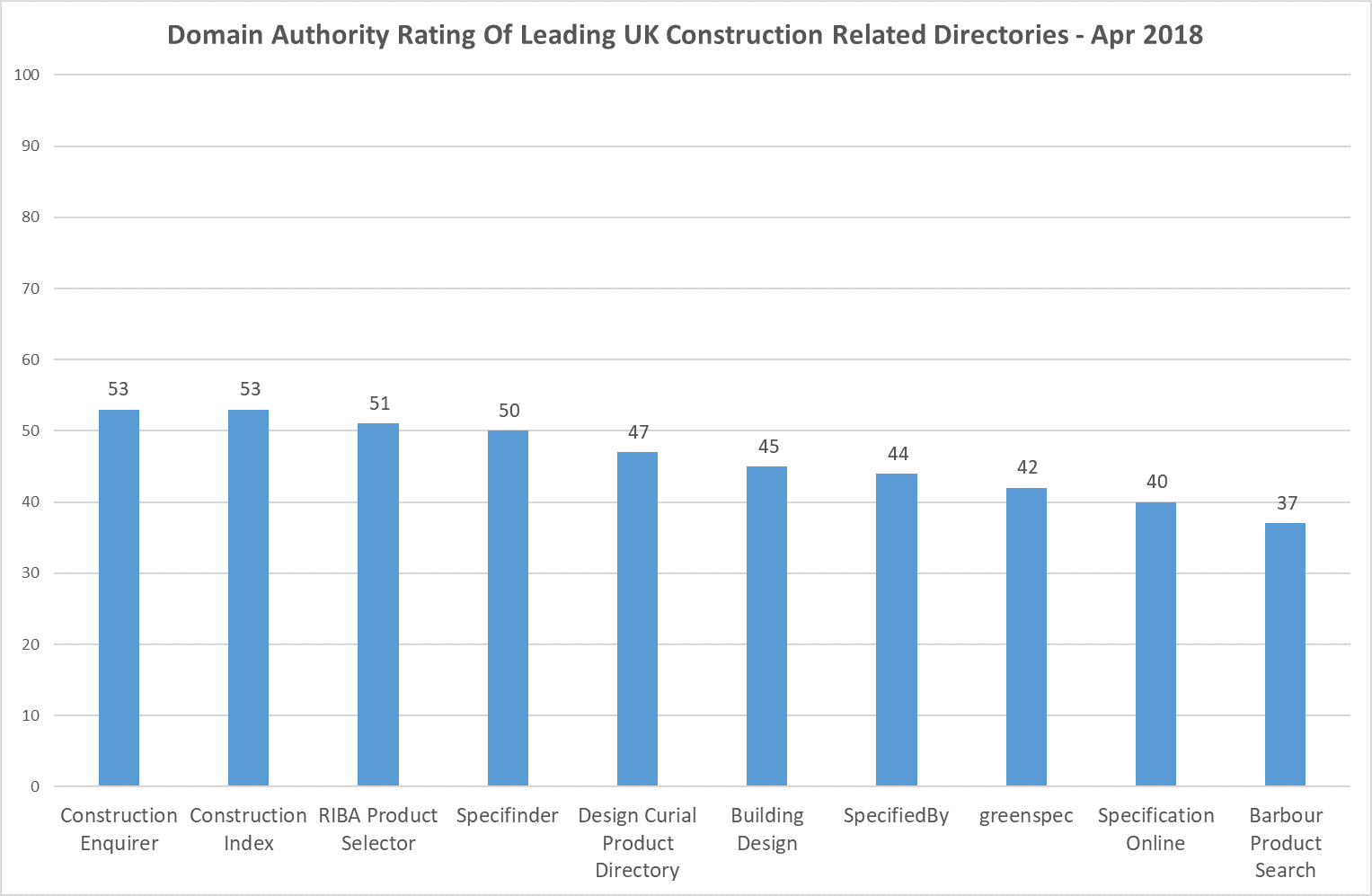 Why Do Specifiers Use Building Product Directories?
To be classed as a genuine building product directory, it is critical to be perceived as a valuable resource and source of information to building specifiers, assisting them in the time consuming and complex task of identifying the most suitable products for their projects.
Consider that a typical commercial building will require around 5,000 different products to be used in its construction. This is a mammoth task for an architectural practice or a firm of engineers.
Typically, specifiers will stick to known brands or businesses that they have worked with in the past that have provided a good product and service, adding the risk of the unknown into your project is usually avoided where possible. However, when specifiers are looking for a new solution or supplier, their search will begin and directories are likely to a part of this process.
The most popular directories will often be used in preference to or alongside building product manufacturers websites and should be seen as an extension of these sites.
Which Are The Major Building Product Directories
In the uk, there are several major product directories that are widely used by specifiers, they include;
Between them, they report over 3 million visits per year to their websites and 20 million page views or searches.
What separates these resources from general listing sites is the way in which they are organised, the size of their product databases and the quality and quantity of product data they give the specifier access to.
Common resources included;
A large and comprehensive database of product data which is logically classified, indexed and categorised.

Comprehensive search capabilities, including by brand, product name, manufacturer or product description

Easily downloadable content such as BIM files, technical brochures, specification clauses and CAD files.
Our UK Building Product Directory Comparison Matrix illustrates the content and information available on these leading sites.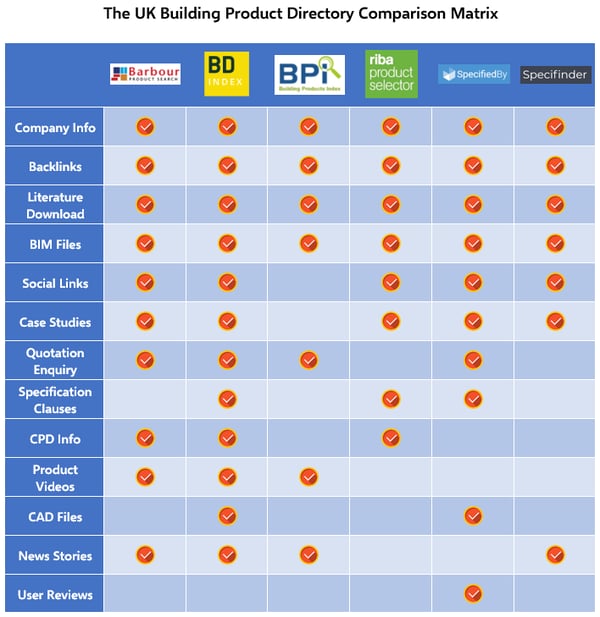 Further Insights
For more information on the UK Building Product Directory sector, register for the FREE Building Product Directories Grader report which researches all of the top UK online building product directories and listing websites along with some of the top international offerings.
We'll be exploring domain authority, reach and comparing the features and cost of over 20 directories.
To pre-register for your copy, visit our Resources page, where you can also obtain the latest Architectural Media Report.
About Insynth

Insynth Marketing is a leading UK construction marketing consultancy based in Shifnal in the West Midlands. Insynth employ the latest inbound marketing techniques to help building product manufacturers grow their businesses by aggressively driving sales lead generation activity.

As the only HubSpot certified agency to major on construction marketing, we bring together digital strategy, website design, SEO, content marketing, email marketing, sales automation, marketing automation and CRM implementation to produce successful campaigns and great results for our clients.

Book Your Free Consultation Today