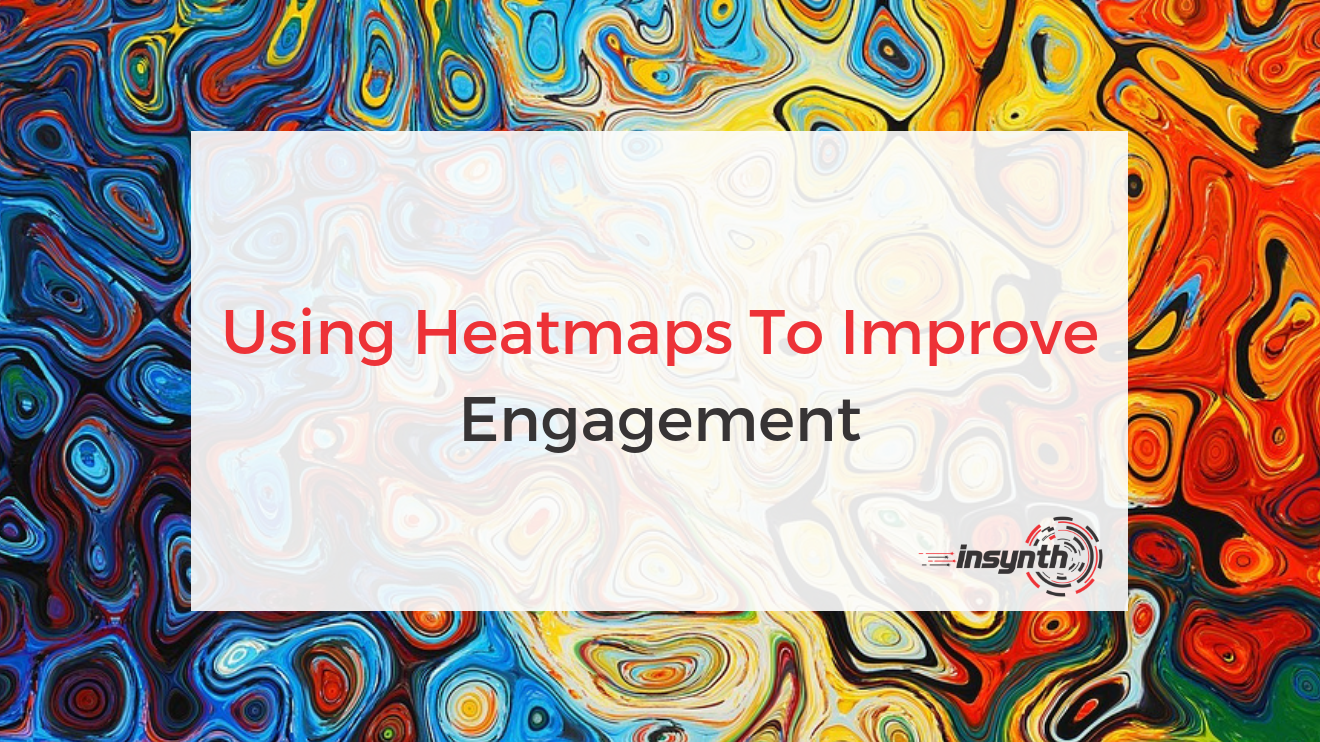 In content marketing for construction, having a strong understanding of how prospects are interacting with your content can be an invaluable asset when structuring your website.
Heatmaps provide a valuable insight into which pieces of content are working best for you and can demonstrate where prospects are most engaged on your website.
Insynth is pleased to introduce heatmapping to our construction marketing services. Read on to find out more…
What Are Heat Maps?
Heatmaps are visual representations of where website visitors are clicking. Using colour to represent data, they indicate where on a page traffic is most engaged; what pages they are looking at and how CTAs, buttons and links are performing.
They allow an easy understanding of user behaviour on a website. Similar to thermal imaging; heat maps use strong colours such as orange and red to show where the highest volume of clicks have happened on a page.
These colours change to green and blue for areas with a lower concentration of clickthrough and, for areas where there is no engagement, heatmaps stay dark grey or black.
This creates a simple, easy to read method of understanding complex data around your website.
How Can Heat Maps Help?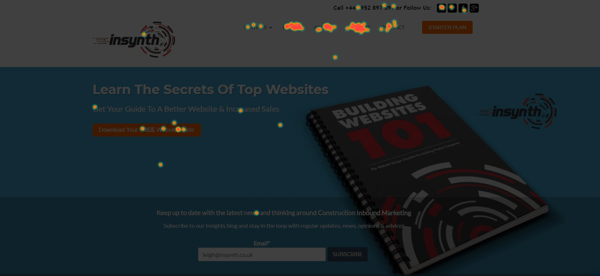 Using heatmaps, you can begin to understand where visitors are most involved with your content. They can show you where visitors are clicking on your site, demonstrating what kinds of content they are looking for when on the site.
You can also gain insights into which pages aren't performing and where visitors are less engaged and highlight the main areas for improvement when developing content.
Heatmaps are also helpful when carrying out A/B testing on buttons and CTAs.
When testing new colour schemes or locations for your calls to action and buttons, you can use heatmaps to monitor which versions receive the most engagement and which one's visitors weren't as keen on clicking on.
Insynth's Offer
Insynth is offering you the opportunity to gain these detailed insights into user behaviour with our User Engagement Insights services, starting from just £10 per month.
With this service, you can use heatmapping software to see how your website traffic is behaving, where they are most engaged and where you can make adjustments to improve areas that aren't getting the attention they deserve.
This software is a highly effective way of getting to know your visitors' behaviour on a detailed level, which can aid the way that you structure your content throughout your site to suit the engagement of your website traffic.
You can also carry out A/B testing and receive detailed results in the form of heatmaps to accurately guide the look of your website.
Conclusion
With Insynth's new User Engagement Insights, you can gain key understandings into how your website is performing and what visitors are doing on your site.
For just £10 per month, you can learn how your traffic is behaving and reacting to content and conduct A/B Testing with heatmaps for analysis of your efforts and to guide how you'll design your website in a way that visitors are engaging with.
About Insynth
Insynth Marketing is a leading UK construction marketing consultancy based in Shifnal in the West Midlands. Insynth employ the latest inbound marketing techniques such as construction inbound marketing, to help building product manufacturers grow their businesses by aggressively driving sales lead generation activity.
As the only HubSpot certified agency to major on construction marketing, we bring together construction marketing strategy, digital strategy, website design, SEO, content marketing, email marketing, sales automation, marketing automation and HubSpot CRM implementation to produce successful campaigns and great results for our clients.
Book Your Free Consultation Today