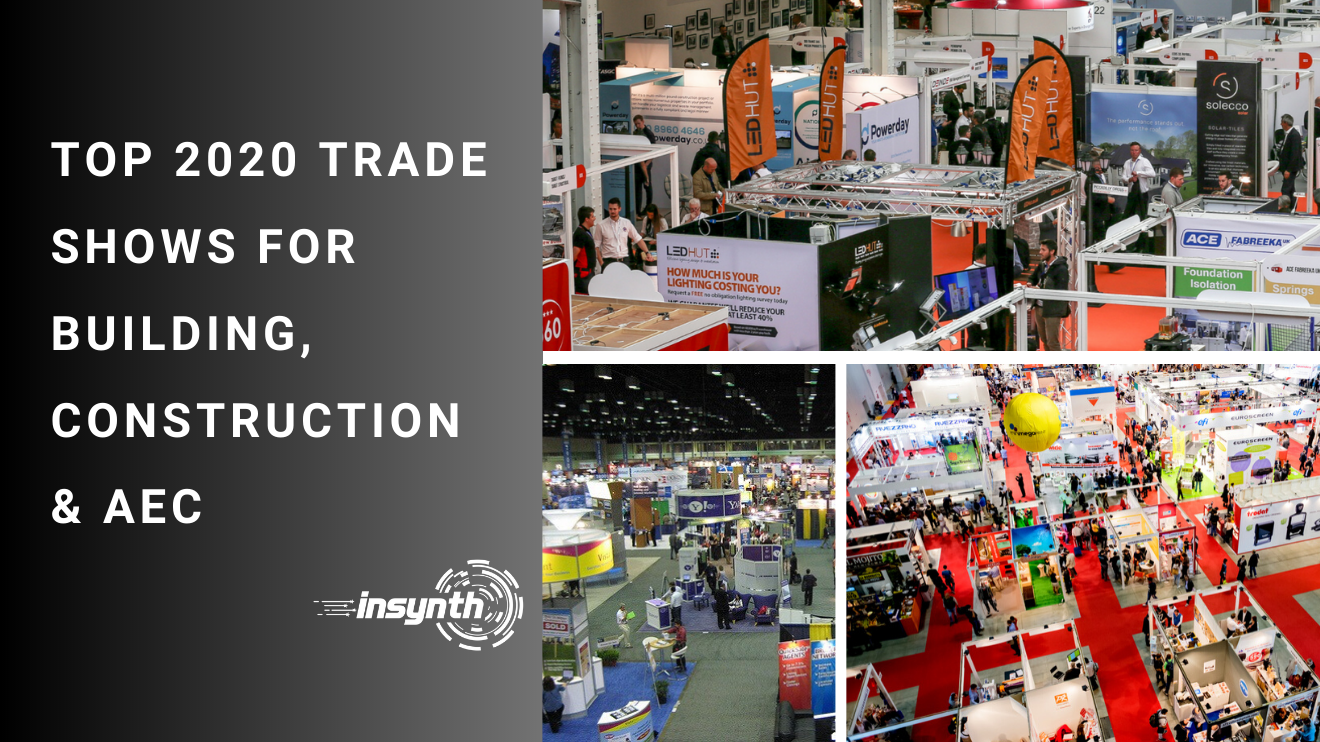 With January out of the way and our construction marketing strategy in place, we imagine that your sights are firmly set on how you will promote and network your building products company to drive growth and success in the new year.
Throughout 2020, the UK is playing host to a variety of trade shows aimed at those in the construction and AEC industry, and Insynth has compiled a list of the shows not to be missed.
Read on to find out more.
Spring Trade Shows
Kitchen, Bedroom and Bathroom (KBB)
When & where: 1-4 March, The NEC in Birmingham
Cost: Free
Exhibitors: 400+
Who is it aimed at? Independents, retailers, specifiers
KBB provides the perfect setting to source and specify the newest and most exciting product launches from over 400 world-renowned brands, helping you to secure clients and win new business.
Find out more: https://www.kbb.co.uk/
Future Build Live
When & where: 03-05 March 2020 / ExCeL, London, Tue & Wed 10:00 – 18:00, Thu 10:00 – 16:00
Cost: Free
Attendees: 27000
Who is it aimed at? Specifiers, designers, architects and manufacturers
Futurebuild is the built environment event where brands of all sizes can share innovations, from products, to processes and solutions, with over 27,000 industry influencers and shapers.
It brings the most important people in the industry together around the things that really matter to them. This is achieved through the agenda setting conference and industry leading keynote stages.
Find out more: https://www.futurebuild.co.uk/welcome
National Homebuilding And Renovating Show
When & where: 26-29 March, NEC, Birmingham; 30-31 May, Glasgow; 27-28 June, Surrey; 25-27 Sept, London; 17-18 Oct, Edunburgh; 6-8 Nov, Harrowgate; 21-22 Nov, Somerset
Cost: One day ticket-£12; Two-day ticket-£18
Who is it aimed at? Designers, self-builders, specifiers, architects and buyers
The biggest homebuilding and renovating event in the UK, this event takes place in several locations across the UK throughout 2020.
Self-proclaimed as the 'go-to exhibition for self builders and renovators', this event promises sessions, experts and exhibitors at the show to help you bring your project to life, no matter what stage your project is at.
Find out more: https://national.homebuildingshow.co.uk/
Ideal home show
Where & when: 27 March-13 April, Olympia, London
Cost: Ranging from £12-£18
Exhibitors: 600
Who is it aimed at? Buyers, designers, specifiers, thought leaders, managers, self-builders
The event provides inspiring ideas, innovative products and solutions for your home. You'll get to see full-scale show homes, over 600 companies, free CPD sessions and an opportunity to see the latest technology and fresh ideas from the experts.
Find out more: https://www.idealhomeshow.co.uk/
Autumn Trade Shows
100% Design
When & where: 16 - 19 Sept
Cost: TBC
Attendees: 27,000
Who is it aimed at? Architects, designers, specifiers, retailers and developers
Rebranded for 2020, 'Design London' as it is now called, claims to feature a highly curated selection of the most sought-after design brands.
In a new, state of the art venue, the event will host a range of engaging talks programmes and the best in cutting-edge design from all over the world.
Find out more: https://www.designlondon.co.uk/
UK Construction week
When & where: 6-8 Oct , NEC, Birmingham
Cost: Free
Attendees: 33,000
Who is it aimed at? Building product specifiers, buyers, contractors, architects and surveyors
This free event boasts multiple sections: Build, Building Tech, Civils, Energy & HVAC, Surface & Materials and Timber running from 6-8 October
Find out more: https://www.ukconstructionweek.com/
Grand Designs Live
When & where: 2-10 May, London; 7-11 October, Birmingham
Cost: £12.00-£20.00 depending on the date and time of attending
Attendees: 4000
Who is it aimed at? Designers, self-builders, specifiers, architects and buyers
Presented by Kevin McCloud, the event offers top expert advice, innovative products and eco solutions for your home. You'll also get to meet over 500 companies across four project zones and get access to lots of live talks and demonstrations.
Find out more: https://www.granddesignslive.com/
Decorex International
When & where: 11-14 October, Olympia London
Cost: TBC
Attendees: 15,000
Who is it aimed at? Designer, specifiers, architects, retailers, buyers
Decorex International is Europe's leading event for interior design professionals. Each year they curate a four-day show, presenting next-level design from across the world, presenting interior products, projects and perspectives – and the people who create them.
As one of the longest running design shows in the UK, Decorex brings together many of the leading brands in the design and architecture space.
The show seeks to bring together the top thinkers in the space to create the ultimate networking opportunity for those looking to get the latest on upcoming trends in the design sector.
Find out more: https://www.decorex.com/
London Build
When & where: 18-19 November, London
Cost: Free
Attendees: 25,000
Who is it aimed at? Senior-level decision makers, buyers and influential professionals
Taking place in London, it's the ideal opportunity to connect with a vast number of influential figures and businesses from the sector, allowing you to learn about the latest construction projects.
Find out more: https://www.londonbuildexpo.com/
Conclusion
The digitisation of the construction industry is changing thought-leaders' approach to innovation, and along with this, the opportunity to work with more efficiency, delivering projects on time, to spec and with fewer errors.
For companies looking to grow better in 2020, these trade shows offer the ideal opportunity for networking and development.
If you're serious about growth in 2020, talk to one of our experts about how Insynth can enhance your potential, positioning you as thought-leaders in your space.
References
Header image sources: Image 1, Image 2, Image 3
About Insynth
Insynth Marketing is a leading UK construction marketing agency based in Shifnal in the West Midlands.
They use the latest inbound marketing techniques such as construction inbound marketing, to support building product companies to grow their business by proactively driving sales lead generation activity.
As the only HubSpot certified agency to major on construction marketing, we bring together construction marketing strategy, digital strategy, website design, SEO, content marketing, email marketing, sales automation, marketing automation and HubSpot CRM implementation to produce successful campaigns and great results for our clients.