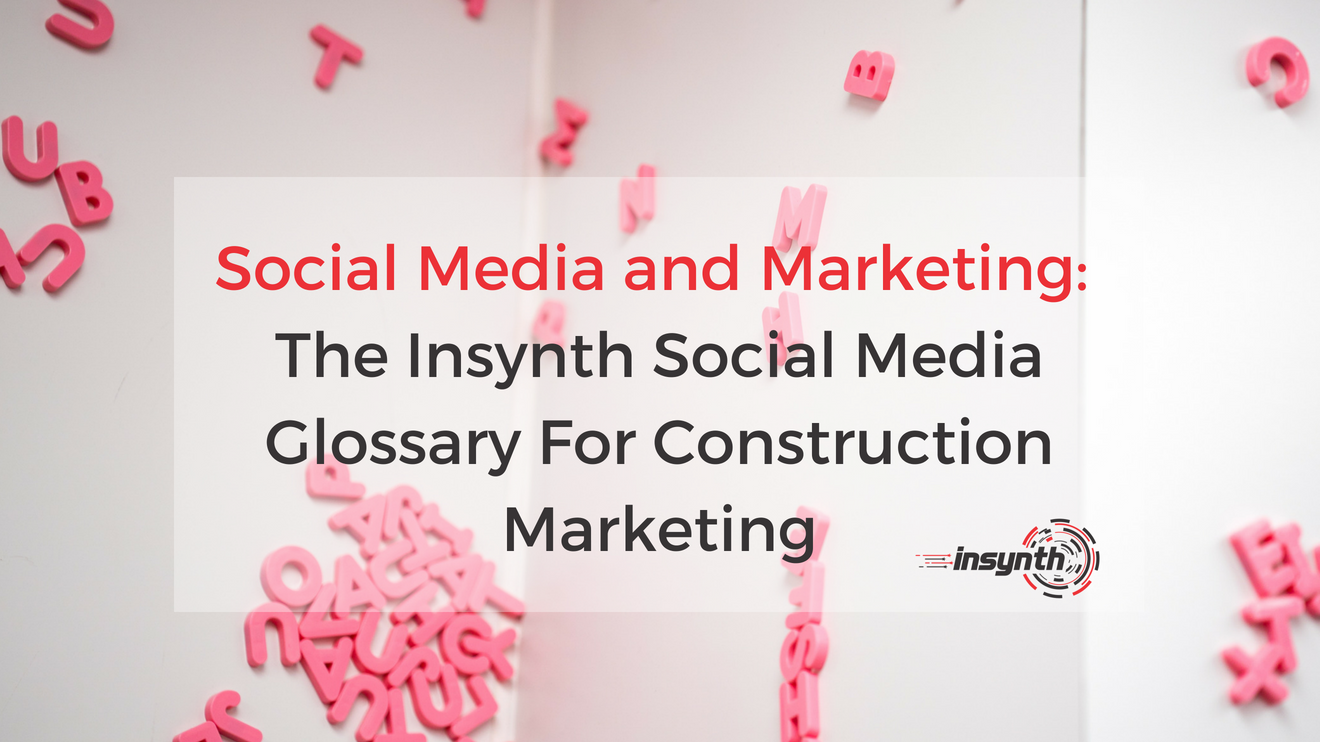 Building a social media strategy for your building products company?
Use our glossary of social media terms to support your construction marketing strategy. With our glossary, you can explore every corner of a variety of social media channels before jumping in and sharing your content with the world.
A
AddThis
AddThis offer web-tracking technology for social media and content. Tools include responsive, custom follow and sharing links and content plugins. These are designed to improve your social media engagement and earn your building products company more followers.
Algorithms
Algorithms are sets of formulas designed for computers to perform desired functions. Many social media platforms, such as Facebook and LinkedIn, use algorithms for developing promotion strategies. Current developments in the next Facebook algorithm (2018) mean that users will soon be able to upload three-dimensional images. Stay up to date with algorithms to plan your building product promotion posts strategically.
Application Programming Interface (API)
Application programming interfaces allow software applications to be combined and interact together, such as Twitter API. This can save time and improve efficiency for your construction company.
Avatars
Avatars are images or usernames that represent your building products company on their social media accounts. Avatars help to build brand image and make your social media account easily identifiable.
Average Response Time
Your average time is the average time in which your building products company responds to a prospect's message. This could be a compliment, enquiry, even a complaint. Whichever, you should always be listening, offering advice and being helpful.
B
B2B
Business to Business. Tailor your social media posts accordingly if you're selling construction marketing services or building products to other companies.
B2C
Business to Consumer. Alternatively, if you're selling building products to individuals, you'll need to target your social media posts to consumer audiences.
Bitly
Some social media platforms limit the number of characters you can have in each post. Twitter will stop you at 280. Even when using channels that will let you upload posts of any length, you'll find that shorter posts have the most engagement. To reduce lengthy, character-consuming links, use Bitly to condense your links to 23 characters.
Bio
A bio is a short section of explainer text that gives readers an understanding of the content author. When you share your building products content on social media, readers will know who to contact if they have any questions or want to express their own opinions.
Blogs
By sharing your blog (web log) on social media platforms, you expose your building products content to the audience that you have developed on social media channels, expanding your engagement, reach, and ultimately, customers.
Brand Advocate
When using social media for your building products company, you should always maintain your image as a brand advocate. Every post should convey important messages about who your construction company are and why your building products are important.
C
Canva
Canva is a free graphic design tool for amateurs and professionals. Use Canva's extensive range of templates to create social sharing images, blog headers, brochures and pretty much anything else you can think of to use in your construction marketing and product promotion.
Chat
Chat refers to any form of online communication, but particularly instant messaging applications that are integrated into your social media accounts. Ensure that you consistently maintain your brand voice while using chat services to discuss your building products with prospects.
Clickbait
Clickbait describes marketing material that has been designed to attract clicks by evoking curiosity. Sensationalised headlines are often employed to achieve this, though it's important to ensure your headline doesn't direct readers misleadingly.
Clickthrough Rate
Clickthrough rate is a social media metric that divides the number of times visitors clicked a link in your social media post by the total number of impressions the content received.
Comment
Comments are responses on social media networks that allow users to react or give their opinion to a piece of content that you have uploaded.
Connections
Connections are LinkedIn equivalents of Facebook friends. Your connections might not necessarily be friends, but they are professional contacts of your building products business.
Construction Inbound Marketing
Construction inbound marketing is a customer-focused marketing approach that incorporates SEO, blogging, social media, lead generation, email marketing, lead nurturing, marketing automation, surveys, personalization, and CRM to put building product companies in front of consumers that need them, instead of invasive marketing that can be perceived as irritating or spam-like.
Content Curation
Content curation involves researching existing content to find articles and blog posts that tie in with your own views, products or ideas. Post this kind of content, fully crediting the author, to create conversation on social media platforms, prove that you're up to date with current trends and construction topics and create value for your audience by providing inspiring content from a range of sources.
Conversion Rate
Conversion rate is a metric that can be used in social media to identify the percentage of people who completed an intended action, often following an account or sharing a post.
D
Direct Message
Direct messages (DMs) are private messages that you can send and receive on Twitter. Both parties must follow each other before they can engage in a direct message conversation. These conversations are private and separate from public posts.
E
Employee Advocacy
Employee advocacy refers to the ways in which your construction company employees present themselves on social media to maintain professionalism and brand voice to increase the reach of your construction marketing content.
Endorsement
Endorsements are LinkedIn recommendations that list users as skilled in particular areas. Endorsements are useful for recruiting construction workers or construction marketers or referring your contacts.
Engagement Rate
Engagement rate is a metric that can be used in social media to measure how much interaction a post has received, whether in shares, likes or comments.
F
Facebook
Facebook is the most popular and widely-used social media channel. The platform currently boasts around 1.49 billion active users. Use a business account to market your building products at a tailored audience, access analytics and engage in wide-ranging conversations.
Facebook Insights
Facebook insights provides analytics to measure the impact of your building product posts in terms of likes, comments, shares, traffic source, age, popular times of day for engaging, language and gender of your audience.
Followers
Followers are users who subscribe to your account in order to receive your updates. This does not necessarily make them friends or connections on your social media platforms.
G
Geotagging
Geotagging is tagging any form of content with your specific location. GPS-enabled smartphones made geotagging a popular aspect of social media only recently. Users are able to search by location so use geo-tagging particularly if your building products company is one of a kind in your area.
Google Analytics
Google Analytics is a free service that you can use to monitor your website traffic. Google Analytics tells you how much of your website traffic was directed from social media; use this metric to analyse the effectiveness of your social media strategy.
H
Handle
Your handle is your username on Twitter. Make your company handle and personal handle memorable but simple so that you're easily identifiable by those who want to contact you, or mention you in their tweets. Link to another user's handle by placing an @ symbol before their username e.g. @Insynthltd.
Hashtags
Hashtags are most commonly used on Instagram and Twitter to categorise your tweets by construction industry trends and topics. When users search by hashtag, your hash-tagged posts will show up as part of the topic that they are searching for. Use hashtags to increase visibility for your construction marketing posts.
I
Influencer
A well-known social media user who represents a company in their posts to attract a wider reach, ultimately to expand customers and revenue. Influencers are often celebrities or experts in a given field. They are (usually) paid to build awareness about your construction projects, products and brand.
Instagram
Instagram is a photo sharing application that is ideal for visually appealing construction projects, useful building products or architectural displays. You can share images instantly through Instagram, but also through Facebook, Flickr, Twitter, and Foursquare. Along with developments in modern technology, the Instagram app is targeted at mobile social sharing, and has gained more than 300 million users.
L
LinkedIn
LinkedIn is a business-oriented social media platform with over 380 million members in over 200 countries. Designed for professional networking, LinkedIn is the ideal social media channel for sharing construction news and press releases, as well as engaging in group discussion with other experts and recruiting.
Live Streaming
Live streaming is delivering live video content online. Live streaming is often set up using Facebook Live or Twitter's Periscope.
Lurkers
Online Lurkers are social media users who remain silent but trawl discussions. Participate in conversations about the construction industry trends and topics that interest you to establish your authority as an expert on social media platforms. Don't be a Lurker.
M
Mashup
Content mashups are posts that contain multiple types of media from pre-existing sources to create new content. Digital mashups allow individuals or businesses to create new pieces of content by combining multiple online content sources.
Mention / Tagging
Addressing another user on Twitter by using their @handle in a post to start a discussion.
N
News Feed / Timeline
A news feed is the equivalent of a home page on social media. It displays a stream of news from the users that you follow or have connected with.
Newsjacking
Newsjacking is using the popularity of a news story to amplify your sales and marketing success. Often, links to such articles are shared widely across social media platforms.
P
Periscope
Periscope is a social video app that allows users to broadcast live video, engage with other video creators, and browse live or recent broadcasts.
Pinterest
Pinterest is a photo sharing social network from which users can upload, save and categorise 'pins' on 'boards.' Ideal for visual building products or artistic niches for architects, Pinterest is a great platform to draw prospects in visually.
Pay Per Click Advertising
Pay per click (PPC) is an online advertising model that is often integrated with social media. Companies pay when a visitor clicks one of their sponsored links or calls to action. There are a variety of types pf PPC, including bid-based PPC, which involves an auction where advertisers compete with other advertisers by setting the max bid for every click.
R
Reach
There are four main different types of reach:
Post reach: how many platform users saw your post on a social media platform.
Page reach: how many users saw any of your content on a social media platform.
Organic reach: how many users saw your content through their own social media search.
Paid reach - how many users saw your promoted piece on a social media platform.
Real-Time Marketing
Real-time marketing is publishing timely content as news breaks to achieve the maximum reach. This requires constant attention and research, but quickly expands your followers and prospects.
Reactions
Support shown by Facebook or Instagram followers who appreciate content that you have shared on social media. Reactions are a quick way to show approval. The more reactions you have, the more social media platforms recognise the quality of your content, and the more visible your social media posts become. Reactions include:
Like
Love
Amused
Wow
Sad
Angry
Recommendations
LinkedIn recommendations are given by your connections to reinforce your professional credibility and expertise in the construction industry.
Retweets / Sharing
Twitter users retweet others' posts if they would like to share them with their own followers. A retweet shows which user the post was originally written by, and can be shared infinitely to expand the reach of a piece. This is particularly beneficial for posts that link to your website; retweets can drive your web traffic.
S
Scheduling
Using software like HubSpot, it's easy to plan your social media updates so that they can be published at optimum times. Research the times that your followers are most often online and ready to engage before you create a social publishing schedule. Aim to publish every day to establish your position as an effective content sharer, not only of your own content, but of others' too. For international building product companies, scheduling your social media posts can enable you to reach audiences across different time zones.
Social Media Monitoring
Social media monitoring is tracking and responding to mentions related to your construction company on social media platforms.
Social Media Return On Investment
Return on investment (ROI) for social media is the calculation of how much revenue a company is generating from its investment in social media (time, money and resources).
Social Networking
Social networking refers to the practice of using social media platforms to network in online communities, with customers, prospects and leading experts to widen your circle of contacts in the construction industry.
Social Selling
Developing relationships as part of the sales process through social media platforms. Instead of cold-calling companies (irritating for them and non GDPR compliant), social selling on social media platforms allows you to target prospects more naturally.
T
Thread
The conversation and comments that follow a company's post, possibly to promote a building product or share some construction industry news.
Trending Topic
Trending topics are the most talked about topics on social media platforms. These evolve constantly and are measured by hashtag usage. Click on hashtags to join conversations about the construction topics that most interest you.
Twitter
Twitter is a real-time social network that allows users to share 280-character updates with followers in a micro-blogging style. Followers can favourite and retweet posts, and reply using mentions, as well as use hashtags to categorise content.
U
User-Generated Content
User-generated content can be created in any form, whether it be blogs, videos, photos, quotes... the list goes on. Essentially, user-generated content is any form of content that is created by consumers to support a brand. User-generated content is renowned for being the most effective form of content because almost all consumers trust real people over brands. Construction marketers may push for the creation of user-generated content through a campaign, competition or initiative.
V
Viral
'Viral' is the term used to describe content that has become so popular that it is being accessed worldwide. Viral distribution occurs with word of mouth and frequent sharing of a piece of content.
Vlogging
Vlogging is a combination of video and blogging to create a video report. Vlogs are widely shared on video social media platforms. Many consumers prefer to consume information through video than written content, especially if there is a lot of information to consume.
Y
YouTube
YouTube is by far the most popular video sharing social media. Currently used by 1,300,000,000 people, thousands of videos are uploaded every second of every day. While YouTube is a hugely effective way to promote your building products, ensure that your videos stand out from similar ones in your industry. You want people to watch your videos all the way through to the end and then click to your website.
Conclusion
Refer to this glossary in the making of your social media strategy and social media posts to ensure that you're utilising the benefits of platforms that will help you to strengthen your follower basis, customers and sales.
Let us know if you can think of any other social media terminology that you would add to this glossary.
How Insynth Can Help You
Insynth's social media service is designed to provide you with complete control over your brand image and messaging across social media platforms. We will work with you to tailor a personalised social media presence, advising you in terms of:
Social consultancy: developing your personalised social media strategy based on your marketing goals.
Managing your brand: securing engaging usernames and profiles that match your campaigns to highlight your brand image.
Social tone and nature: finding the right voice and style for your brand's social media presence.
Social media monitoring: Highlighting customers' positive feedback across your social media channels and involving you in conversations.
Social PPC: Implementing social ads to develop your social media presence.
Social PR: Networking on social media platforms to expand your range of contacts, prospects and clients.
Creative Discussion: Creating fast, reactive updates to spark conversations and visibility online.
Reporting and Analytics: Analysing data to review the effectiveness of your social media strategy and activity on each platform, to inform future activities.
Cross Channel Promotion: Ensuring that your messages reach audiences across all social media and marketing channels to expand your reach.
Click the banner below to find out more about how Insynth can help you succeed with social media from just £250 per month.
References
https://blog.hubspot.com/marketing/social-media-terms
https://www.talkwalker.com/blog/glossary-of-social-media-terms
https://www.socialmediatoday.com/content/top-25-social-media-terms-you-need-know
About Insynth
Insynth Marketing is a leading UK construction marketing consultancy based in Shifnal in the West Midlands. Insynth employ the latest inbound marketing techniques such as construction inbound marketing, to help building product manufacturers grow their businesses by aggressively driving sales lead generation activity.
As the only HubSpot certified agency to major on construction marketing, we bring together construction marketing strategy, digital strategy, website design, SEO, content marketing, email marketing, sales automation, marketing automation and HubSpot CRM implementation to produce successful campaigns and great results for our clients.