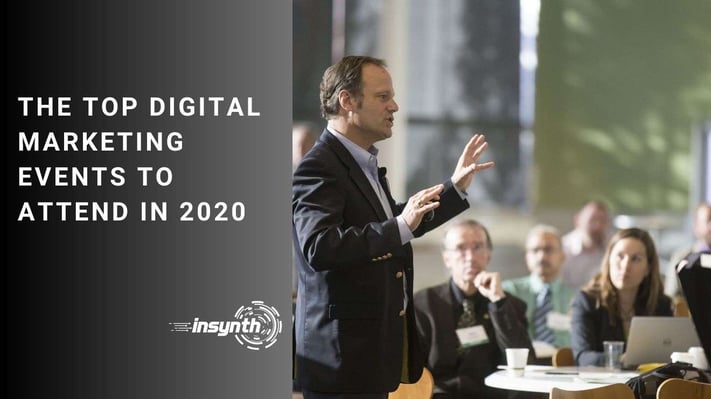 When it comes to training and expert knowledge you can never know enough. There are a variety of events held all over the world solely for marketers, informing them on the latest trends, tip and methods.
You could be doing things the longest way possible and you don't even know it. By listening to the experts and having conversations with other people in similar roles you can work smarter not harder.
Below is a list of the top digital marketing events in the UK and the rest of the world. We understand some companies have different budgets and needs from an event so may not want to travel far.
However, being avid Inbound attendees we also appreciate the need to attend a big event featuring an array of expert speakers which can be hosted abroad.
The Best Digital Marketing Events To Attend In The UK In 2020
Brighton SEO
This event is held twice a year every year. It started out with a group of people meeting in a pub and now it's one of the biggest SEO events in the world. The event is split into 2 days, one is for the training day and the other the conference. Over 4000 people attend the event so you're bound to find someone in a similar industry to yourself.
When: 16th and 17th April 2020 and 1st and 2nd October 2020
Where: Brighton
Cost: Prices vary from £215 - £700 + VAT (They also have free ballot tickets but you have to be quick!)
Who For?: This event is for people that have the responsibility of SEO at their company, its not a beginners course to SEO but quite and in depth dive into SEO and current changes. Check out the 'conference talk topics' for a list of every session.
Still unsure if its right for you? The one auditorium is live streamed throughout the event and uploaded to YouTube so check out on the previous events to see if its relevant before paying to go.
More Information: https://www.brightonseo.com/
Digital City Festival
This event actually consists of 4 sub events. The Marketing Show North, The eCommerce Show North, The Tech Show North and Media Zone. All 4 events are free and spread across different days. We'd recommend attending the Marketing Show North as it combines all things digital marketing including social media, SEO, video, web development, email and more. It's the fifth year its running with just under 4000 people attending in 2019.
When: 9th - 13th March 2020
Where: Manchester Central
Cost: All Free
Who For?: If your job role includes SEO, social media, customer loyalty, email marketing, CRM, video or anything else digital marketing related then this is for you. It's also free to attend so you really have nothing to lose.
More Information: https://digitalcityfestival.com/
B2B Marketing Expo
Another free marketing event, this 2 day event is where you need to be if you're looking to progress and develop your marketing. You can network with thousands of like-minded professionals, research the market and learn about new innovations.
When: 25th and 26th March 2020
Where: London
Cost: Free
Who For?: Visitors to this event include Marketing directors, marketers, agency marketing professionals, creative marketers and digital marketers.
More Information: http://www.b2bmarketingexpo.co.uk/
Social Day
This 3 day event includes exciting panels, workshops and keynote sessions. It covers everything social media related to help you drive engagement. It includes advanced strategies, creative ideas and advice. This isn't your beginners guide to social media.
When: 12th – 14th May 2020
Where: London
Cost: £350 for 3 day admission or £200 for a single day pass
Who For?: This ones for people that already work in social media. It includes the latest trends tips and methods other companies have found successful. Check out the website for a full agenda of each day to see if its relevant to you.
More Information: https://www.socialday.co.uk/
Festival Of Marketing
Attend this event for a unique experience where ambitious marketers can discover, learn, celebrate and shape the future together. Past events have included attendances from Davina McCall, Louis Theroux, Dr Pixie McKenna, Stephen Fry, Reggie Yates, Fearne Cotton, Jo Malone, Rochelle Humes and Tom Daley.
When: 7th – 8th October 2020
Where: London
Cost: Prices vary £545 - £995 + VAT
Who For?: Although the 2020 agenda and speakers are yet to be revealed, the event is set to inspire with strategies, skills, know how and connections.
More Information: https://www.festivalofmarketing.com/welcome
The Best International Digital Marketing Events To Attend In 2020
Inbound – HubSpot
Insynth's favourite marketing event of the year hosted by HubSpot is held in Boston, America. It's a full 4 days of non-stop learning. Last year saw more than 26,000 attendees with some big names speakers. Although it seems pricey it is for 4 days, with each day being as jam packed as you make it.
When: 18th – 21st August 2020
Where: Boston, USA.
Cost: Prices range from $99 - $1500
Who For?: Having attended Inbound I can confidentially say that if you are in sales or marketing this event is for you. There are so many different speakers with a wide variety of topics. Before the event you can reserve your seats in the talks that are most relevant to you.
More Information: https://www.inbound.com/
Traffic And Conversion Summit
This event has been going for 11 years, with an average of 10,000 attendees and 80 speakers. It's a full 3 days of actionable, proven, strategic content from experts that have been in your position and have turned their businesses into juggernauts. (Their word's not mine).
When: 31st March – 2nd April 2020
Where: San Diego, CA
Cost: Prices range from $1,995 - $2,695
Who For?: This event is for people that want real growth but don't know how to approach it. This forward thinking event sets you on your way with real, actionable content giving you methods you can apply to your own business. 2019 saw the attendance of Ryan Reynolds and Richard Branson.
More Information: https://trafficandconversionsummit.com/
Conclusion
Attending events should be part of your marketing strategy, but not for the sake of it. You should pinpoint those that reflect the same outcomes you want to achieve. You should also do your research, talk to people about which events they've attended and how useful they found them.
If you've never attended a conference or event before then try one of the free ones. Get a feel for what they involve and don't be scared to talk to other people. People mainly attend these events alone and are in the exact same position as you are.
Our mantra is 'never stop learning', which is why we find conferences like these a no brainer. If you're interested in visiting Inbound but you're not 100% sure then keep an eye on our blog around the time of the event. As HubSpot partners we take our trip to the states seriously, trying to absorb as much knowledge as possible so we live blog from all the sessions from the experts.