Having a CRM system is key to bouncing back from this years events, it gives you data about your contacts that you never knew you needed, helping you reach out at the right time and track how they interact with your website.
This blog will take a look at what a CRM is and how they can help with not only marketing activities but sales too.
Everything mentioned in this blog is a feature of the FREE HubSpot CRM, there are obviously different paid packages available which open a whole world of possibilities with automation, lead scoring, workflows, campaigns and so much more.
For now we'll focus on the FREE so you can dip your toe in the water to what is readily available and actually used by most companies.
There are other free CRM's available but after years of searching and testing different ones, Insynth's founder knew when he'd found the holy grail of CRM's which is HubSpot.
What Is A CRM?
I'll leave this explanation to the professionals 'A CRM (customer relationship management) database is a tool you can use to better manage your contacts and automate some of your data entry. Many of these databases are cloud-based, so teams have access to contact data anytime and anywhere.
A CRM database allows businesses to manage relationships with contacts and customers by centralizing information. It organises your contacts' data, log interactions (e.g., calls, emails, chats), keep track of deals, and create reports. You can typically see the contact's source, if they visited your website, their company, and more.'
Key Features Of HubSpots Free CRM
To start with, as mentioned above the whole thing is cloud based, so you don't need any confusing installation that's going to break your computer or that was made in the 90's. HubSpot is super smart, all you need is your web browser.
Secondly, 66% of their users are on the free version, which goes to show just how amazing the services are that are available on free. I could talk about HubSpot all day as it's bloody brilliant, but below are some key takeaways from the free version that might tempt you.
Capture Every Qualified Lead
You can create forms really easily that you then embed into your website. This way you have all your submissions in one place and can clearly see where people convert the most.
Some WordPress form plugins are so clunky and can waste a lot of time, with HubSpot you can click on any contact and look at how they became a contact, what form they filled in, when and with what info simply by viewing their profile.
You can also create pop up forms for your website which are great when encouraging sign ups or promoting content such as guides and eBooks.
See What Your Leads Are Looking At
As soon as someone inputs their information into a form, they automatically become a contact on your database. HubSpot automatically pulls in information such as company name, job title and social profiles associate with that email.
It also puts some clever cookies on their computer so you know what pages they're looking at on your website and when.All you need to do is embed a bit of code into your website and HubSpot does the rest.
This is a really powerful tool for sales, as you can call someone up at the right time, when they're actively engaging with you.
This is also such an important part of bouncing back, as certain businesses are returning at different times, don't waste time calling those that are closed, engage with the people that are looking at your website right now!
Email Marketing
There are loads of free email marketing software available, MailChimp being a big name in the market. However, they can have limitations to what else they offer. HubSpot allows you to grow and expand with the different paid packages that are available when your business needs those services.
Being in the free one initially puts you in a better position for when you progress as you can see exactly which areas you need more features in.
Their email marketing feature is so easy, it's a drag and drop creator which is extremely user friendly. You can view exactly who read, opened and viewed your email, including which links they clicked.
Having monthly or weekly emails are vital to bouncing back, communicating effectively with your contacts has never been more important. Your customers and prospects need to know how you're operating, if you're working and what to expect working with you.
Email Integration
You can integrate HubSpot within your email server. For example if you use Outlook you download a plugin that sits within your Outlook. When you email people it blind copies in a tracking code that inputs your emails to HubSpot.
Then if you were to view that contacts profile within HubSpot it would bring up the email correspondence. This can be vital to sales and for people handing over to others as you are able to see all that's previously been discussed when it comes to quotes, specifications etc.
Not only that but it also tells you when people have opened your email. This can really help with sales and lets you know when you should reach out. If you can see that someone has opened your email for the 4th time, then it might be time to call them and offer some help.
Sales Pipeline
This feature is really cool, and to be honest I didn't realise it was on the free to the other day as it seems such an important part of tracking your businesses growth and ROI. You can ultimately manage all your sales in HubSpot.
So you could organise your pipeline as Quoted, Quoted and Won, Quoted and Lost, Lost, etc. This then gives you the transparency of where to improve, where to shift focus, where to push harder and more. It essentially outlines how successful you are as a business and makes it easier for you to plan ahead.
You can also associate contacts with deals and when viewing the data, see what commonalities they have. Has everyone that you won a quote with downloaded an educational piece of content. If so then you need to engage with your current pipeline and tell them about your content to progress them in the buyers journey.
You can also sort it by your team and keep a track of your whole sales team in one place, visually being able to see how many calls they've made or how much they have contributed to the pipeline that month.
To me this is enough of a reason to get the free version, when you're bouncing back at times when people might be less partial to part with their money, you need to know now more than ever what is going on and where you should be targeting your efforts.
Meetings
HubSpot has a really cool tool where you can create times when you're happy to be booked in, and time slots say 15 or 30mins only on a calendar view like so.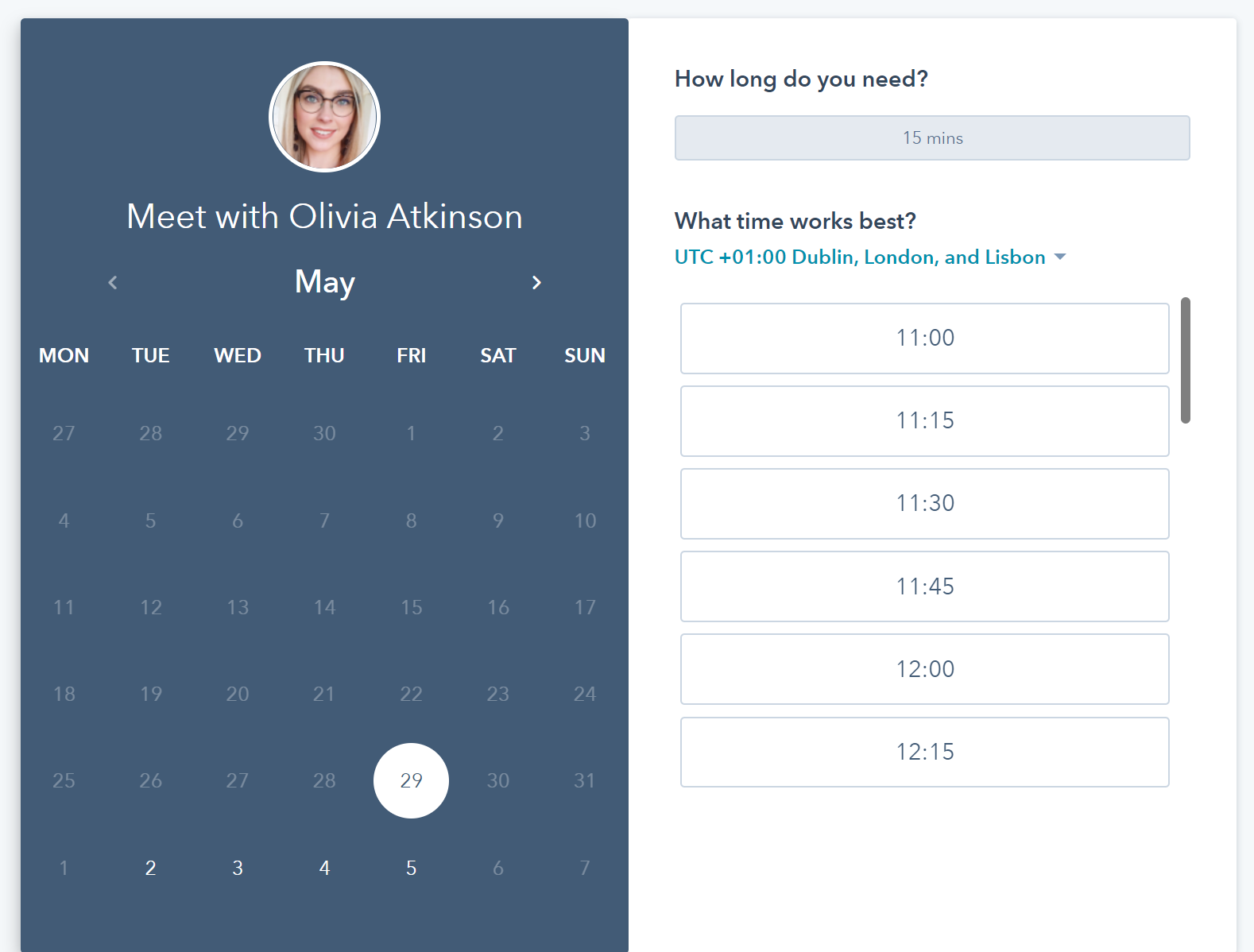 Then you can pop this link in your signature and on your website so people can book in time with you easily.
You might be thinking is this really necessarily, but 1 it looks super slick and professional and 2, people are lazy. You might think they'll call when you're open the next day but that's an effort and it's not resolving the issue right there and then when they're browsing the web at 8pm.
By booking in a 15 minute slot with yourself the next afternoon it sends a notification to you and an automated notification to them.
Service Feature – Tickets
You can create tickets and assign them to a member of your team, this can work as a type of task management tool but can get way smarter with the paid versions and automation. You can associate tickets to a company or a contact, making sure you don't miss chasing up on quotes for example.
Contact Lists
This sounds simple, but when you have everything in one place it's essential. You can create lists and segment your audience, making it easier to send emails only relevant to that list.
You can create static or active lists, active lists work of a filter, so if I set it that they can be in this list if they filled a specific form in then it automatically puts them in. The filters are very in depth so there are a lot of capabilities in organising your contacts effectively.
Email Template
Different to the email mentioned earlier which would be in the form of a newsletter or product promotion for example, up to 5 email templates can be setup for your whole team to use.
This could be a 'Here's your quote' generic email and you just attach the quote, select the template which has all the conditions on etc and send. It saves time copying and pasting or even repeating yourself all day.
Live Chat
This one alone is a good enough reason to get the free version, you get live chat on your website for free! Live chat is definitely underrated and people expect to see it on websites as standard now.
Not everyone likes to call up or talk on the phone, some may just want to ask a quick question, sometimes it doesn't feel right to send an email or fill in a form, and it can take too long. With live chat on every page in the bottom right hand corner you are always there to help.
Conclusion
It's likely that I've missed some features out as there are honestly so many available on the free version it's actually mad. To me every single business could benefit in some way from the free version, and if you get it you'll find yourself and your team working smarter.
As building product companies have been forced to embrace digital more so than ever before, slowly people are starting to appreciate the importance of their online presence. Your website for example is your 24/7 sales person, so it should be in a position to educate and convert your viewers into leads at all times.
Having a CRM installed can really help you understand your customers and your website visitors behaviour better than ever before. You can work smarter rather than harder, engaging with people when you know they're interested rather than when they haven't got time to talk.
For sales, it's a no brainer and should be a key part of your nurturing process. For marketing it's key to keeping everything together and aligned with sales, so you can trace back and see how they converted, what pages they looked at and the journey they went on.
For everyone, it is super easy to use. It's extremely user friendly and HubSpot invest so much money into continuous updating and improving, there are new capabilities or improvements made all the time.
As HubSpot Gold partners we have on-boarded a lot of clients onto HubSpot and showed them the benefits they can have from this really powerful tool.
If you want to find out how your company could benefit from HubSpot or you want some training and guidance on the free version then get in touch today.
About Insynth
Insynth Marketing is a leading UK construction marketing agency based in Shifnal in the West Midlands.
They use the latest inbound marketing techniques such as construction inbound marketing, to support building product companies to grow their business by proactively driving sales lead generation activity.
As the only HubSpot certified agency to major on construction marketing, we bring together construction marketing strategy, digital strategy, website design, SEO, content marketing, email marketing, sales automation, marketing automation and HubSpot CRM implementation to produce successful campaigns and great results for our clients.