Our podcast on the upcoming GDPR regulations features Rob Andrews of Andrews Ritson Solicitors. Rob attempts to cut through the scary headlines about massive fines and red tape and offers common sense advice on what Construction Marketing professionals need to be aware of to ensure that they don't fall foul of the new guidelines.
Key Takeaways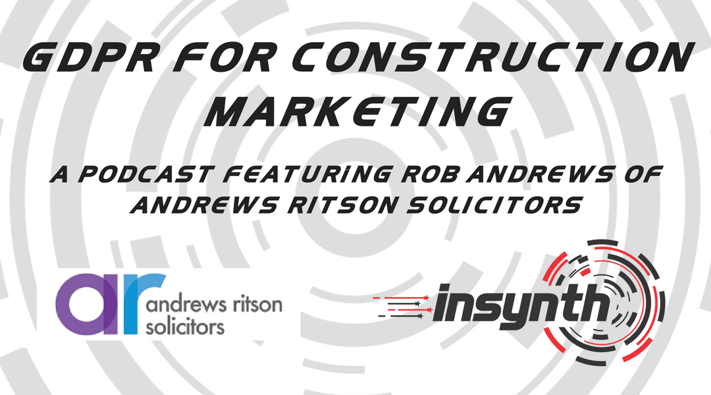 GDPR is not a massive change to current data protection legislation. The current laws are now 20 years old, and the digital landscape has changed enormously. The new legislation is an attempt to protect individual data. However, the added safeguards for personal data follow current best practice and should not be a huge change for businesses who use market responsibly.
Don't worry about the fines! The message coming from the Chief Executive of the Information Commissioner's Office (ICO) is that they want to help businesses implement the new laws correctly and that fines for those making genuine mistakes are unlikely.
Take common sense steps to ensure compliance. Opt-ins and clear Opt-outs are the message from Rob. At the heart of your GDPR strategy should be a clear, easy to understand and accessible Privacy Policy, which makes clear exactly what you will do with personal data and how people can
How B2B records are not so different to B2C. Current guidance from the Direct Marketing Association really simplifies the steps necessary for compliance for B2B marketing. Rob's view though is that this advice leaves quite a few grey areas and urges caution to ensure that you don't fall foul of the Act.
Can you still use 3rd party data? Great practical advice from Rob about the use and risks associated with using lead services and purchased databases. Some good ideas here on how to protect yourself.
Listen to the full Podcast here.
Andrews Ritson GDPR Compliance Audit
Rob has generously offered a discount for anyone wishing to get a detailed GDPR compliance audit, to identify any issues or risks to current practices within their organisation.
For more information, visit the Andrews Ritson website at http://andrewsritson.co.uk/gdpr-audit/ or contact Rob via LinkedIn and mention the code ISM1602.
About Insynth
Insynth Marketing is a leading UK construction marketing consultancy based in Shifnal in the West Midlands. Insynth employ the latest inbound marketing techniques to help building product manufacturers grow their businesses by aggressively driving sales lead generation activity.
As the only HubSpot certified agency to major on construction marketing, we bring together digital strategy, website design, SEO, content marketing, email marketing, sales automation, marketing automation and CRM implementation to produce successful campaigns and great results for our clients.