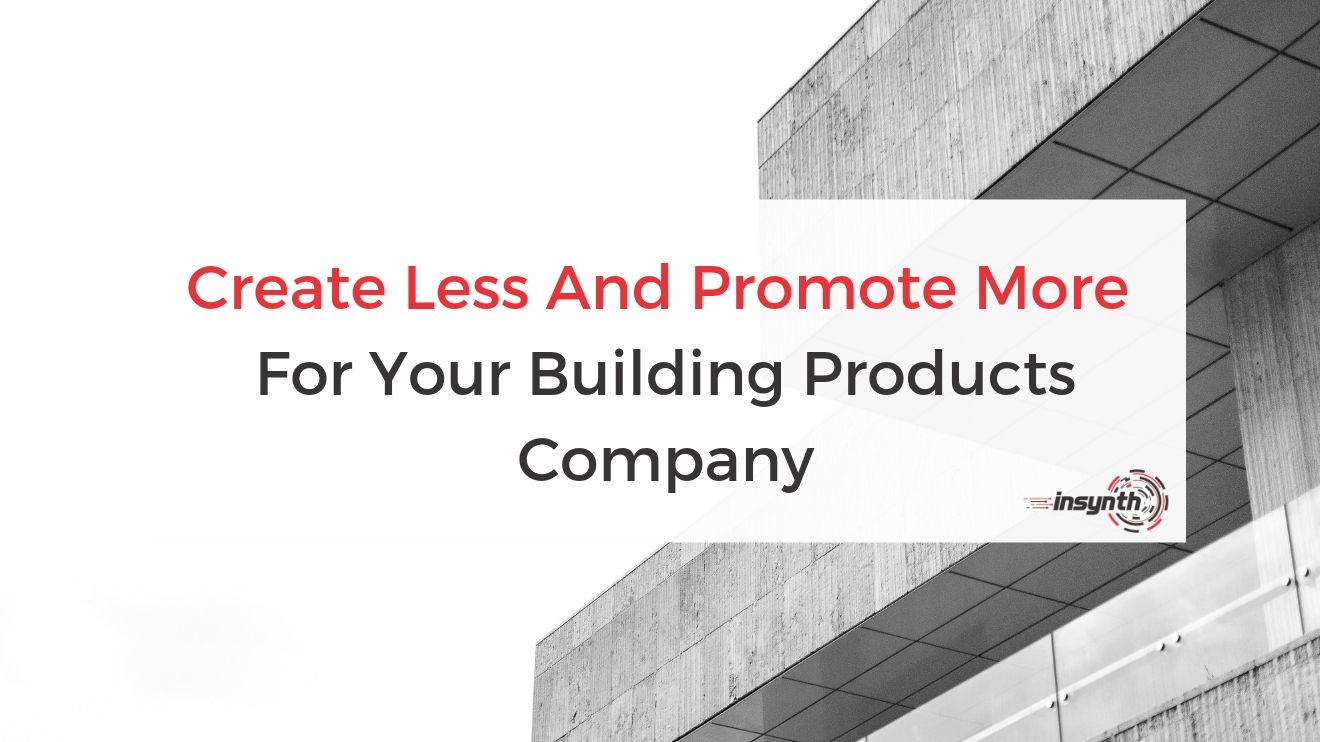 The Importance Of Content Promotion
Content promotion refers to the distribution of content through a variety of media channels. These include social media networks, blogs, emails, and live events, to name a few.
A common viewpoint shared by many is the notion that you should create less and promote more. We understand the weight of this argument. What's the point, for example, in organising a birthday party without promoting it? No one would turn up.
Knowing how to reach your audience is just as important as creating the content in the first place.
And let's not forget the value of content. According to a 2019 statistic, 47% of buyers consume between 3 and 5 pieces of content before talking to a sales rep. This means that nearly half of your specifiers, architects, and customers are consuming content before any interaction with the sales team.
Why? In today's world, people like to research before making a purchasing decision.
By promoting content, you can:
Drive website traffic
Improve engagement from audience members, prospects, and customers, and aid buyers into making a purchase
Organic Versus Paid Content Promotion
The main aim is for your organic and paid promotion to compliment each other. Before we explore how this can be done, we'll look at each individually.
Organic Content Promotion
This is designed to increase the visibility of your content without spending any money on ad space. Examples of the most effective organic content promotion channels are:
Search engine optimisation
Email marketing
Live promotions (events and webinars)
Influencer networks
Word of mouth
One of the main benefits of organic content promotion is that you're not limited to the number of platforms that you can promote your content on. With paid promotion, you're restricted to what your budget can allow.
The challenge here is that you'll need to ensure consistency around developing and publishing content regularly.
Interestingly, according to a 2019 statistic, 85% of users ignore paid ads and focus on organic search results.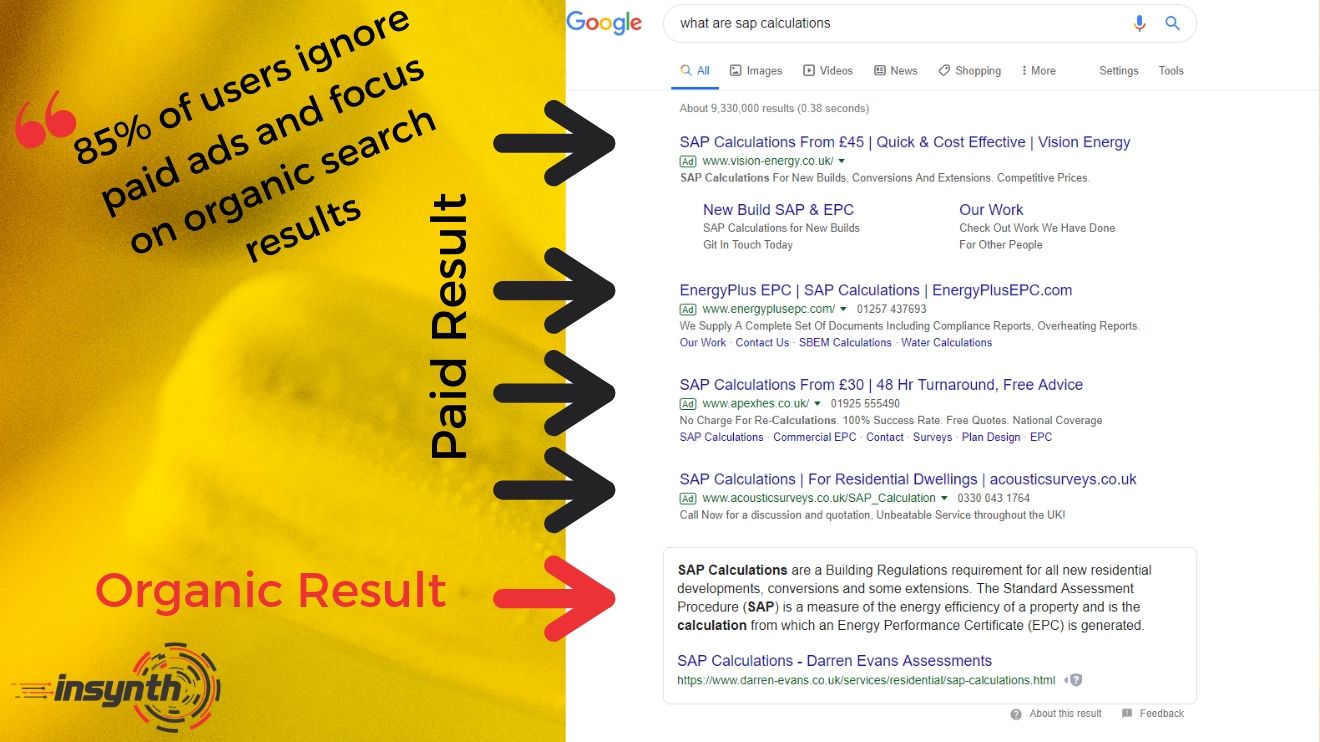 Paid Content Promotion
Paid content promotion allows you to promote your content to a highly specific audience. In many cases, you're able to customise your target pool.
The most common channels for paid content promotion are search engine ads placed on Google, Yahoo!, and Bing, and paid social media campaigns on platforms such as Facebook, LinkedIn, Twitter, and Instagram.
The main benefit of paid content promotion is that you can develop targeted content to consumers who'll find it most relevant.
Paid content promotion works well if you have enough budget to achieve your desired results. Before delving into your hard-earned profits, however, we recommend experimenting with a small budget first to discover the best way to achieve your desired outcome.
As I mentioned before, paid content promotion and organic content promotion works well when they compliment each other. For example, if you share content on Facebook, Facebook will let you know if that piece of content performed well. Additionally, you'll be able to view how many likes, shares, and interactions it had.
Once Facebook recognises that a post performed well, you will have the opportunity to increase its reach with ad spend. That's why we recommend that you get organic social proof before you pay money to promote. Consumers are 71% More Likely to Purchase Based on Social Media Referrals, so a post that has received a positive organic response is likely to help boost exposure to a wider audience.
Going Above And Beyond
A successful content promotion strategy takes time and effort. It's not just about posting a few tweets and sending one or two emails to everyone in your contacts list. We're going to explore how you can excel at your content promotion and help you achieve the results you need.
Building Product Directories
Many building product companies turn to product directories to help promote their products. A building product directory is an online resource for building specifiers, such as architects and engineers.
Directories are used in up to 76% of product research in the UK so they should be used as important components of any marketing strategy.
There are many building product directories out there, so it's important to sift through and find the ones that are A) appropriate to your offering, and B) reputable.
Many market themselves as product directories, but in reality, are trade listing or business listing sites. Whilst these sites provide a backlink to your website, increasing potential referral traffic, they don't offer much in the way of assistance to specifiers who are looking for solutions.
Below is a list of product directories that are widely used by specifiers.
Whilst building product directories are an important consideration for content promotion, Google will always be the primary choice for search, which is why it's important that your website is optimised for search and delivers the right content for your audience.
Segmentation
How many times have you provided your details to a company only to receive countless marketing emails? This approach has the opposite effect to the desired outcome: It's spammy and you probably unsubscribe. This is where effective segmentation comes into play.
Segmentation is used to divide large audiences or target markets into smaller segments based on a specific criterion.
To do this effectively, you need to have a good understanding of your buyer personas so that you can provide them with the content that's most useful to them.
Segmentation in email is typically done in lists with specific criteria for contacts in your database. Social media campaigns can target audience members based on information contained in users' profile, such as their interests, location, education, and lifestyle.
Paid media campaigns enable you to expand this further, allowing your target audience members outside of your social network to interact with your content.
Delivering a customised message for your audience members is the key to effective segmentation.
Conclusion
Content marketing has the potential to bring a lot of traffic to your website and help you achieve your business goals, but only if you take the right steps to promote your content.
We recommend that you follow these simple tactics, monitoring and adjusting where appropriate:
Segment your email list
Explore paid media options
Utilise social media effectively
Consider product directories
Understand the relationship between organic and paid promotion
Every building product business is different, and you may find that some tactics work better than others. You'll need to be reflective of what works for you to learn from your observations.
If you need any further support on how you can effectively promote your content, get in touch today!
About Insynth
Insynth Marketing is a leading UK construction marketing consultancy based in Shifnal in the West Midlands. Insynth employ the latest inbound marketing techniques such as construction inbound marketing, to help building product manufacturers grow their businesses by aggressively driving sales lead generation activity.
As the only HubSpot certified agency to major on construction marketing, we bring together construction marketing strategy, digital strategy, website design, SEO, content marketing, email marketing, sales automation, marketing automation and HubSpot CRM implementation to produce successful campaigns and great results for our clients.