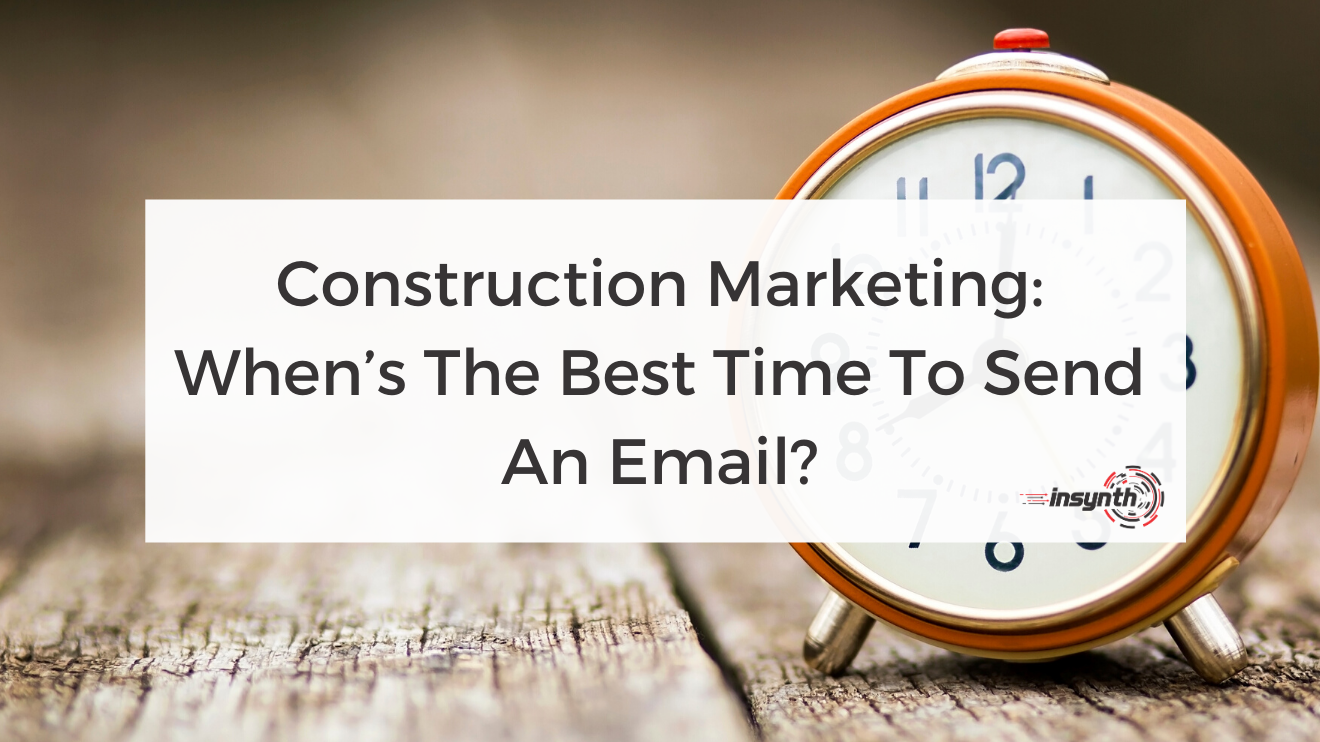 It only takes one contractor to specify your products. But what is it that makes them choose your company? The chances are, these decisions will be based on reputation and presence.
A good reputation is something that we all strive for, but presence requires a few strategies to ensure that you stay at the forefront of your contractor's minds.
One of the best ways to establish presence is through your regular content marketing efforts, and how these efforts feed into your social media and email campaigns.
We've all heard of the saying,
'It was the right place at the right time'
And this is what I'm basing the title of this week's blog on.
When is the right time to send an email? Is there a right time? What is the worst time to send an email? Why are some email timings more successful than others?
Of course, limited scientific proof can lead us to an actual answer to this, however, we can look at some key statistics. These stats could give you insight into the best time of the day to send an email.
'The right place at the right time' is the difference between a contractor specifying your products or going elsewhere.
Why Email Marketing Matters
Email marketing continues to be one of the most successful marketing strategies, and with active email accounts set to reach 5.6 billion by the end of 2019, there's little sign of it slowing down.
An effective email and CRM software is essential for success in this area, and with features such as email automation, you get a chance to improve sales conversions, send your audience unique offers and regularly keep your prospects updated with the latest goings-on in your business. We recommend HubSpot as your email automation software. Personalisation couldn't be easier and more time-effective.
And time is of the essence in the building products and construction industry.
When Is The Best Time To Send An Email?
Based on research from GetResponse-an email marketing software-they found that the highest click-to-open rates are at 10 AM and 1 PM. Surprisingly they saw a spike at 6 PM. This is a reflection of when most audiences begin or end their day and have the most time to check their emails.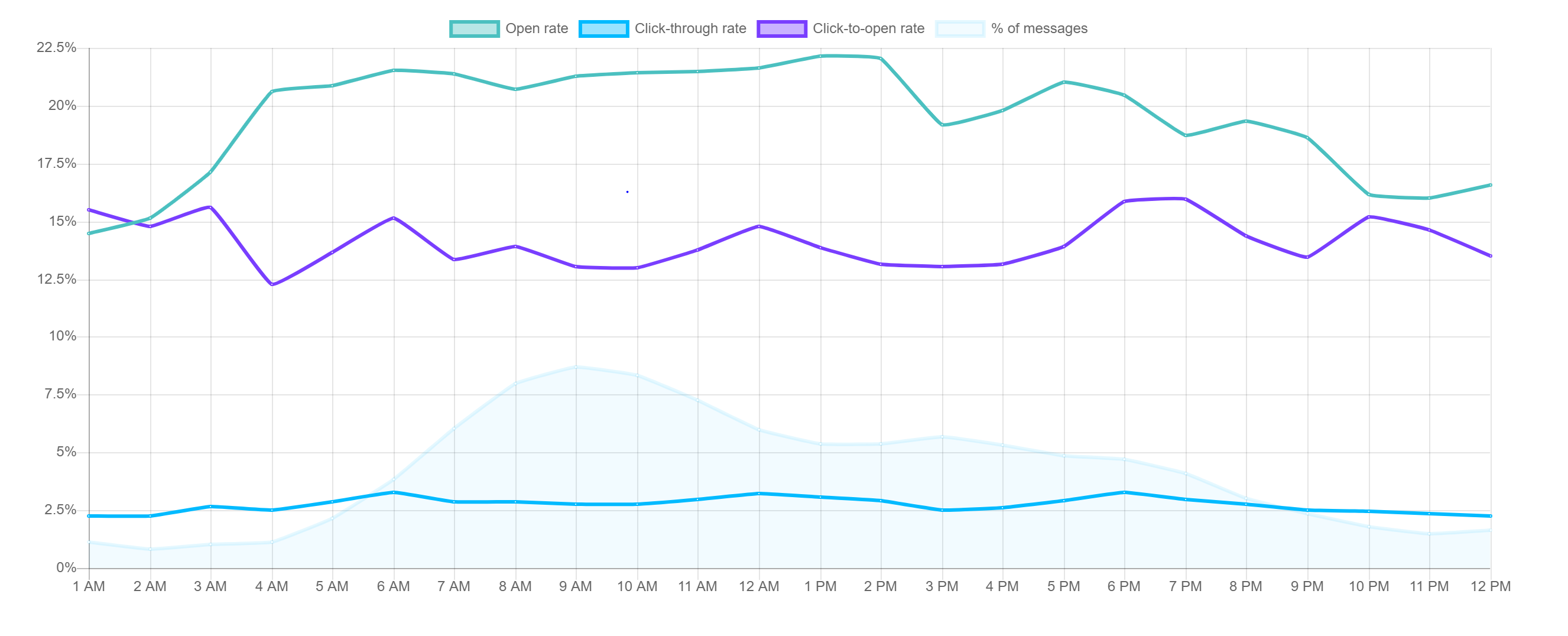 Knowing Your Audience
Consider who you're sending your emails to. If a segment of your audience is professional with a nine-to-five job, then the times noted in the graph above would be best.
A sales or promotion email is a different matter. We recommend that you send these types of email during the times when your audience is likely to be on their lunch break.
Key Metrics To Track For Email Marketing
In one of my previous blogs, I wrote about some of the key metrics to track when sending emails to ensure that you measure your all-important ROI. We explored click-through rate (CTR), click-to-open rate (CTOR) and open rate (OR).
The following data that I'm sharing is taken from CampaignMonitor, which collected the metrics taken above and presented it in a table to demonstrate the most successful email-sending days.
Click-Through Rate
This refers to the number of people who click on a link or image in an email. As it's calculated based on the total number of emails sent, your CTR will always be smaller than the open rate.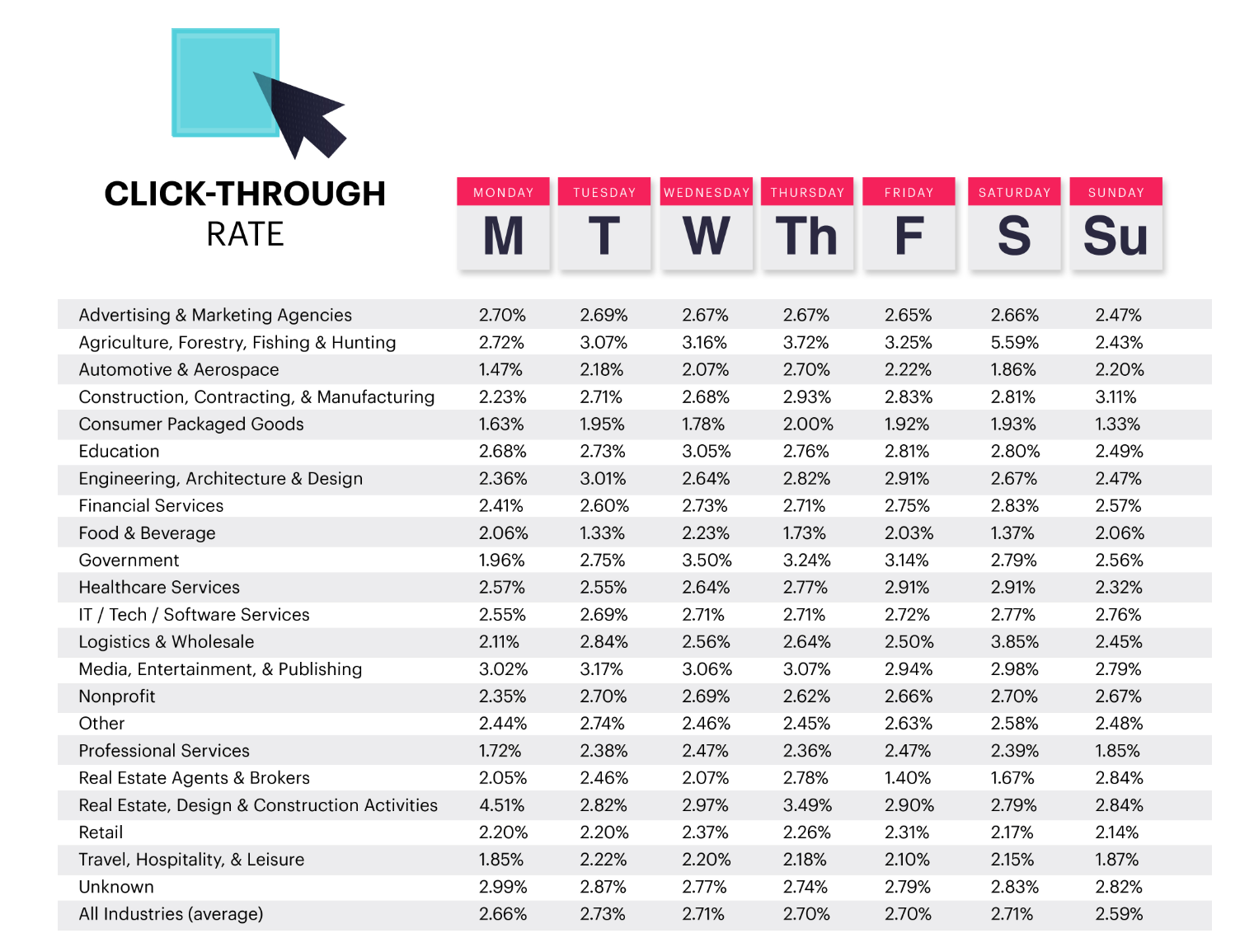 Click-To-Open-Rate
This is when you compare the number of people that opened your email and the number that clicked on any links. This information helps you identify the information that is useful and relevant to your readers.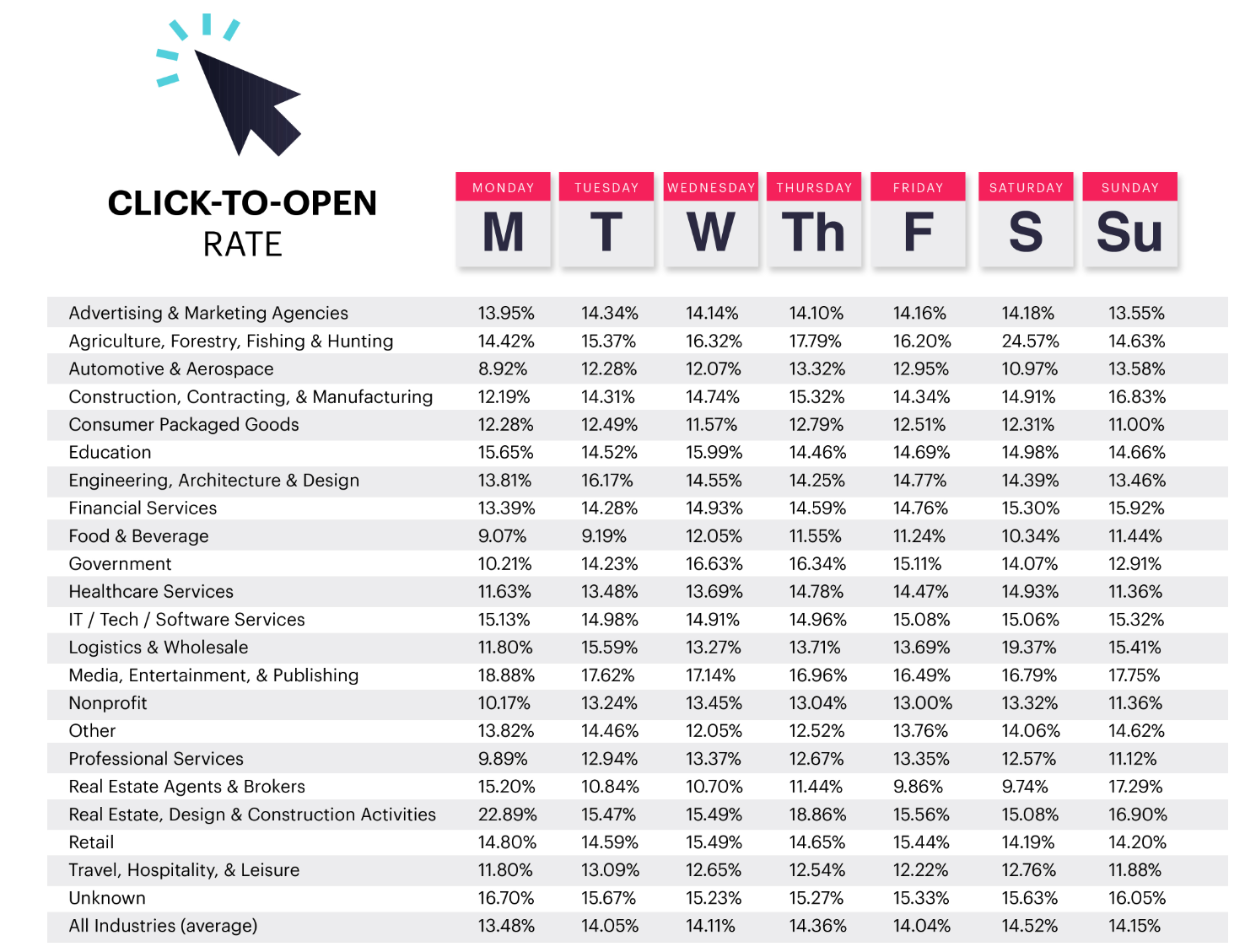 Bounce Rate
With email marketing, bounce rate refers to the percentage of people that didn't receive your message because it was returned by a recipient mail server.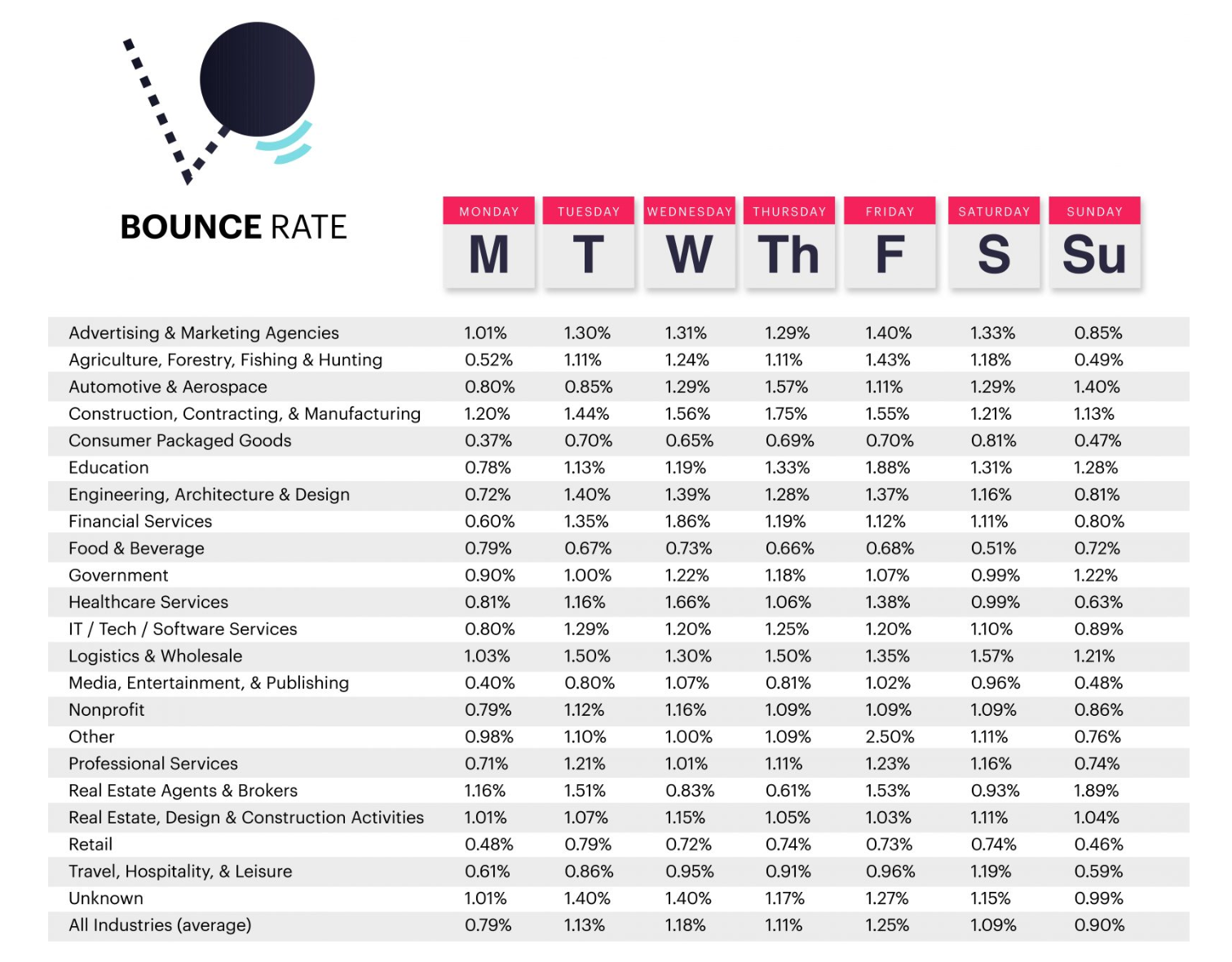 Reflecting On The Data
Within the construction, contracting and manufacturing industry, it appears that the best day was a Sunday, with the highest OR, CTR and CTOR being on this day. However, the figures are only marginal. The data collected shows that these rates were fairly consistent over the course of the week.
Being mindful of your audience is probably the best strategy here. Bear in mind those down-times during the day when people are likely to be taking their breaks.
Ultimately, however, the most successful emails are the ones that capture your audience. An eye-grabbing subject line, professional and purposeful content, clear graphics and calls to action are the best ways to ensure email success.
To discuss your email marketing campaign further, get in touch today.
About Insynth
Insynth Marketing is a leading UK construction marketing agency based in Shifnal in the West Midlands.
They use the latest inbound marketing techniques such as construction inbound marketing, to support building product companies to grow their business by proactively driving sales lead generation activity.
As the only HubSpot certified agency to major on construction marketing, we bring together construction marketing strategy, digital strategy, website design, SEO, content marketing, email marketing, sales automation, marketing automation and HubSpot CRM implementation to produce successful campaigns and great results for our clients.
Book Your Free Consultation Today