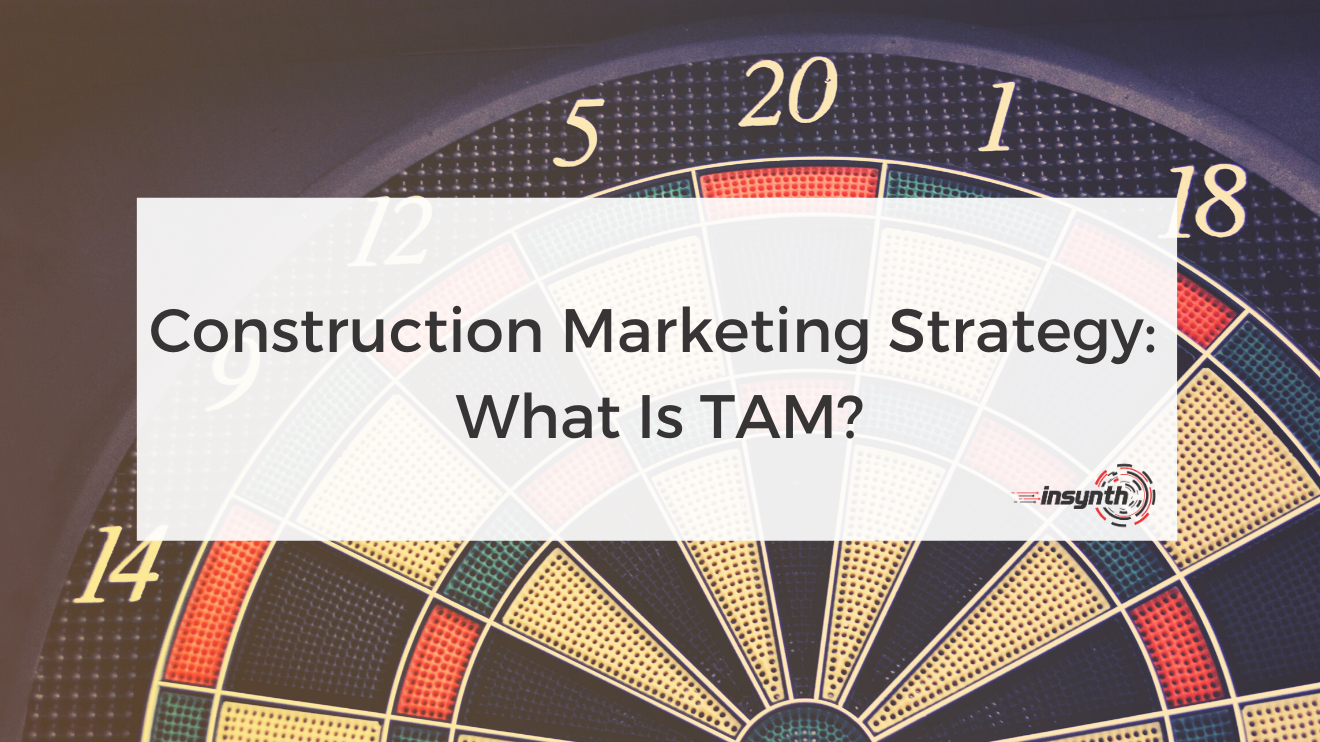 How big is your market? Are you accessing a reasonable chunk of it? Is there room for development? These are all common questions that companies within the building products and construction industry often ask themselves.
And there's good reason for this. Last year, the construction products manufacturing sector consisted of 23,884 companies in the UK. With a market of this size, there's a lot of competition.
Now of course, your market share will vary depending on your sector within the construction and building products industry, and this is where TAM comes in.
TAM stands for Total Accessible Market and is a key strategy in determining market size and your potential for growth.

Understanding Your Market Share: Why It's Important
In order to judge the effectiveness of any revenue generating efforts such as marketing campaigns, branding initiatives and CRM programs, market share is one of the most important metrics that you can use.
Why? Because market share shows you how you are doing compared to your competition. It allows you to quantify the impact of your strategies on business results, and highlights questions of your performance that were previously unapparent to ask.
It also highlights growth opportunity and headroom for your brand in the market.
Many companies base their projections on internal metrics such as satisfaction, awareness, loyalty, leads and revenue growth, which are all of importance, but don't do much in the way of understanding the bigger picture: your competition and your market.
One of the biggest reasons why companies in the building products and construction industry fail to calculate their market share is that they don't have the data necessary to assess these metrics.
In fact, many companies don't engage in comprehensive competitor monitoring, leading to misguided optimism and over-estimations.
How To Find Out How Big Your Market Is
There are a number of strategies to find out how big your market is, and we'll aim to explore these in detail.
#1 Financial Statements
Viewing your competition's financial statements will give you insight into their performance, i.e. the profit that the business as left over after paying all expenses, their financial strength and possibly their turnover. This data can be relatively accessible via tools such as Companies House and Creditsafe.
These tools aren't without their limitations, however. Companies who turnover more than 10.2million in profit are legally obliged to provide this information. This isn't the case for companies who sell less than this, however.
If you can gain access to your competitor's financial statements, you'll be able to make estimates on what your potential revenue levels could be.
#2 Industry Research
You can gain access to a range of reports covering individual sectors within the construction and building product industry, most of which are frequently updated. These reports provide key relevant and current information to support and inform strategic business development and marketing decisions.
Specialists, such as AMA research, go beyond commonly available statistical and company information, providing informed commentary and in-depth market analysis, making your industry research more effective.
Using
Keyword Research
To
Evaluate
Market Size
Researching online performance of the keywords and phrases that consumers and specifiers use to find your website and those of your competitors can give you a good guide to your TAM. Firstly, you need to understand what keywords your audience are using to find solutions like the ones you provide.
Then find out how many searches certain keywords are getting on a monthly basis across your sector.
Once you have this picture, and understand your share of this, you can apportion your share of search and traffic again the whole market and calculate your market share.
This can be a fairly complex process and getting expert help in establishing and monitoring your share of online search is usually a good idea.
How Can Insynth Help You?
Finding out search volume is only the first step. Gaining insight into how the traffic is distributed will give you an idea of how much of the market is ranking for that keyword. You'll then be able to form reliable projections based on how many companies are profiting from these keywords, and how much traffic you might be able to attain.
With your traffic figures, you can then calculate how much traffic will turn to leads, and how many leads will end up taking profitable action.
Attracting traffic to your site through keyword optimisation, alone, won't gain you specification. There are many aspects to a website that drives visitors to a purchasing decision. This will come in the form of effective content, relevant CTAs and so much more.
If you would like any more information on the topics in today's blogs, get in touch today.
About Insynth
Insynth Marketing is a leading UK construction marketing agency based in Shifnal in the West Midlands.
They use the latest inbound marketing techniques such as construction inbound marketing, to support building product companies to grow their business by proactively driving sales lead generation activity.
As the only HubSpot certified agency to major on construction marketing, we bring together construction marketing strategy, digital strategy, website design, SEO, content marketing, email marketing, sales automation, marketing automation and HubSpot CRM implementation to produce successful campaigns and great results for our clients.