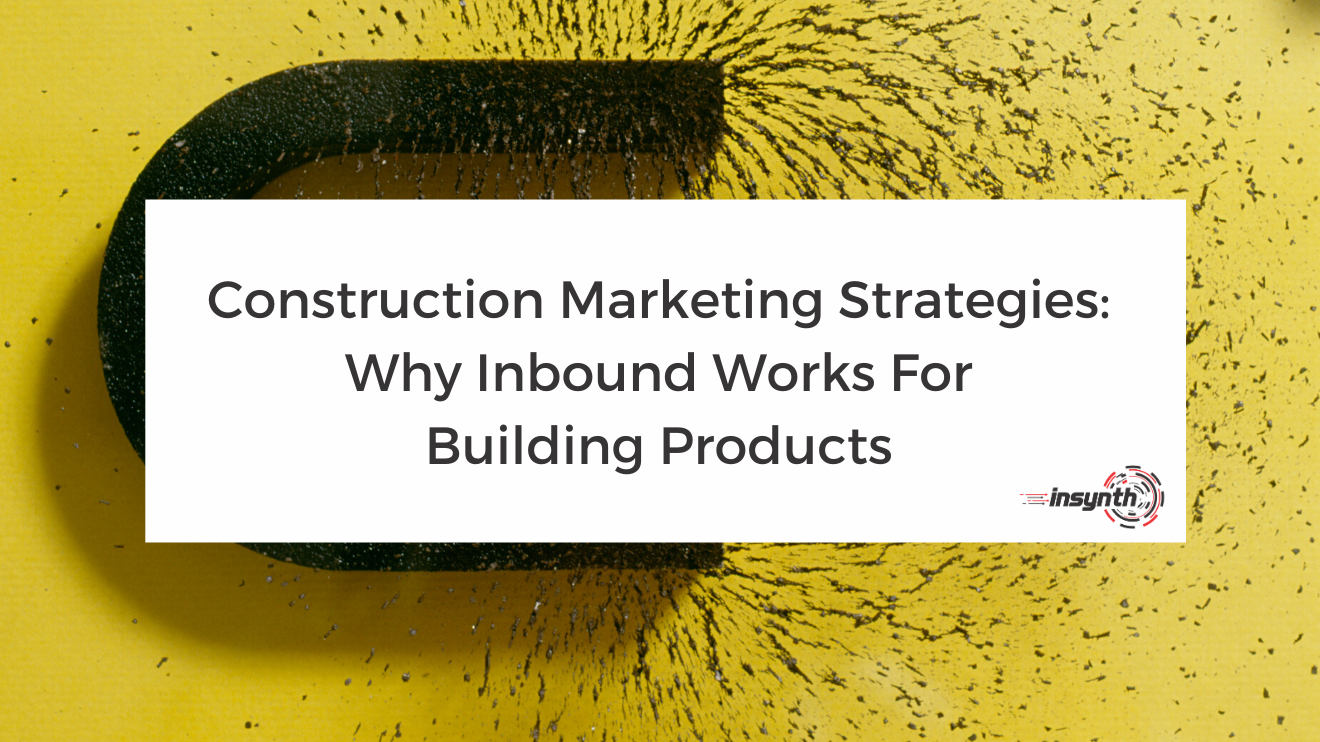 Post Grenfell, the attitude around specification has become more stringent and cautious, with legislators and specifiers alike demanding greater reassurance about the performance, safety and provenance from the materials that are being used in construction.
So how does this impact your construction marketing strategies and why does Inbound Marketing become the ideal method of adapting to this change?
The New Paradigm For Construction Marketing
Until the tragic events of June 2017 unfolded, it could be argued that construction was becoming far too price-driven, and spec busting was a valued skill to make projects commercially viable for contractors, especially those who openly tendered sub cost and then aggressively tried to value engineer specification to 'liberate' margin.
Post-Grenfell, we hope that a new era of responsible construction has taken root, and the Architects and Engineers decisions will be respected and upheld.
In theory, specification selling should be far more valuable and rewarding for manufacturers in the future.
But how do you get your product specified in the first place?
How To Get Architects To Specify Your Products
The way that specifiers research information today has dramatically changed.
10 years ago, it was far more likely that an architect would be open to meeting a sales person, attending a CPD or visiting a trade show to find out about new products.
Today, they open their browser, and type a question straight into Google when researching and evaluating their available options.
Here are some compelling stats:
From this, it seems undeniable that if you're not getting your proposition right online, you're likely to be missing a significant amount of business.
And the risk is, if your competitors have recognised this shift, they will be building strategies to take advantage of these changes in buyer and specifier behaviour at your expense.
So, the first step to getting specified by architects today is to make sure your digital marketing strategies are solid and well executed.
Read more:
Why Construction Inbound Marketing?
Inbound Marketing is fairly new to the UK Building Product sector, but it is proving to be highly effective by early adopters.
Inbound pulls together every strand of your digital marketing activity to create a powerful method of 'attracting' potential new specifiers and customers to your business.
The Inbound Methodology encompasses:
All components work together to support overarching campaigns, all designed to get you found online, drive visitors to your website and convert these visitors into sales leads and customers.
Using the latest technology and AI, these leads are then tracked and monitored when they engage with your brand to give you the lead intelligence to 'push' relevant content to them at the right time to move your prospects along their buyer/specifier journey.
Clients who are using Inbound well are reporting major increases in:
Website traffic
Lead volume
Lead quality
Quotations
Orders
Profit, and impressively
Gross Margin Percentage
One client has seen all of this, including a 9.6% improvement in gross margin which has produced a 28% increase in EBITDA in 2019.
Compelling numbers.
Is It Easy, How Long Does It Take To Work And How Much Does It Cost?
These are the common questions we're asked as inbound marketing consultants.
So, in the order they're asked…
Inbound is a common-sense approach and the high-level concepts are simple to grasp. But it is a highly technical field and time and money can easily be wasted by the inexperienced.
We've seen companies attempt inbound and not get key elements right, impacting everything and undoing all the good work done in other areas.
Website design, SEO and content writing are all critical and even missing a trick in one of these areas can have a big impact on performance.
Inbound also takes a bit of time to generate momentum.
Sure, there can be quick wins, but to really get it running at full speed can take 6-12 months.
You should see results in the first 3-6 months, but in year two and beyond, it will really get going and change your business.
The cost question is another regular question. We always ask, how much do you want to grow? 5% growth over two years will cost less to achieve than 20% growth in 12 months.
As a rule of thumb, we normally suggest 10% of the growth you are trying to achieve spread over the period you're try to grow, and it obviously depends upon how much you can deliver in-house.
But we can usually develop a plan that will fit your budget, no matter how modest.
Will Inbound Work For You?
Construction Inbound Marketing works best with products that are more technical and require more consideration and research by decision makers and specifiers. These are called high-consideration solutions.
The more questions specifiers need to be answered, the more content opportunities there are, and the bigger online footprint you can create.
Your attitude to change also plays a big part.
This strategy will challenge the status quo between sales and marketing in any organisation.
Marketing will need more resources and need to be held accountable for driving revenue growth, opportunities and leads.
The role of sales will also evolve, working closer with marketing and engaging with the market in a more consultative fashion, acting as trusted advisors.
If there are big egos in your business, they may need some convincing.
But executed properly, inbound marketing actually makes sales easier and improves performance dramatically. Sales and marketing also become a more cohesive team.
Finding Out More
Insynth can quickly identify whether Inbound Marketing would be a good fit for your building product business.
A quick, confidential questionnaire and website audit will highlight any gaps in your current marketing performance.
We review our findings with you and advise on where the quick wins are, how to move forward with inbound and explore costs and timescales.
With our data driven approach, you can be assured that there is full transparency in the process, and by working month-to-month, we don't tie you in to long term retainers, which keeps us on our toes too, always under pressure to deliver.
So, to find out if Inbound could enable your business to reach its goals quicker and more efficiently, request your free marketing performance review and website audit, book a meeting with one of our growth strategists or call us on 01952 897097.
About Insynth
Insynth Marketing is a leading UK construction marketing agency based in Shifnal in the West Midlands.
They use the latest inbound marketing techniques such as construction inbound marketing, to support building product companies to grow their business by proactively driving sales lead generation activity.
As the only HubSpot certified agency to major on construction marketing, we bring together construction marketing strategy, digital strategy, website design, SEO, content marketing, email marketing, sales automation, marketing automation and HubSpot CRM implementation to produce successful campaigns and great results for our clients.