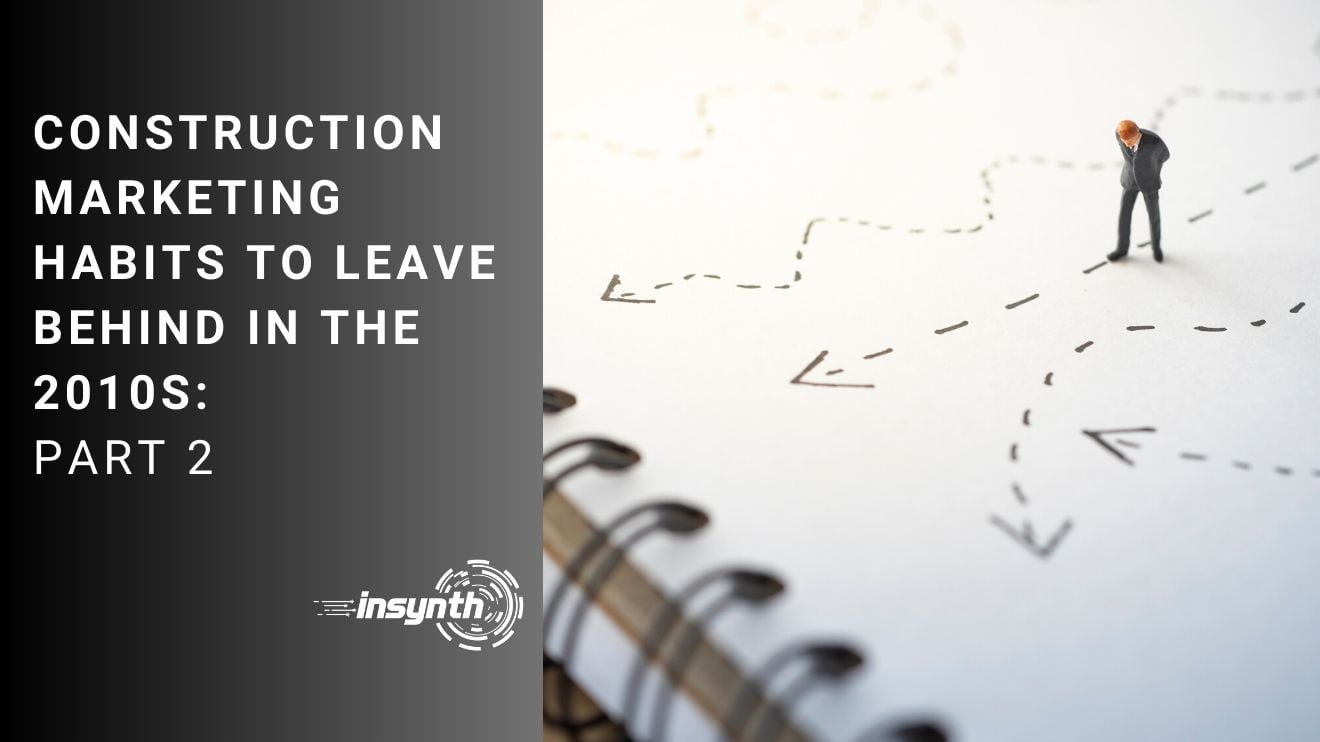 Following on from part 1 which featured 'Not Talking About Ourselves' and 'Thinking Short Term' are the next habits you should be leaving behind in the last decade.
A decade bring new trends and new ways of working. Although some have been around for a while sometimes people take a long time to see what's the best thing to do.
Strategic Content Marketing
Content marketing has grown and changed so much in the last decade. At the start of the decade, marketers primary objective was simply to produce content with no real strategy.
Generally, this is still the case, with too much focus being on the creation and not enough on the strategy. Promotion and measurement also tend to take a back seat.
It's time to channel the same enthusiasm we show for creating into all other elements of successful content. You can start by documenting your content strategy, ensuring everything you create serves a purpose or helps in some way.
You then need to draw on content promotion tactics to make sure your content gets seen by as many people as possible.
This might sound obvious, but if you've spent 4 hours working on one blog post, it's worth spending one more promoting it via social media, email marketing, product directories and more to make it worth your time.
How To Repurpose Blogs For Building Products Social Media
Sales And Marketing Working Separately
Marketing and sales is more often than not seen as "us" and "them". They often aren't on the same page with their goals and objectives and find the other team an inconvenience when trying to get information from them.
This is a very traditional approach to the management of the two teams. More modern successful companies that are really making a name for themselves work together as one to achieve the same end goal.
By streamlining the two teams you become far more knowledgeable about your own customers, making you work smarter not harder.
A CRM system such as HubSpot invites both marketing and sales to use the features they provide. As the two start to gather data they can tweak and trial automated marketing, making the sales process a lot slicker.
Sales
Sales can log calls which create transcripts, notes on the customer and more. HubSpot would automatically find out the company information with just an email address from the company, log any touch points such as downloads, pages visited and how many times an email has been opened with live updates.
Lead scoring allows sales to manage their leads and ensure they not only get in touch when the lead is ready to take the next step but with a fountain of knowledge about what that person is interested in. This means sales aren't calling every potential lead, scaring them away.
You can log your deals, the amount of calls made, create workflows so everything's automated and personalised, even outreach with automated prospecting.
Sales can get bogged down with a lot of admin and cold calling people that aren't interested. By using HubSpot's CRM you can become a lot smarter.
Imagine this: you've just got a notification from HubSpot that a prospect is currently viewing the pricing page and has also qualified as a lead through your lead scoring. You can then view his record to see he has read one of your blogs and came through LinkedIn, he's also downloaded your brochure and viewed your testimonials page.
You can now pick up the phone with all that knowledge, not to sell but to see if he needs any more information, if he found what he was looking for in the brochure or if he needs help on his project.
You will come across as a professional in your field as you have a purpose for calling rather than a stab in the dark at a list of contacts.
Sales Directors and managers can also benefit hugely from HubSpot as they are easily able to see what their sales team are doing, how many calls they've made, deals closed and more.
Marketing
HubSpot works as one to combine everything you do in one place. You can schedule your social media, create blogs, edit website pages, create CTA's, forms, landing pages, campaigns, email marketing, SEO, paid ads and more.
By having all this marketing knowledge in one place you can A/B test and trial to see which your audience responds better to. You can also collate the data from sales to see which touchpoints the closed deals made contact with.
For example if you can see every single closed deal from the last month got sent your latest eBook via email and read it then you know it helped in nurturing them through the buyers journey to eventually buy.
The data it generates allows marketers to work smarter by using metrics to do more of what works and continue to test what isn't generating results.
It can also be a cost and time saver, instead of having an email marketing provider, a social media scheduler and a landing page builder you can do it all in one place. Not only that but you can link everything together in a campaign to see which sales came from that campaign.
The longer you use HubSpot the smarter your sales and marketing should become. With each campaign you will learn more and more about who your customer is, how they interact with you and what impacted their decision.
Conclusion
Will 2020 be the year or decade your company peaks? Not only in sales but in culture. Implementing smarter ways of marketing and sales can relieve your staff of the domain part of their job.
Insynth marketing works with the building product and construction industry only, making them the experts in their field. They deliver services bespoke to each businesses needs.
About Insynth
Insynth Marketing is a leading UK construction marketing agency based in Shifnal in the West Midlands.
They use the latest inbound marketing techniques such as construction inbound marketing, to support building product companies to grow their business by proactively driving sales lead generation activity.
As the only HubSpot certified agency to major on construction marketing, we bring together construction marketing strategy, digital strategy, website design, SEO, content marketing, email marketing, sales automation, marketing automation and HubSpot CRM implementation to produce successful campaigns and great results for our clients.