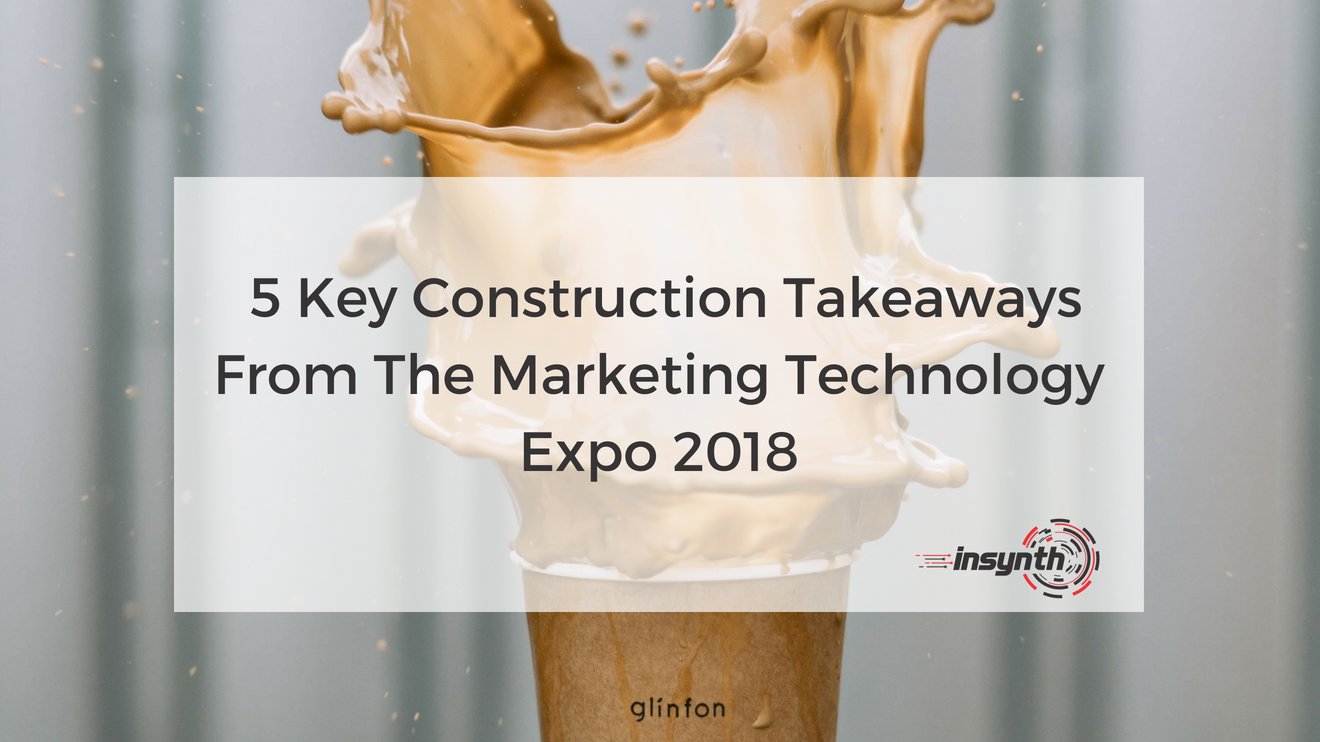 The Marketing Technology Expo has just wrapped up for 2018. So, what were the key takeaways for construction marketers? How can the latest technology be used to improve engagement, generate leads and increase sales for forward-thinking and innovative building product manufacturers?
1. Personalisation Is Getting Smarter
If your idea of personalisation is a mail merge for some direct mail, then maybe it's time to brush up on your understanding of its potential applications in engaging with your audience.
Personalised sales literature, personalised video and direct mail with a difference can really catch the attention of your target audience, increasing engagement, brand recognition and conversion.
VueTV – Deliver your video by mail
Want to make an impact and be remembered by high-value contacts? VueTV may be worth considering. Combining the power of video with the targeted direct mail to help you stand out from the crowd and get your message over in a unique way.
We know the benefits of video in communicating complex messages, and its influence and impact on the viewer.
VideoSmart - Personalised Video
Take the video to the next level by personalising it with your client's name, adding context to your offer and making it more memorable.
Embedding a personalised video into your email engagement can significantly increase recall rates and click through to your site for conversion.
This is a conceptual demonstration of how personalised and dynamic video production can enable companies in the Energy sector to enhance their customer experience, reduce demand on call centres, improve their NPS and/or SIM scoring while going above and beyond the requirements of Ofgem's 'Simpler, Clearer, Fairer' reforms.
Unify - Personalised Sales Literature
Imagine your technical literature integrated with your database and tailored to your customers' requirements, and personalised?
Marketing control the brand and the message, technical manage the content and sales piece it together in seconds to give the customer a piece of technical literature crafted to their precise needs.
This is where Unify come with a SaaS model stating at £30 per month. A PDF version of the brochure is generated to be sent immediately by email, and for a modest extra, a full court printed version can be despatched by post in 24 hours.
2. Augmented Reality As A Marketing Tool
AR is being brought into the mainstream and with an affordable price tag.
Clever integration of hotspots and links within 360 degree virtual tours allow you to create interactive experiences which can take website visitors straight through to landing pages for conversion into leads.
Showrooms, exhibition stands, factory tours or project photography can all be taken to the next level with touch-screen technology to provide a great user experience.
To fully integrate the technology with your marketing efforts, QR codes can be incorporated into product labels on site or product displays in showrooms to bring traffic to your site to find out more about your solutions.
3. Driving Sales With Lead Generation Tools
As web technology has evolved, it is often difficult to really get an insight into who is actually on your website and what they are doing.
There are now a number of companies that can help to lift the veil on who is actually visiting your site. Lead Forensics, Leadfeeder and IPFingerprint were all exhibiting and demonstrating how they can help give you instant leads from your website traffic data.
4. Review Software Is Moving Into B2B
A major trend in the B2B market in 2018 is the use of customer review platforms to gain customer feedback and provide social proof.
Major providers such as Trustpilot, Review.io and Feefo are all now focussing on the B2B sector, realising that peer-to-peer reviews provide far more trust with professional buyers than the usual testimonials found on websites.
5. Bringing It All Together With Technology Platforms
A number of the new breed of technology platforms were present at the Marketing technology Expo too.
All this great tech creates complexity, so it's essential that you have an integrated CRM and automation platform to bring together all of the apps, your website data, your social media management and automate your sales and marketing activity to accelerate your business growth.
HubSpot were represented by some high-profile partners, while Zoho Desk and 5 CRM invested in large stands too.
Has Anything Caught Your Im
agination?
If any of these new marketing technologies has whetted your appetite, then please get in touch to see how Insynth can help you deliver a better experience for your target audience and deliver increased numbers of high quality sales leads.
About Insynth
Insynth Marketing is a leading UK construction marketing consultancy based in Shifnal in the West Midlands. Insynth employ the latest inbound marketing techniques to help building product manufacturers grow their businesses by aggressively driving sales lead generation activity.
As the only HubSpot certified agency to major on construction marketing, we bring together digital strategy, website design, SEO, content marketing, email marketing, sales automation, marketing automation and CRM implementation to produce successful campaigns and great results for our clients.