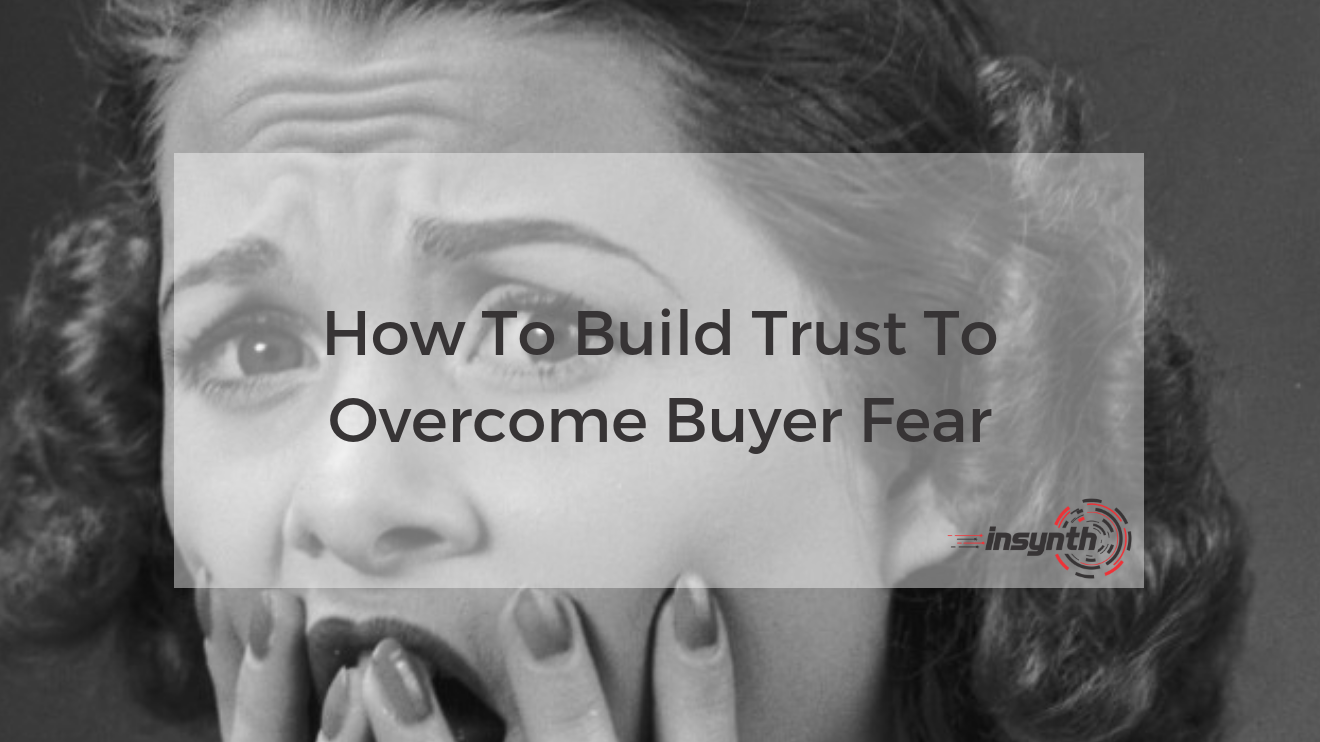 Overcoming buyer fear is critical to converting leads into sales. A key component in eliminating the fear of dealing with you is to build trust. So how do you build trust with your potential customers, when they may never have bought from you before?
Buyer fear can kill any deal. If you can't identify, address and alleviate those fears, you probably won't win that work – no matter how great your product or service may be.
The entire B2B sales process is changing as buyers increasingly search online to try to identify solutions and eliminate risk from their buying process.
However, age-old psychological traits don't alter that quickly, and although your prospect may never admit that they are concerned about buying from you, you can be sure that these common fears will be passing through their mind.
So, let's look at the common areas of buyer fear and how to build trust to overcome them and increase the chance of winning that business.
1. Talk About Price, As Early As Possible!
Nobody wants to feel like they are being ripped off and everyone likes to imagine that they have got a great deal. No one wants to discover that they could have bought the same product or service cheaper elsewhere.
Don't avoid the price conversation, bring it out up front and early in the process. Explain clearly why your product is the price it is, how it is different from the competition and how it will address the pain and challenges of your potential customer. You need to build value around your solution and justify your price.
Get this out of the way early on. It puts your value proposition out there at the start of the process and enables poor fit customers to exit the sales process early, wasting their time and yours, exploring a product that they are never likely to purchase. Accept it, they are never going to buy from you!
It also gives potential customers the opportunity to re-frame their budget early in the buying process if they can justify the value of what you are providing. Leave price to the end, and they may not have any wriggle room to pay more.
Make your Value Proposition very clear on your website and in your content at the awareness stage to help your prospects make well-informed decisions. They will respect you for your honesty and trust you more.
2. Be Honest About What You Can't Do
Your buyers are people, who have careers and reputations to protect. No one likes to get it wrong, especially if they are involved in a big-ticket purchase. They will often feel it is better to play it safe than risk losing face with their peers or boss.
Be very honest and build trust in your customers' eyes by being clear about what your product can AND can't do. In the excitement of the negotiation, it can be easy to over-promise to try to close that deal.
The bitter taste of disappointment will linger long with your customer. Your credibility and any trust they had in you and your company will be in shreds if you don't deliver as promised, leaving them with egg on their face.
When you follow this advice, you will have a very satisfied customer, rather than one focusing on the elements you fell short on, even though you delivered 90% of what was needed.
Honesty shows you care about your customers and their needs, and your willingness to help them gets them the results they're looking to achieve.
3. Use Testimonials, Reviews and Proof of Accreditation
When it comes to building trust online, reviews and testimonials from others is something that people do consider. 63% of customers report that they are more inclined to make a purchase if the site has positive user reviews. Consumer reviews are trusted about 12 times more than a simple description from the manufacturer.
There is nothing more reassuring than a well-known and respected advocate of you and your product to build trust and alleviate buyer fear.
If your product has been tested against industry performance standards, proudly display the accreditations, using logos and performance data to prove to your customers that your product will do the job. If they don't trust you just yet, there is a good chance that your prospects will trust a recognised independent authority.
Use comparison table to quickly show where your strengths and weaknesses lie compared with your competitors. Your prospect will be checking them out anyway, so why not make it easy for them. They may even use your table in their justification to use you.
Again, be honest and be clear about where your competitors may have the edge. Your honesty will demonstrate that you can be trusted.
4. Be Helpful, Don't Sell (Too Hard)
No one likes a pressurised sales pitch, and most first-time visitors to your website will be researching solutions and looking for information rather than being ready to buy.
Instead of content and engagement that pushes your product down their throat, focus on producing information that demonstrates the benefits of your product or service, without overtly selling. Creating helpful content, designed to help solve problems and address pain points, is vital to building trust.
Many of your prospects will be looking for similar information, so use your website smartly to control how this information is conveyed to them, consistently. Use your blog to explore the issues that matter most to your prospects and to demonstrate innovative ways to get better value from your solutions.
Publish case studies to demonstrate how your other clients and customers have benefited from your offering to solve their issues. Secure in the knowledge that your product is proven to deliver the results they need, your future customers will trust you to provide them for them too.
5. Signpost Confidence Signals
Lean on the reputation and trust of respected brands who can vouch for your product. Using the logos of well-known customers, journals and newspapers that have given your product great reviews, industry awards and accreditation bodies give off the right signals to your prospect that they will be in good company if they choose you.
Provide links to magazine articles and test reports. Use the authority of others to build confidence in you and your solution.
Finding Your Perfect Marketing Partner
When looking for a Partner to help you on your Inbound Marketing Journey it can be difficult to find an agency that understands the specific challenges and dynamics that make your market unique.
Overcoming Buyer Fear and Building Trust in your brand are just two areas where an objective set of eyes can make all the difference to your marketing efforts.
With Insynth's experience and expertise, you can be assured that you are working with experts who can help you integrate the Inbound methodology into your business to drive growth and better performance.
If you would like to find out how Insynth can help you start your Inbound Marketing journey, contact us.
About Insynth
Insynth Marketing is a leading UK construction marketing consultancy based in Shifnal in the West Midlands. Insynth employ the latest inbound marketing techniques to help building product manufacturers grow their businesses by aggressively driving sales lead generation activity.
As the only HubSpot certified agency to major on construction marketing, we bring together digital strategy, website design, SEO, content marketing, email marketing, sales automation, marketing automation and CRM implementation to produce successful campaigns and great results for our clients.