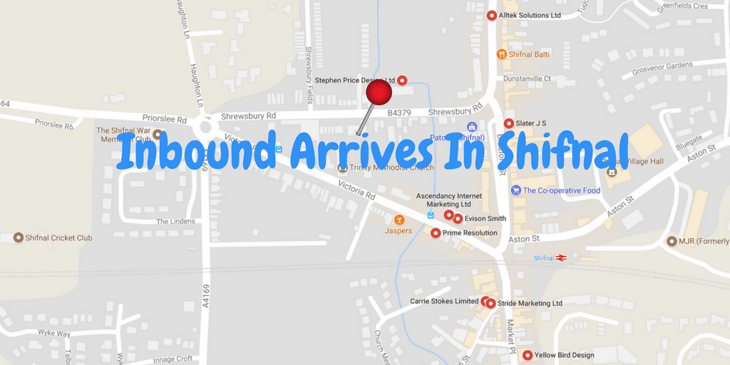 Shifnal in Shropshire, nestled between Telford and Wolverhampton in the West Midlands, is a vibrant and growing small town, with great road and rail infrastructure. For a small town of just over 7,000, it boasts an impressive number of Marketing Consultants, Marketing Agencies and Designers within its borders - 7 to be exact! That's one Marketing Consultancy in Shifnal for every 1000 people.
The latest arrival to this thriving scene is Insynth Marketing. Insynth has embraced the growing Inbound Marketing philosophy that is shaking up and disrupting markets globally, and enabling small businesses and start-up's to compete on a level playing field with multi-nationals and long-established businesses by blending digital marketing and technology with old-school sales & marketing approaches.
Inbound is a form of marketing that is driven by the Internet and digital media, making it highly responsive and cost-effective. In fact, Inbound sales-leads cost 61% less than traditional outbound leads, such as from advertising, exhibitions and direct mail.
At the heart of Inbound is the needs of the customer. That may sound obvious and cliched, but how often do businesses only talk about what they sell, how big they are, how long they have been trading, how expert they are and who works for them? Most of the time, right.
Companies using Inbound approach customer engagement by talking mainly about the problems and challenges their potential customers face, and educating them about the solutions that are available to them.
By sharing knowledge and expertise, freely, businesses using the Inbound method become trusted advisors, helping prospects solve their problems. And when these prospects need to buy that solution, who are they most likely to go to?
The beauty of Inbound is that by sharing all of this knowledge on your website and on industry forums and the like, you are more likely to get noticed by Google, leading to better page ranking for your website and higher traffic. With detailed research and clever content creation, it can be even easier to claim and retain the coveted No.1 spot on Google for the keywords that are important to your business.
Other Marketing Consultants In Shifnal
Insynth Marketing join an illustrious group of professional of design companies and marketing consultants in Shifnal, including;
Ascendancy Internet Marketing, a Shifnal based Web design and digital marketing agency that has just been crowned Best Small Business 2017 at the annual Shropshire Business Awards.
Stride Marketing offers web design and SEO services, aimed at small businesses and the service industry in Telford, Shropshire & beyond.
JONNYLOTTdesign is a graphic design studio specialising in small business branding and print design. They have some impressive examples of their work on their website.
Adscript UK is an Internet Marketing, Website Optimisation and SEO Services company. Adscript is dedicated to creating, planning, and handling online advertising and online sales for physical, digital and service industry products
Stephen Price Design is a creative graphic design agency specialising in branding, graphic design and Web design.
Web Savvy Trading Company provides website design and social media management services to small to medium-sized businesses across Shropshire.
Talk to Insynth about Inbound Marketing
Insynth is the only marketing consultants in Shifnal to focus on Inbound Marketing. We believe that it can be a highly effective strategy for most businesses to develop long-term brand loyalty, increased levels of leads, higher sales and delighted customers.
If you would like to find out how Insynth can help you start your Inbound Marketing journey, why don't you talk to us.